Don't you think butterflies seem like these magical out-of-this-world creatures? Their colours. Their fragile wings. The whole caterpillar metamorphosis thing that ends up in Peter Pan style chants of "I can fly, I can fly!".
I also love taxidermy butterfly cases for this reason. However, I'm less enchanted by the idea that, well, everyone is dead.
So when I saw this butterfly illustration by Kelsey Oseid (Kelzuki) as a thick printed page in Flow Magazine *PING*: I had a lightbulb moment to make a faux taxidermy butterfly shadow box.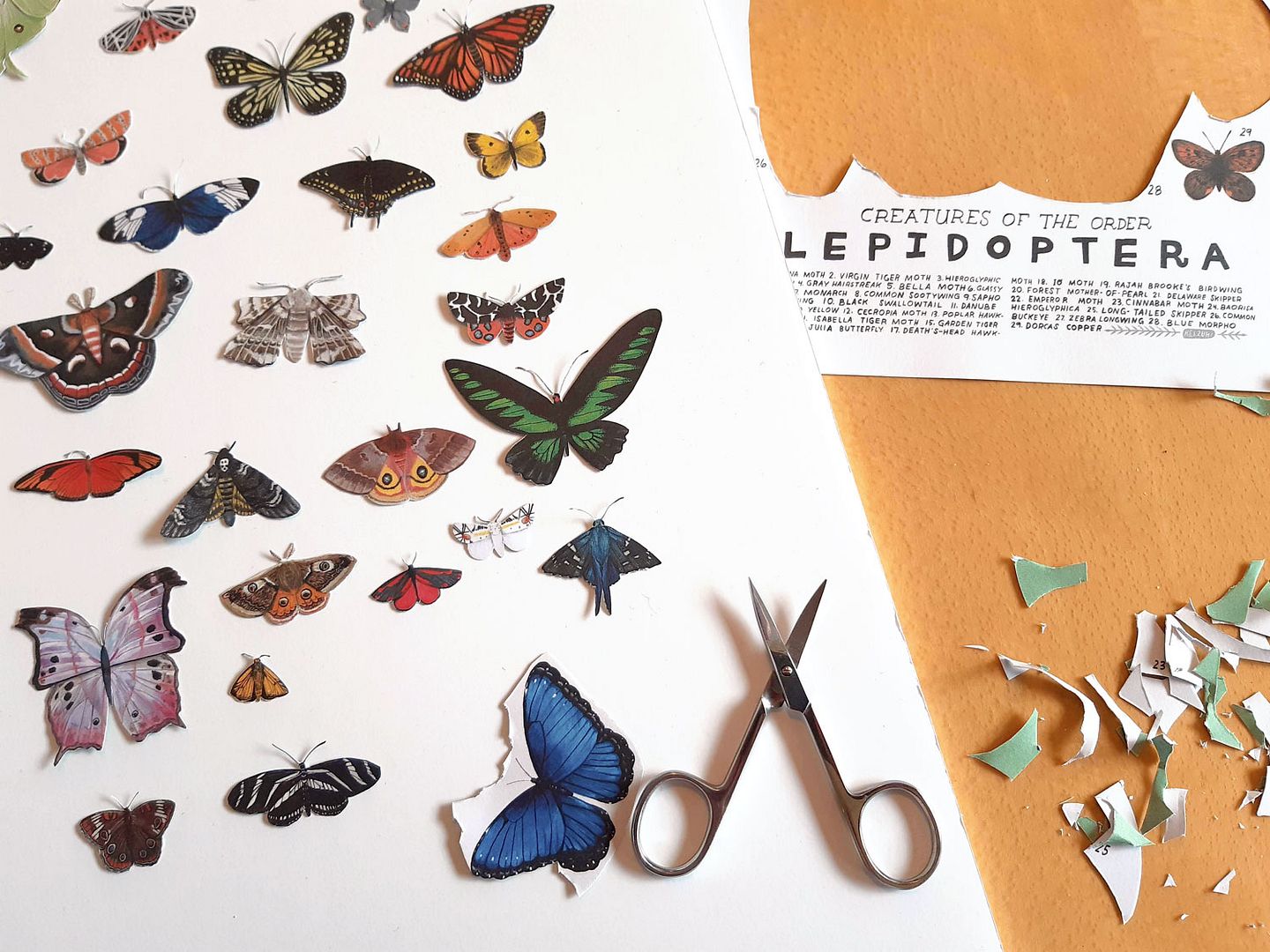 I adopted a backless, glass-covered wooden frame out of my mom's attic. I thought it would serve perfectly as a shadow box for my 3D butterflies.
I had been helping my mom KonMari her beloved junk. After I had so much fun decluttering my own stuff (you may remember discarding 1000 possessions, creative office declutter, project house), I moved on to declutter other people's stuff. Even though the guru herself says you shouldn't. But whatever, it sparks joy.
No joy however for this particular object: it was heading for the garbage. And although I am very selective these days about what I bring into our home, you know what they say:
One woman's trash is another woman's treasure.
After cutting and glueing a 3D paper deer head a while back, I was on a roll. I thought: it's time to add some more whimsical handmade DIY's to our living room.
So I cut out all the butterflies to create a faux taxidermy effect. Initially I wanted to glue them all on sewing pins. But who needs new pins if you can also simply cut pieces of metal wire and created a little loop on top with a jewellery plier?
I carefully spaced my winged friends on a piece of foam board. Bending them slightly made them come alive. And with a glue gun the job was settled quickly.
For a touch of colour and whimsy I painted the frame with a salmon-pinkish shade that we'd also used on a living room lamp.
However, I wasn't sure if I would dig the result. And although they say you should take risks in art, I wasn't ready to my ruin my new-found treasure. So I simply sprayed painted some paper tape, which I then applied to the frame. Sometimes you can find ways to make bold choices without suffering potential negative consequences. Life lesson learned.
So there you have it. A simple DIY to make a faux taxidermy butterfly shadow box.
Now I have my new butterfly friends to accompany me in my living room when my real ones aren't allowed…
A way to bring a little bit of life and whimsy into my home, because sometimes you're the only one who can.
If you like butterflies as much as I do, you might also enjoy checking out these past posts: I made a glass cloche filled with butterflies before, I created a butterfly tie painting, and I framed handpainted butterflies for my whimsical art gallery wall.
This also means that I checked off #8 from my creative dream list. Working on finishing touches on #9, so stay tuned!
Are you working on any creative projects lately? Tell me! :)