My dad has a man cave. A dad's shed. It's filled with every tool you could ever dream of. And the best thing about it: it comes with a dad – my dad.
Remember the amazing rainbow glass window that he made for my work room together with my cousin? Ever since, I've been willing to learn how to make a stained glass window myself too. So I visited my parents, and worked together with my dad on creating an amazing stained glass window in his garage for 2 days.
If you ever wondered how to make a stained glass window, check out the video below:
Also, kudos to him for playing along and explaining everything in English instead of Dutch.
We designed the layout together. We emailed images and sketches back and forth for a while. I knew from the start that I wanted the colours red and yellow in it, because of the tiles in our hallway. It took us a while to figure out the exact design, but I really love the rounded shapes and Moroccan influence that we ended up with.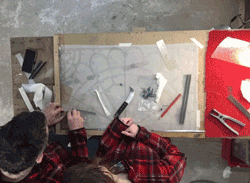 Also, can we PLEASE talk about our matching plaid shirts for a moment? My dad has this comfy flannel shirt that he wears all the time when working on hands-on projects. In fact, he has two identical shirts, because I guess he likes them so much that when one is in the laundry he can still wear the other one.
Ofcouse, because I have 3 siblings I have been using me wearing THE DAD SHIRT as proof of earning the highest approval of my dad possible.
#inyourfacesibblingsiwonthedadsfavouritecompetition
I have been teasing my siblings with it ever since, because I am so mature…
I really love the design, the colours, and how well it matches the tiles we picked out for the floor. But above all, it feels precious to have something personal that I made together with my dad installed in our house.
Do you have something in your house that you made together with your mother or father?