True story: inspired by the movie 'Le fabuleux destin d'Amélie Poulain (or short: 'Amélie'), I once went down the Internet rabbit-hole to find out how you could call a phone booth. Back then, they were already rapidly disappearing from the streets, but you could still find them here and there.
I was truly disappointed when I found out that in the Netherlands, other than some other countries, you simply couldn't ring up a phone booth. Once upon a time it had been possible. But at some point they blocked the whole function, so you could call from a phone booth, but not be called.
So that blocked a lot of amazing ideas and desired self-created adventures.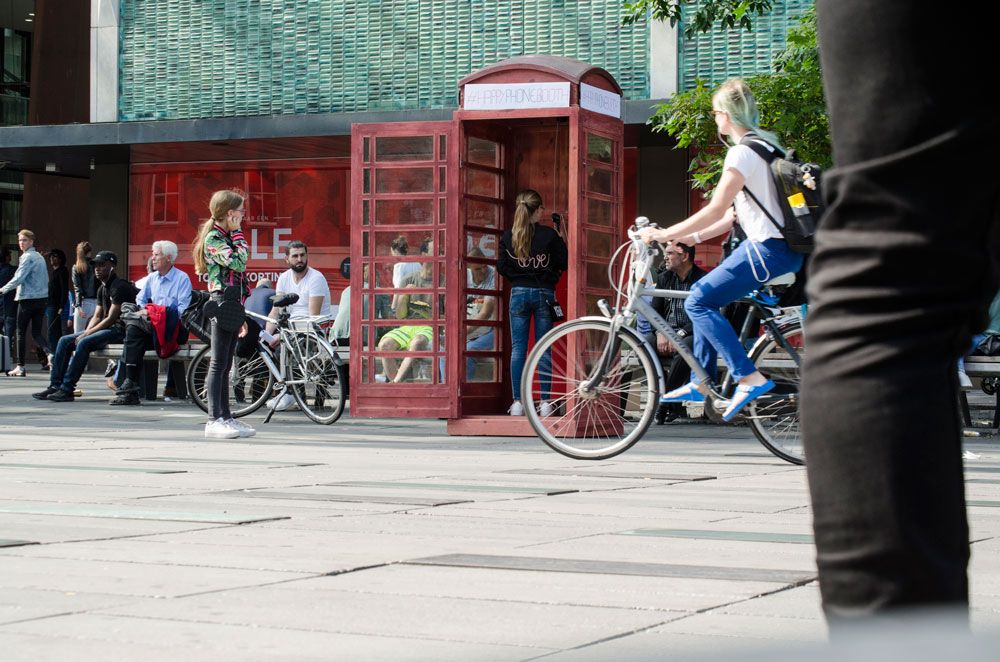 Ringing phone booths is something you know from the movies. And whether it's a romance waiting to happen (Amélie), a portal to another world (Matrix), or some conspiracy/detective/crime storyline (really any other movie): when a phone booth rings, you know adventure awaits.
What if, you could give people an experience like that? Make them the hero of their own story. No serial killer scenarios though, just happy thoughts.
Give them an experience that breaks the everyday routine with something fun. Give them a story to tell. Something that when they come home they will tell their wife: "Honey, you're never gonna believe what happened to me today."
And so, a new happy street art project was born. Check out the video:

I got the opportunity to collaborate with the Fontys University of Applied Sciences. As part of the course 'Interventions for Happiness', I acted as commissioner for a team of students. So for the past 2 months, we met weekly and worked hard behind the scenes to bring this happy movie scene to life. The project was also my last official act within my role of curator smilefactor.
I am so incredibly proud of 'my' students: Sylvia, Eliszka, Julia & Kyungmin. I love how our Happy Phone Booth turned out to be such a happy moment in the day of random strangers, and how our team worked together like a smooth machine during D-Day (last week).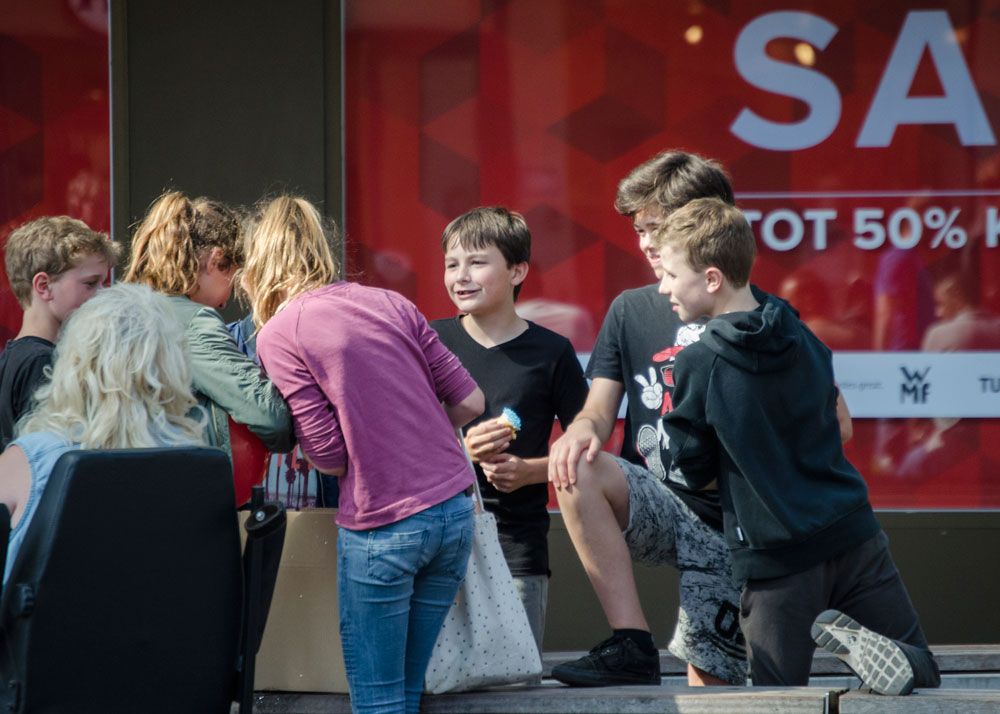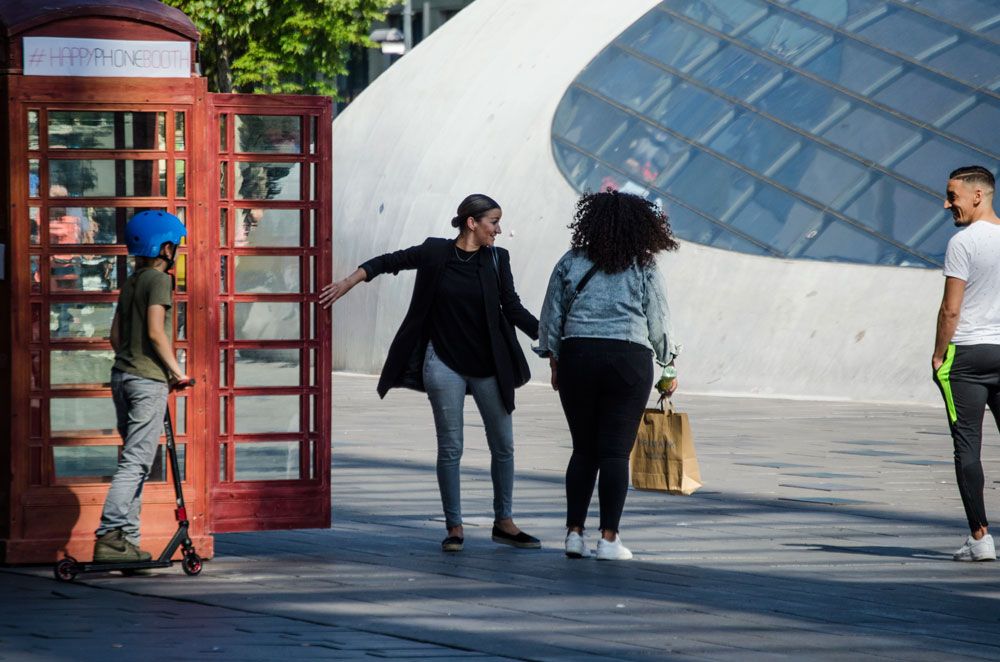 Each box came with a surprise helium balloon, an origami crane and a tiny sealed envelope with a message. The messages were in Dutch.
A loose translation of the 2 versions we created:
"Sometimes life is A-MA-ZING, other days it can be a bit 'Mèhhh'. The latter is something everyone experiences, even if people don't show it. You do you, with all your silliness, unique characteristics and authentic choices. You are doing great! This present is for you. Hopefully it makes today – whether it was already amazing or could use a bit of adventure – a day to remember!"
"This present is for you, because you are AWESOME. Your unique smile, your sense of humour, all the little and big things that make you you. Life is an adventure, with fun and sometimes not-so-fun plot-twists. Every day again you get to choose how you deal with your adventure. I hope you have a life full of beautiful adventures, ringing phone booths and special people. You never know when and where you will bump into them!"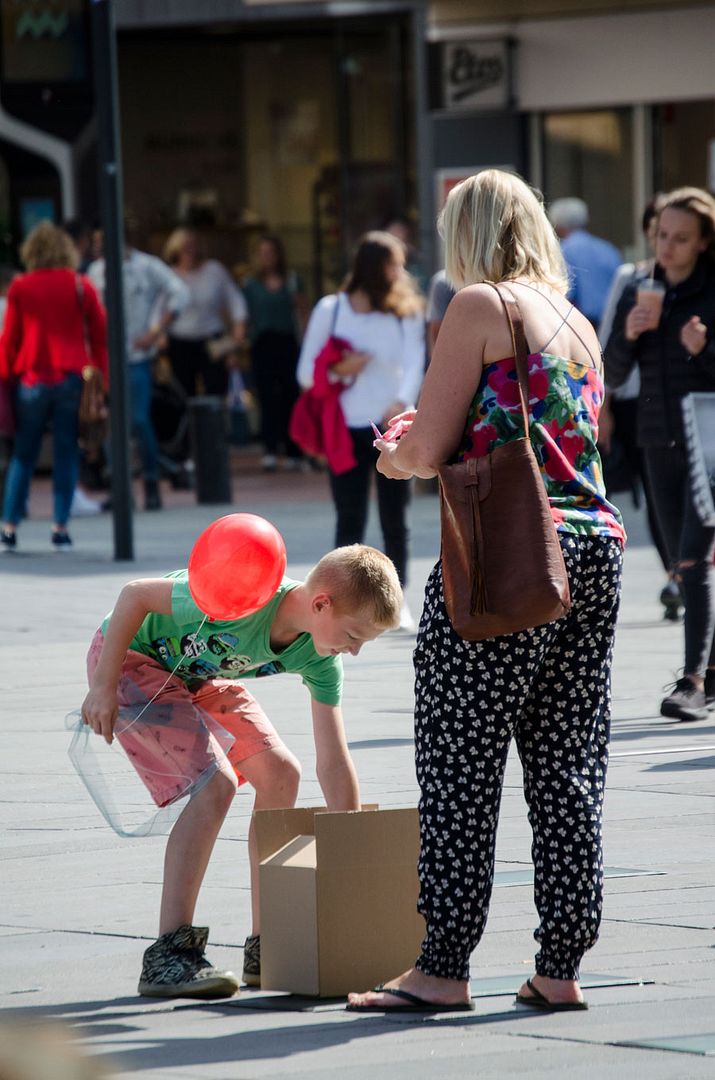 Pictures by Mymza Wever.
Our Happy Phone Booth didn't go unnoticed. In fact, it drew quite some attention. Interviews, articles and press attention by the following news Channels:  Omroep Brabant, Studio040,  Eindhoven News and a radio interview (below) with Studio040 on Lichtstad Live!.
SaveSave
SaveSave
SaveSave
Have you experienced any happy surprises lately? Gone on some self-created adventures? I would love to know!
SaveSave