It all started with a simple idea. What if we wouldn't start a yarn bomb project, but an enormous yarn bomb project? Not just one or two trees, but take-over-the-entire-street-kind-of-enormous.
This happened in May. Let me help you count. That's five months ago.
Ever since, I have been working quietly but steadily together with Juliette de Wette from 'Het Huis Van Eip' to make our colourful street art dream happen.
To cover all the street lights and trees of an entire street with knitted and crocheted creations, we were going to need a lot of helping hands. That's how the plan came into existence: to gather a small army of knitting grannies who would be up for the challenge.
We got the elderly people from Archipel and Vitalis on board, and they have been knitting ever since. And more and more people joined forces: Kledingruilatelier Awesome, Stitch & Bitch, and many local enthusiastic creatives contributed their time, creativity and yarn-creations with us.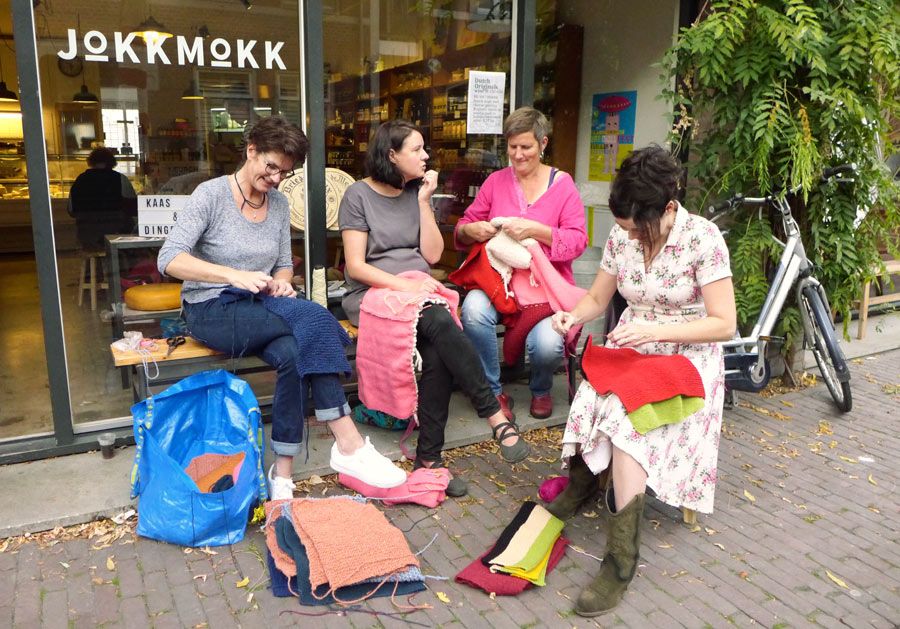 We used recycled yarn for most of the project. Best Wool Carpets donated the left-over yarn from the spools that they use for their machines. Banfonds contributed to our mission too. In fact, countless people, many more than I can mention, helped us in so many ways to make this project possible.
The street art installation is part of the Dutch Design Week. It shows that anyone can be creative and make beautiful things, no matter what your age is. Street art is normally associated with youth, and I love that this project tackles that stereotype. Our elderly partners-in-crime showed how much of value they have to share: their skills and talents can help make our society and streets happier.
Street art can be so much more than graffiti. The yarn bomb installation was truly a group effort, a co-creation project in which young and old joined hands and created something beautiful together.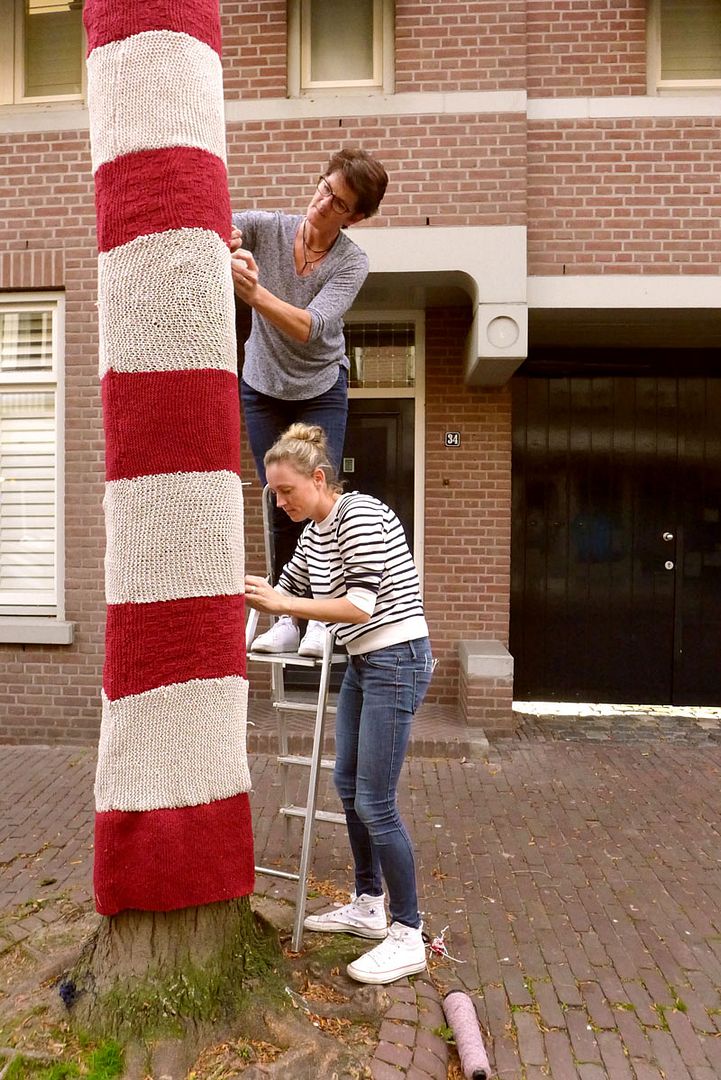 The Bergstraat, which is a cute little street with shops and houses, counts 8 street lights and 15 trees. They're all covered up, as well as the smaller street signs and a few drainpipes.
Overall, reactions to the project have been positive and cheerful. A lot of people actually thanked us for yarn bombing the street, or would simply comment 'Good job!'. Some people reacted humorously with words like: "Are you preparing the trees for the cold?" or "Oh, that's convenient for when I'm drunk and bump into the pole".
The local news wrote a little something, something about the project too.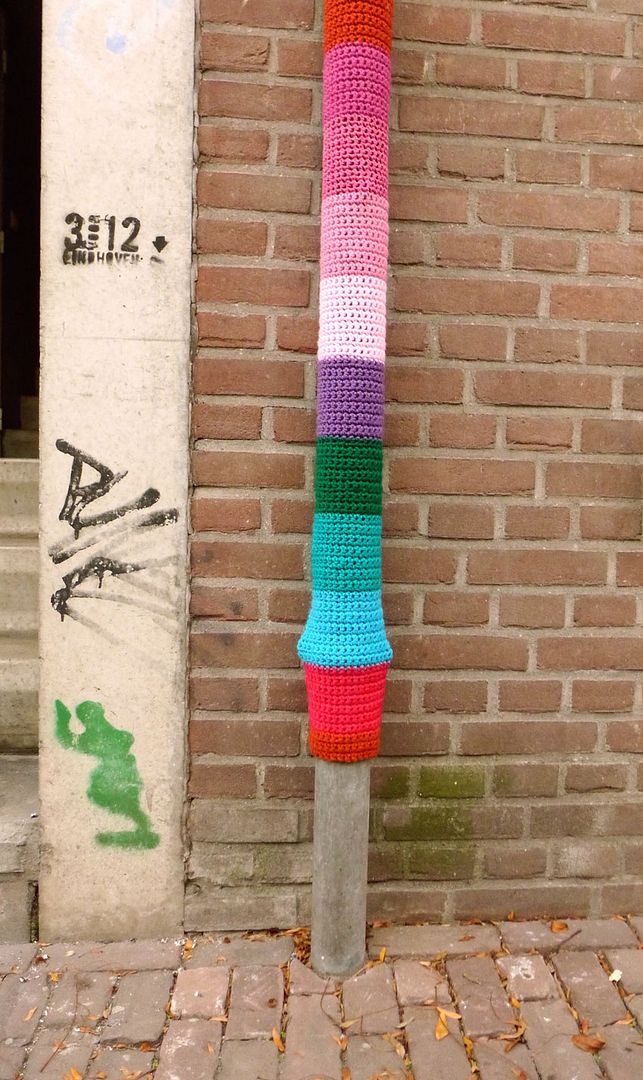 After the Dutch Design Week the yarn bomb installation will stay. We'll keep an eye on it and take it down when it starts to wear.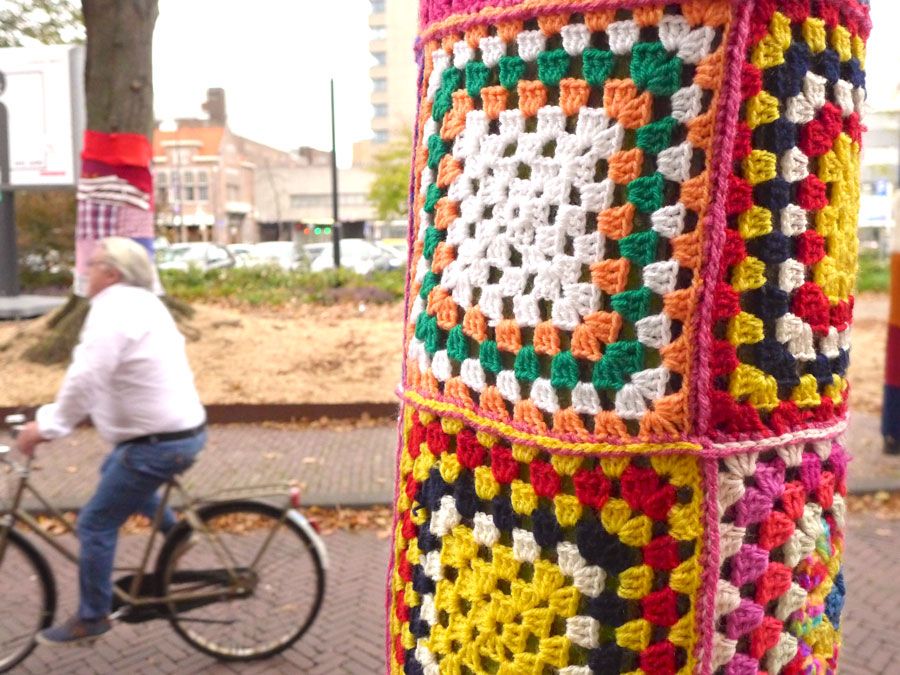 Our elderly partners-in-crime were there for the official opening of the yarn bombed street.
And they could finally see the fruits of their labour out in the wild.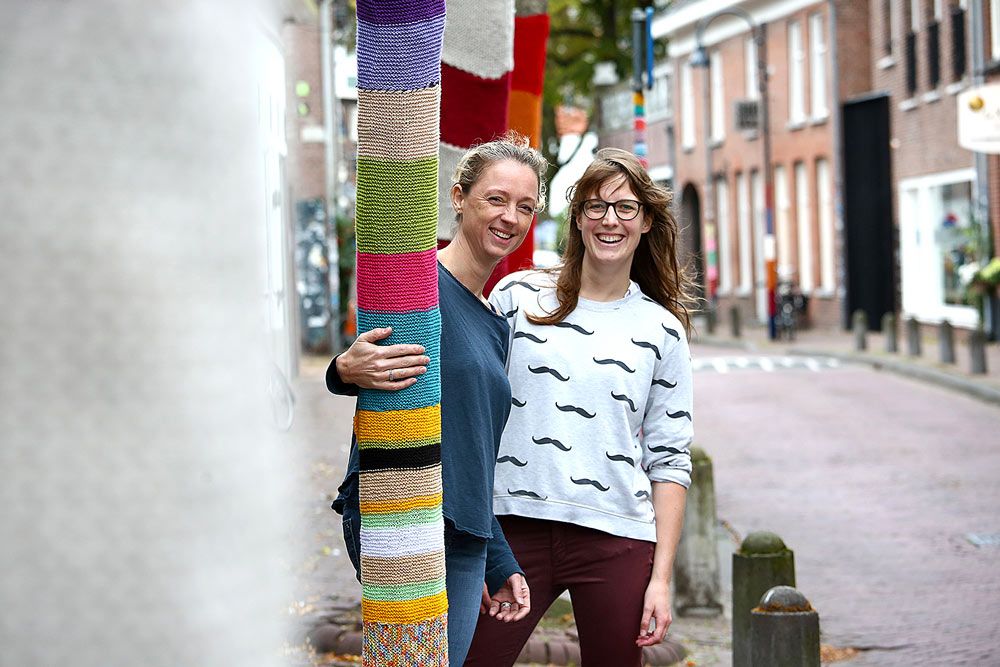 Juliette & me.     [Last 3 pictures by Freekje Groenemans]
Is there anything about this project that you're curious to hear more about? You can ask me in the comments!
SaveSave
SaveSave
SaveSave