Some days, you wake up in the wrong sleep-cycle, you forgot to buy breakfast the day before, and the moment you leave your house it starts to rain. In a country like the Netherlands we get our fair share of rain. So while temperatures were still tropical, Eliska (from Eldesign) and I collaborated on a super cool street art project to anticipate the coming fall. Hopefully our rainworks will make people smile on a bad day.
The cool thing about the hydrophobic coating that we used is that it is invisible when dry. So when it starts to rain the artwork seems to appear like magic. No wonder I love it so much.
Concrete becomes darker when it rains. The hydrophobic coating prevents the surface from getting wet. When spraying the coating over a stencil, you create spots that repel water and stay dry. When it rains the contrast between the dry, light sidewalk and the dark, wet sidewalk becomes visible.
The coating is non-toxic, environmentally safe and biodegradable. It should last about 2-4 months.

Pas op! Droge humor – "Warning! Dry humor"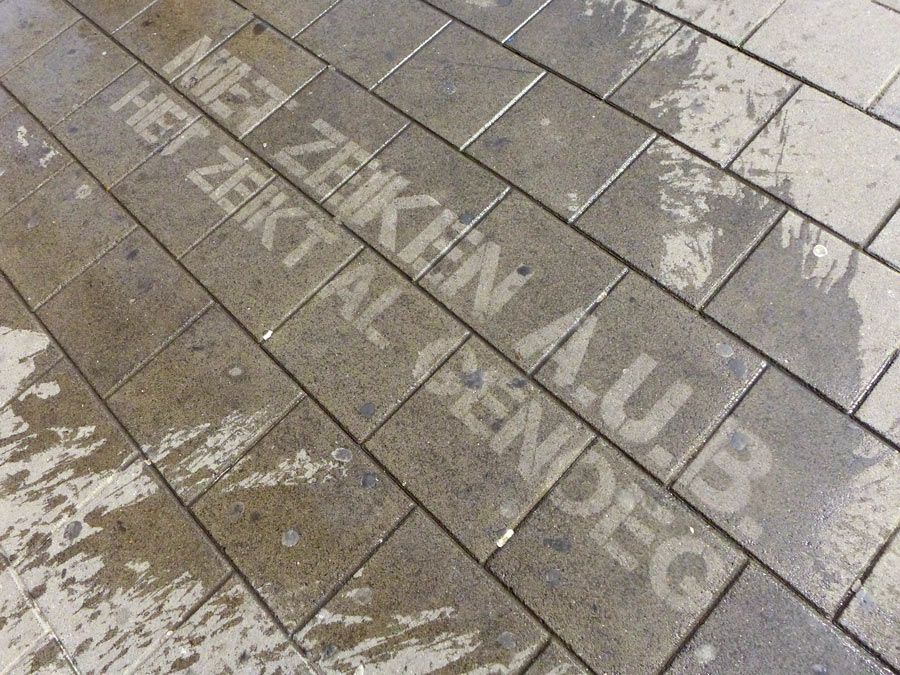 Niet zeiken a.u.b. Het zeikt al genoeg – "Please don't complain, it already rains enough"  – ('zeiken' can mean either complaining/whining, peeing or raining in Dutch)
This project is the first official 'smileproject' since I've become curator smilefactor of Eindhoven. If you live close and have a cool idea for the public space to make people smile, please get in touch with me!

Na regen komt zonneschijn… of hagel of sneeuw of gewoon nog meer regen – "After rain comes sunshine… or hail or snow or just more rain"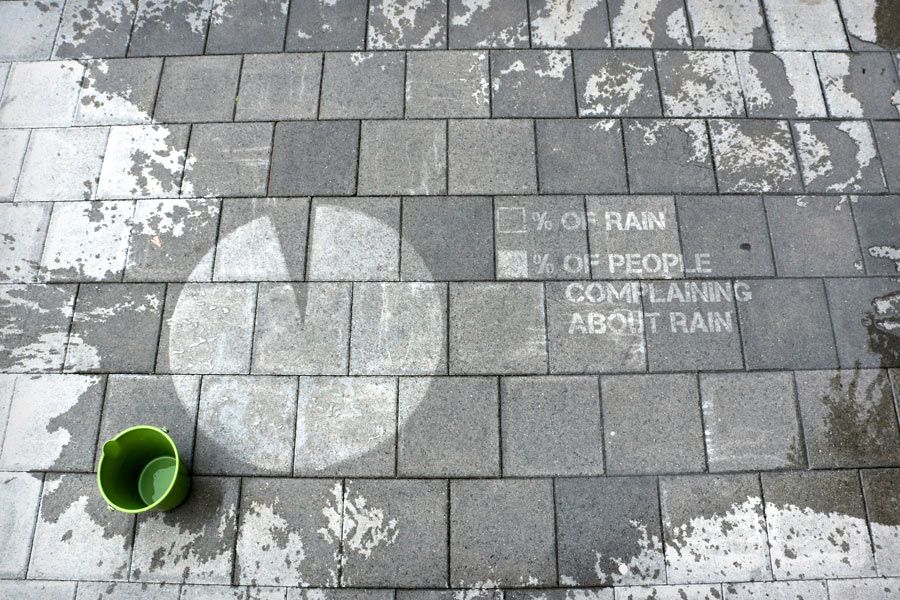 % of rain, % of people complaining about rain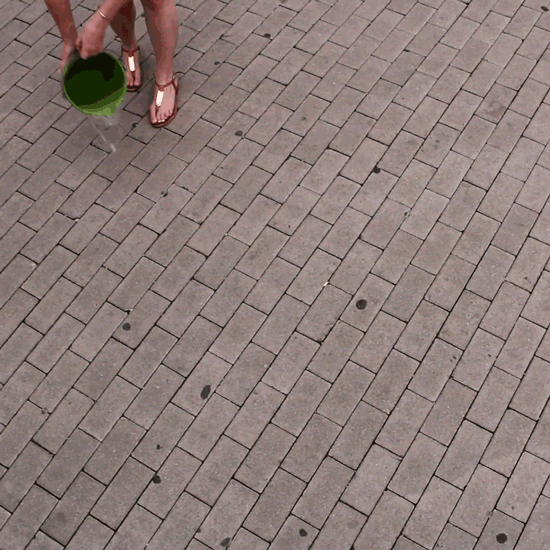 This week has been crazy. We literally finished our last rain-activated work on Tuesday, and Wednesday (the first day of rain after we applied it) we basically spent all day meeting with the local press. The project got a lot of positive attention before I had even finished editing the video for this blogpost :)

Interview with Studio040 about our project
You can read what the press had to say about our project here (all in Dutch):
Studio040
Eindhovens Dagblad
Omroep Brabant
Omroep Brabant – radio interview (from 44.50)
E52
Which one do you like best and why? Or what other fun idea would you like to make into a rainwork?
SaveSaveSaveSave