Last Saturday I've been chosen to be the first 'Curator Smilefactor' of Eindhoven. It's a voluntary position for the duration of a year. The job description: create projects in the public space to make people smile and help others realise their smile projects as well. As part of the application I sent in 3 ideas. Saturday, I was one of the 5 selected candidates to give a pitch to a jury and convince them.
I have big, happy plans, and I can't wait to share all of them with you on the blog as time goes by. One of my dreams is to create a creative community for anyone who lives closeby and wants to get involved. So if you live in Eindhoven, and have cool smile project ideas or just want to help out in whatever way: please sign up to the list below.

You will receive my newsletter, but also announcements of secret missions (time/location) and how to get involved. Think along the lines of making a balloon tree together, but then whatever other random project we want to make.
From the moment I won, it has been crazy town around here. A sample of news articles & interviews:
Interview on Radio FunX (in Dutch) on June 19:


Article in 'Eindhovens Dagblad' (again, in Dutch) of June 19: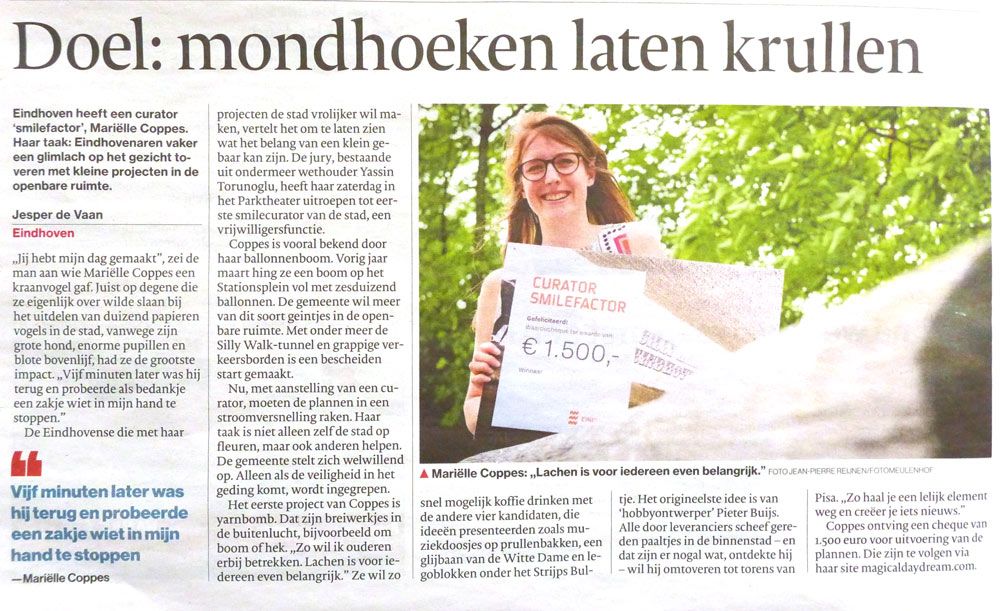 And some local online news: ED.nl, Studio040, Gemeente Eindhoven.
Alderman Yasin Torunoglu (jury member) taking a selfie with candidates & jury on Saturday. Photo (also feature one) by Jos Lammers.
Anyway, I'm super excited about all the happy big changes that are happening. Just wanted to share what I've been busy with. It will mean more street art projects and initiatives to brighten the public space. Yay!
SaveSaveSaveSave
SaveSave
Please share your smile project ideas in the comments! Or, just send me an email if you have a specific idea.