Once, before Joran and I started dating, I sent him a message written with invisible ink, which I discretely delivered to his mailbox. With the help of an A4-paper sheet, lemon juice and a thin brush, I basically asked him when and where we were going to meet to create a scavenger hunt (something we had talked about organising together as part of a sailing weekend with friends) and signed it with my name. Only in the bottom corner I wrote a tiny hint to hold the paper above fire, which would make the ink change colour so it would become visible.
Now, I could have simply sent him a text message or email. That would have saved me a lot of time and effort. But it wouldn't have been as fun.
I hadn't heard from him for a couple of days, and wondered if he would have figured out the hidden message on the seemingly blanco sheet of paper. What if he accidently burned it? Or maybe he simply threw it away not knowing what to do with it.
Then, I received a text message.
It was from Joran.
It read: 'check your balcony'.
I curiously opened my balcony door, and found an empty beer bottle awaiting me. Or in fact, it wasn't empty. It contained a scrap of paper.
Carefully and excited, I took it out. The paper contained an url. When I typed the url into my browser, an image appeared. The image had a bunch of printed numbers, letter and scribbles. Once you used the green glass of the bottle as a colour filter, a date and time became clear. Joran had climbed my balcony to deliver an equally cryptic answer to my earlier message.
It was one of those moments, when you realize: 'Yep, this guy is the real deal.'
With countless communication technologies at our feet, there are also countless ways to connect to our loved ones. Social media, email and WhatsApp enable us to share meaningful messages in a matter of seconds.
However, even with all these opportunities, creating a real connection can still be challenging. Because digital communication is so easy, frequent and accessible, it has a risk of watering down the quality of contact.
It doesn't need to be that way though. With a little bit of creativity even the most common communication platforms can enable us to connect in a meaningful and fun way with the people we care about.
That's what I hoped to show with my latest project.
I created a paper flower photo booth, and invited people who passed by to write down a chalkboard message for someone they loved. They could take a picture with their phone and send it to that person.
My flower photo booth was part of the 'Geluksroute' (translation: happiness route) and was located at the Hub; the expat center in Eindhoven. I also created some example pictures for inspiration (below). Because of the opening of the international boulevard on the same day, many people who passed by were dressed in beautiful national traditional attire.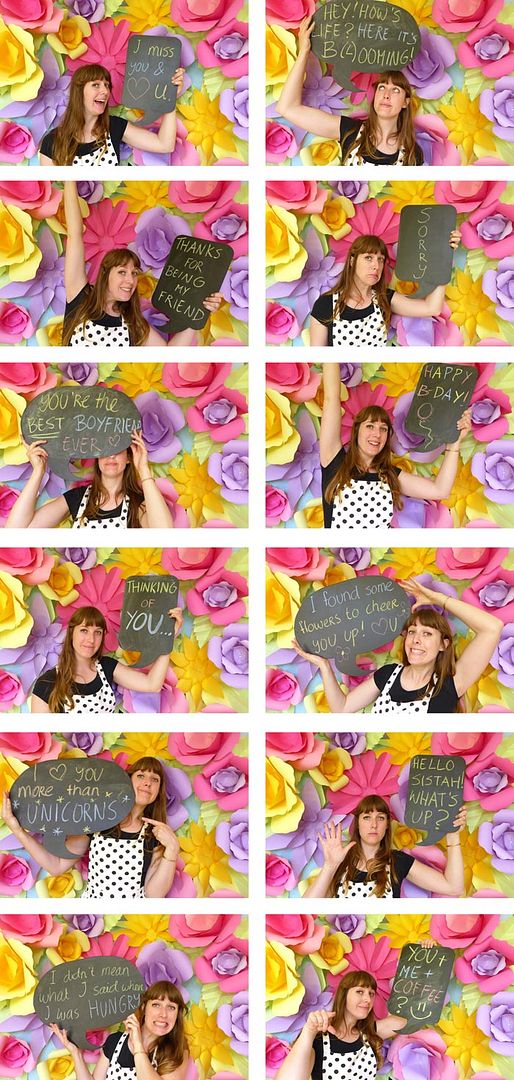 Remember how you used to communicate in fun and creative ways as a kid? You developed secret sign alphabets, wired tin can telephones, wrote in the sand at the beach, pointed directions with chalk arrows on the sidewalk and sent snail mail to pen pals.
Maybe you still do.
Why not channel those happy memories into inspiration for showing the important people in your life that you care about them?
It could be as simple as taking a picture of something personal you created…
Watch the paper flower photo booth video below (or click here to watch it).
PS. For more on fun ideas to show people you care about them, I've written on creative communication before here, and for more ideas; my 'instant inspiration kit' (with 1001 ideas) includes a poster titled '40 romantic, happy and creative ways to surprise your partner'.
PPS. Oh and an unrelated question: do you want me to create a separate post with a tutorial on how to make big paper flowers, like the ones in the paper flower photo booth? Because I could… Please let me know in the comments if you do.