Guest post by Joran, Mariëlle's fiancé (she said YES!)
My heart was pounding. Just a few minutes ago I got word, she was almost there. For weeks I had been planning this treasure hunt, carefully scheduled to coincide with her birthday. And there I was, sitting on top of a Giant Paper Crane with a ring at the ready, music in the background, waiting for her to arrive. The final act of an elaborate surprise. And hopefully a big step towards a lifetime together. Any minute now…
But first, let me take you back several years.
How we met
It was a sunny day at Eindhoven university campus. Me and my colleagues were shooting a promo video for our company, which involved a chubby guy in a belly shirt and a pink tutu, re-enacting Dirty Dancing with random passers-by. Mariëlle, still a student at the time, noticed the strange scene and asked me what we were doing. After a short explanation, I told her that now she of course had to join in the video. So we actually have video footage of the first day we met (check the cute girl at 0:45 in the movie and me at 1:20)!
Eager to see the movie, she wrote her email address on an origami paper crane. Not a torn piece of paper, not a business card, but a paper crane she was carrying in her wallet! How creative! How playful! She went on and left me inspired and curious – who was this girl?

The paper crane she gave me. It has decorated my desk ever since.
The first quest
After getting to know each other, but before we started dating, I received a blank sheet of paper in my mail. I discovered a small hint in the corner: "heat me". So I heated the paper above a fire (while accidentally burning some small parts) and guess what? An invisible message appeared! Again: how creative! I felt amazed, inspired and most of all challenged. I just had to reply in an appropriate way!
It sparked an elaborate creative message exchange involving secretly climbing her balcony, a beer bottle as a decoder device, and glued peanuts with hidden messages inside. All just to plan a date to design a treasure hunt together. And apropos, it also ignited a spark between Mariëlle and myself.
(If part of this story sounds familiar, that's because Mariëlle recently covered it in her Paper flower photo booth post)
Arguably Mariëlle's most famous and impactful project
Several months later, Mariëlle folded her thousandth origami paper crane. She had been working on this for nearly two years. During spare time in the train, just before going to bed, or during lunch: she was often folding paper cranes. 1000 of them. The time had come for the flock to leave the nest. To fulfil their destiny: brighten the day of a complete stranger. And she honoured me with the task of recording this great random act of kindness ('commonly' known as RAK, which I, like so many things, learned from Mariëlle).
It took her one idea, quite some energy and a gazillion hours, but it was worth it. It was a great feeling to surprise so many strangers. It really made their day. And ours.
Ever since, I've been involved in many of her creative projects, be it as camera man, as a Valentine's surprise, as a grateful recipient of many handcrafted items (evidence 1, 2, 3), or as an extra pair of hands for whatever needed to be done (building a creative craft cabinet, or for her other arguably most famous and impactful project: the balloon tree).
So given all her creativity, playfulness, impressive work, strong sense of purpose, and all our great adventures and memories, the question became:
How to propose to Mariëlle in a creative, playful and meaningful way?
Given all of the above, it clearly had to include the following ingredients:
Some big, crafted thing
A cool quest or treasure hunt
Why I love her
How I will be there for her
Something with paper cranes
At least one of the following: glitters, unicorns, or rainbows
To mask the entire surprise, I planned it on her birthday. The intended experience:
Yaaay-it's-my-birthday-hhmmm-breakfast-in-bed-heeeyyy-where-did-Joran-go-oh-look-at-that-there's-a-secret-message-on-my-plate-cool-a-quest-where's-this-going-ah-what-a-sweet-letter-wait-a-minute-is-this-really-just-a-birthday-surprise-oh-WOW-it's-a-giant-origami-paper-crane-YES-OF-COURSE-I-DO!
But first, I of course need her family's blessing. I got myself a surprise lunch meeting with her dad, thanks to his great colleague for helping out with a fake appointment. I brought a small gift: a shield, made by me at the age of super-young. The symbolism was just too perfect, as if I made it and kept it all those years, just for this purpose:
A treasured toy, as a devotion to Playfulness
A hand-crafted item, showing allegiance to Creativity
A shield, as a promise to protect Mariëlle
My "coat of arms" if you will, as a sign of uniting our families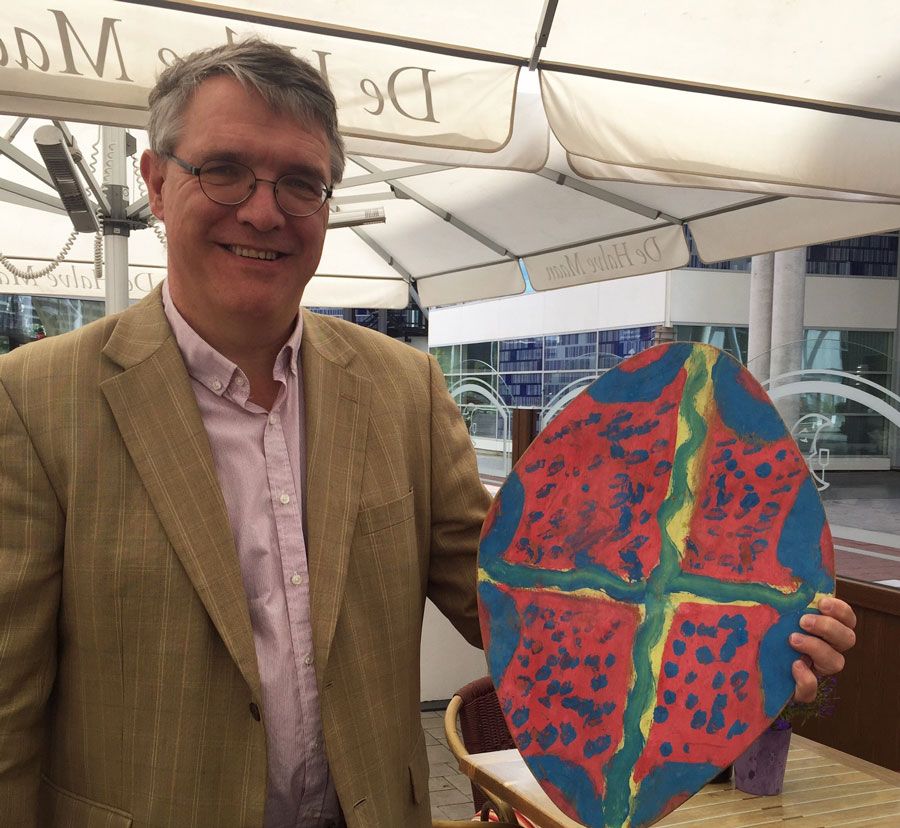 Mariëlle's dad with the shield.
After a great and successful lunch, it was time for the real thing.
Building a Giant Paper Crane
After lots of planning, and just before the big day, there was only one thing that still needed to be done: to build a giant paper crane! It took 100 square meter of paper, 200 meters of duct tape in various colours, a lot of wood & 5 friends to help out, but we made it!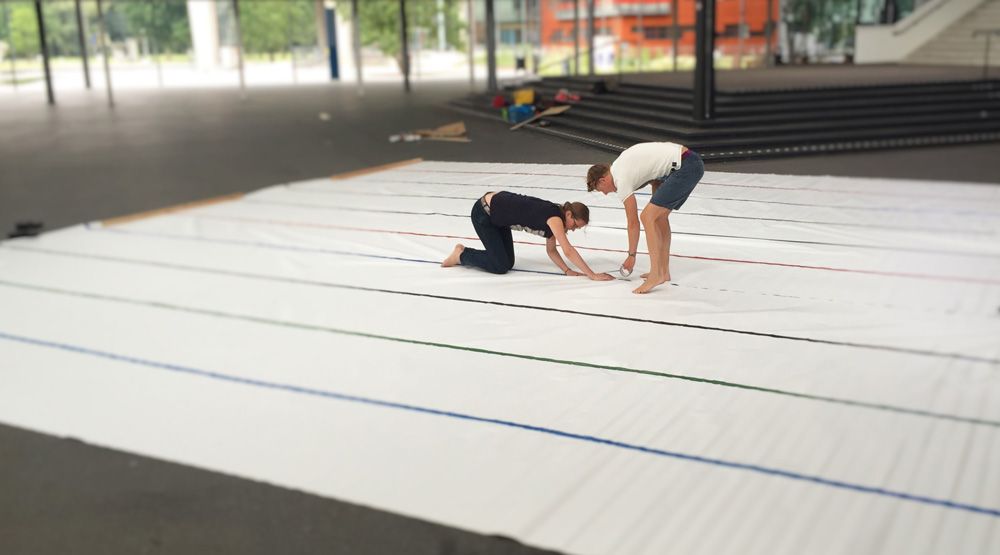 The Big Day!
The treasure hunt took Mariëlle to 6 different locations. Locations that are in some way or another special to us. And each location came with a letter, which would include a nice memory, why Mariëlle is so special to me, and how I will be there for her. And of course there was always some kind of riddle, pointing to her next location.
Act 1:  The not-so-ordinary breakfast in bed
Mariëlle's birthday was on a Sunday. And how does a perfect birthday start? Exactly. With breakfast in bed. But this was not your ordinary breakfast in bed. Once she finished her yoghurt, coffee, and toast, several hand-painted hints were uncovered.
Can you guess where she had to go?
Act 2: Message in a
bottle

balloon

Just a few months ago, the square in front of Eindhoven train station was grey, rainy, and cold. Until Mariëlle brightened the place with her wonderful, colourful balloon trees! For this quest, I put a few balloons in the tree. One of them included a kind letter and instructions regarding her next location. By making the balloons pop, the hidden letter would fall out (together with lots of golden glitters)!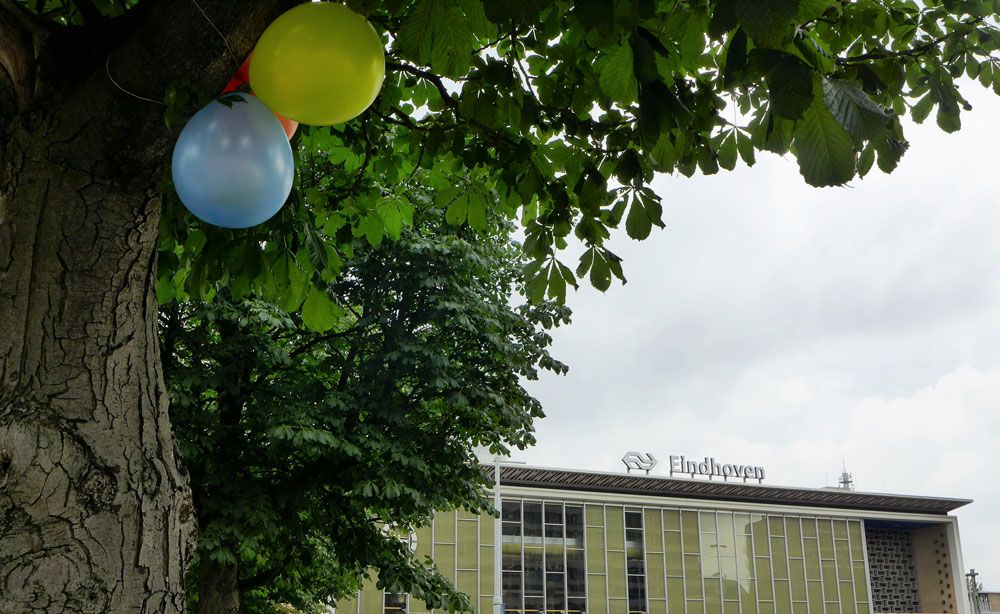 Act 3: Find the letter
Through a series of hints, Mariëlle had to discover her next location: her local church. Here, she found a sealed letter (which included lots of kind words about her and her religion, and a hint to guide her to her next destination).
Act 4: Decryption
This was a difficult one. She was given a sheet of paper with several small holes. It also contained some drawings that hinted towards which book & page she had to find. By placing the sheet of paper on that particular page, she found her next location!
Act 5: Follow the chalk
Paying tribute to a very nice surprise Mariëlle once had for me, the way to her final destination was indicated with a long line drawn with chalk. After following the line for about 5 minutes, there was a message on the street: Mariëlle, SMS "Tutu ON" to me.
This task would tell her two things:
She was heading to the place where we first met
"Oh no – is Joran going to propose to me in a pink tutu?"
At the same time, it told me one important thing: I had to get ready!
Act 6: The Big Moment
She said YES!!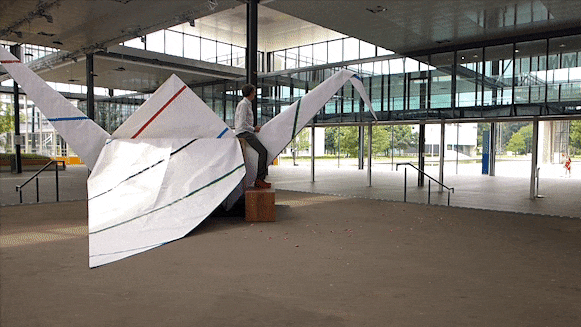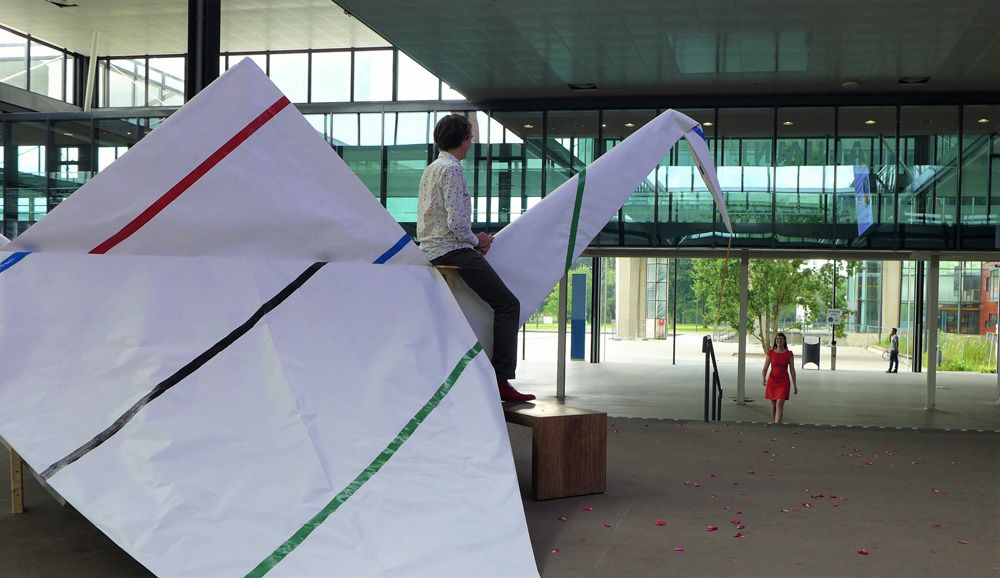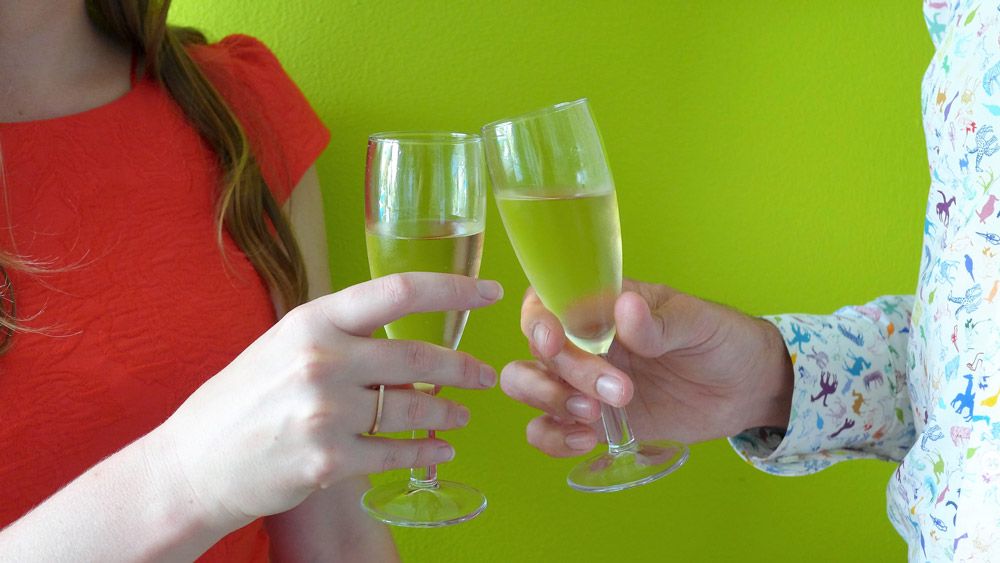 Cheers! To a lifetime together! We're both super excited!
Eager what our actual wedding will be like? I promise we'll post a summary here. Just subscribe to Mariëlle's updates and we'll inspire you ;-)

Credits
It's been a great adventure, a lot of fun, and very very rewarding of course.
Needless to say, I had a lot of help. Diede, Stan, Doreth, Rob, Jolijn, Jacqueline, Ad, Rogier, Violet: I wouldn't have been able to do it without you! Your ideas and help have been awesome!
PS. If you this post made you realize what a great, creative, inspiring and loving person Mariëlle is, I recommend you to sign up for her email blog updates (you can also use the form below). I promise it's worth it ;-)