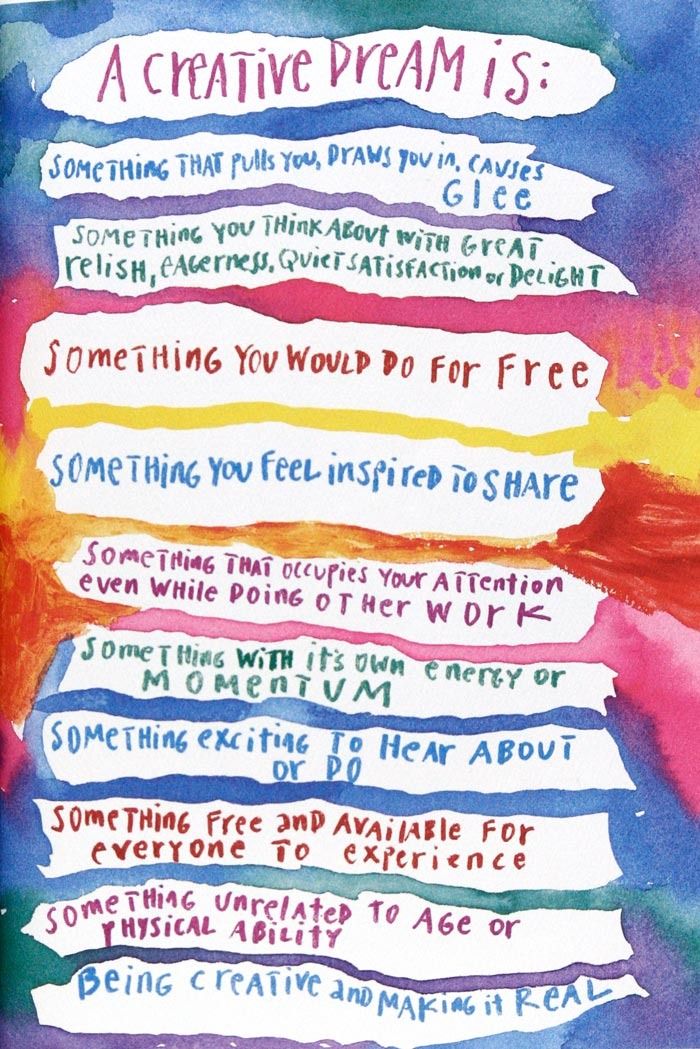 For the last couple of books reviews I shared with you, I created my own illustrations to clarify my main learning points. 'Make Your Creative Dreams Real: A Plan for Procrastinators, Perfectionists, Busy People, and People Who Would Really Rather Sleep All Day
' by SARK (a.k.a. Susan Ariel Rainbow Kennedy) is not a book that needs extra visuals, because the entire book feels like an artwork.
'Make your creative dreams real' starts off with talking about what a creative dream is and why it's important. Creative dreams can be anything, from learning to tap dance to working for a non-profit organization, adopting a child or traveling through South-America. Your dreams need you, because a 'dream-liver' creates positive energy from engaging with his or her dream. SARK suggests that you might find your dreams in different categories, like: dreams of service, dreams of the arts, dreams of family and dreams of self-exploration.
The book is not written as a step-by-step guide to success. Rather, it offers you inspiration and encouragement. It nurtures your dreams and creates a safe spot to be perfectly imperfect. It helps you to take tiny steps towards your creative dreams, while allowing you to take naps on the way.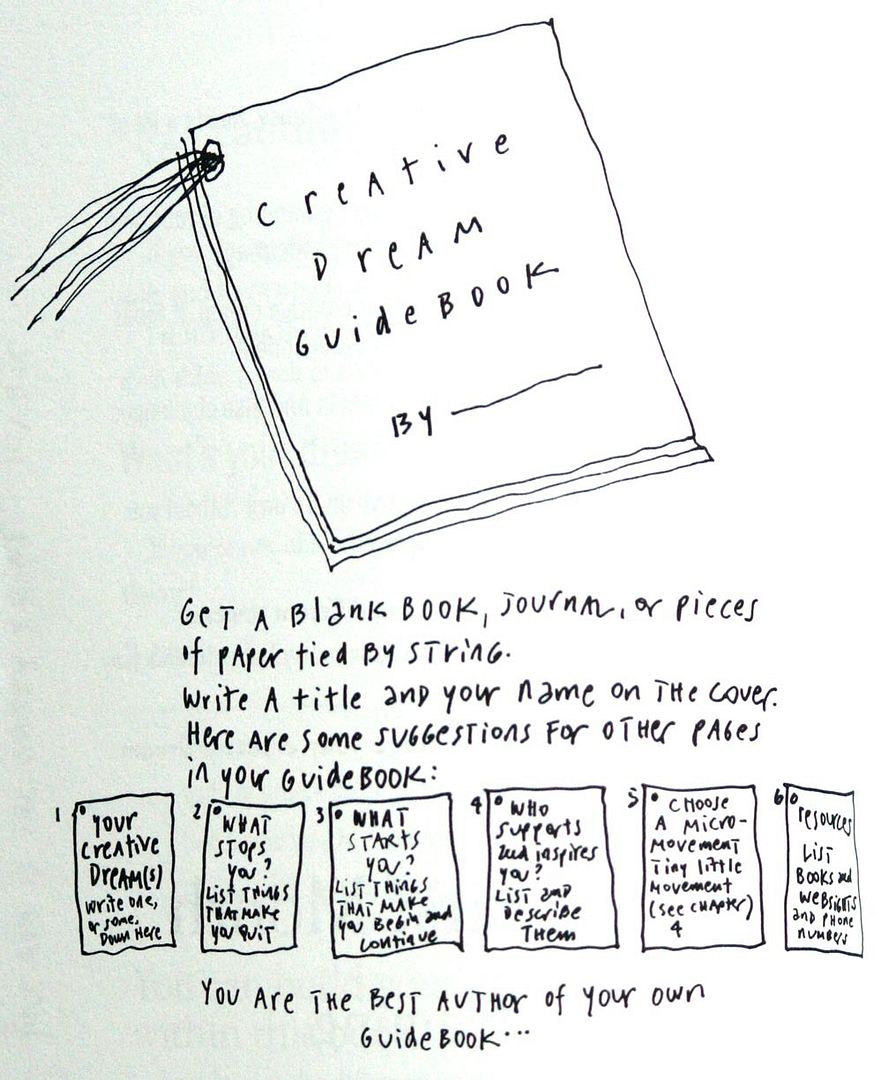 Stages of dream development
One of the ideas I found interesting, is distinguishing different stages of a creative dream. It helped me understand why, when I have a tiny idea and burst with enthusiasm, I feel a need to protect my idea. In that stage, I am very selective about whom I tell about my dream. Because I know that the slightest form of criticism will kill it before it is hatched. In a later stage I don't mind talking about my creative dreams with whomever, because other opinions are not going to influence my pursuit of the dream as much.
Stages of dream development

1. Egg: Idea, beginning, tiny thought.
2. Hatched: Idea born, made visible, tangible, physical.
3. Infant or baby: Creative dream in its infancy. Needs a lot of shelter, care and protection.
4. Toddler: Your creative dream is very demanding of your time and attention and can be charming and endearing.
5. Child: You have a routine with your creative dream. It feeds you, you feed it, you are becoming interdependent.
6. Adolescent: Your creative dream rebels and also challenges you in different ways.
7. Adult: Your creative dream can live on its own without you. Your are interdependent and integrated.

(page 36, 37)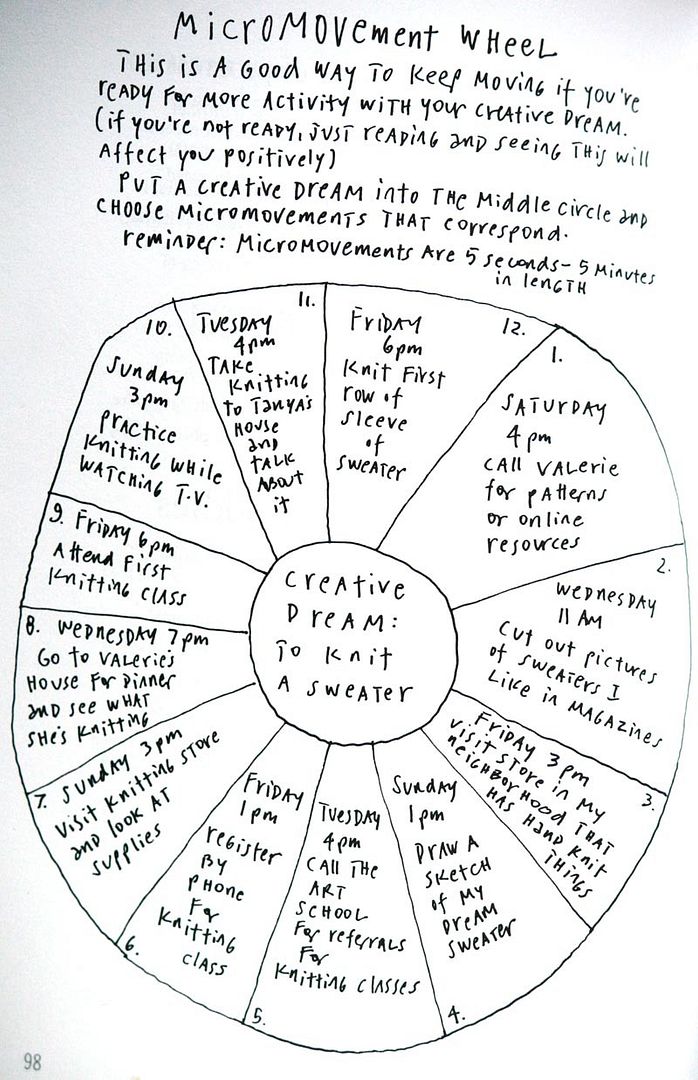 Micromovements
I'm in love with the concept of micro-movements.
A micromovement is a very tiny action that anyone can take towards some part of his or her creative dream. It's 5 seconds to 5 minutes in length, and you write it down, along with a gentle date for completion. (page 89)
I am a big believer in the power of micromovements to keep your dream moving. It's something I have used for years, even before I knew it had a name. Dreams can become overwhelming easily. The best strategy is to divide your steps into minuscule chunks of work. Sometimes even an hour of work can feel as too much. Rather, set yourself something tiny that even you will be able to accomplish. More often than not, I'll find that the 5 minute task sucks me in. And before I know it, I have worked on a creative dream for hours. Other times, I just go on with my regular activities after 5 minutes, but will feel good about at least taking the slightest bit of action.
So tell me. What are your creative dreams? One of my creative dreams that I am working on constantly is this blog. One that I accomplished recently was going solo backpacking through Asia, and one that I still want to do one day is to write a children's book.
All images are pictures taken from 'Make your creative dreams real'.

[Disclosure: this post contains Amazon affiliate links.]