I created my book shelve with hanging jars & mugs together with Joran. It holds a lot of creative and inspirational books and objects.

The posters on my red wall behind the couch are the poster collection I designed, containing 1001 ideas to a creative, playful and happy life. It functions as a constant inspiration wall.

All the paintings hanging on my wooden wall are painted by myself. You can buy them in my Etsy shop, as well as prints of most of the paintings I created.

The turquoise cabinet is one of my latest large creations. I built it together with Joran as well. It holds all my craft supplies, paints and creative materials. I will show a more detailed post on it soon.

My golden chair is the one real investment I made when it comes to furniture. Most of my furniture I got as free leftovers, bargains, or I made them myself from scraps of wood and old drawers. I bought the crochet blanket in Ubud, Bali. I've always wanted such a blanket and I am so happy with it.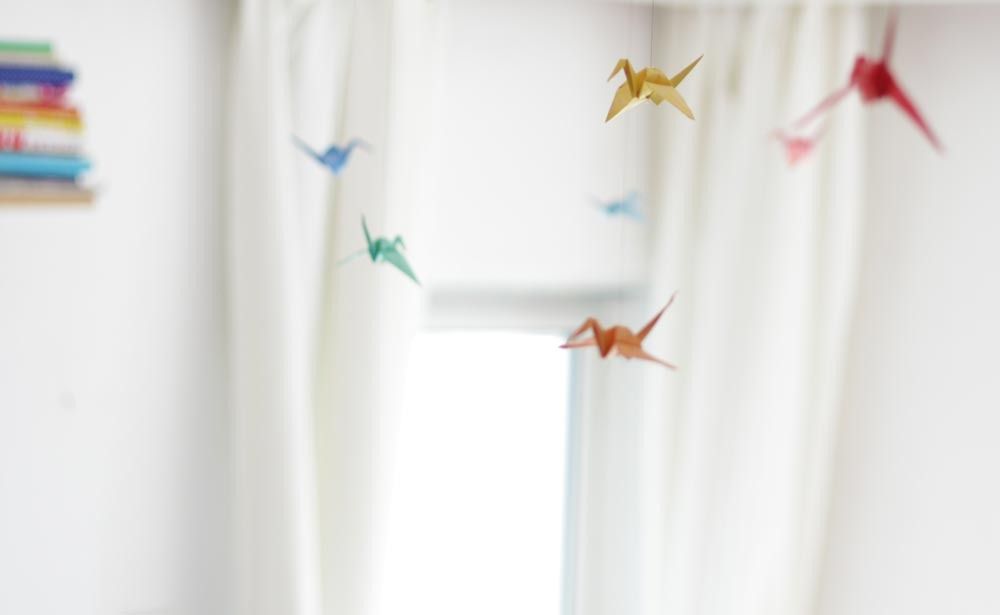 I used the hanging paper cranes at my art exhibition last year, and they are of course a reference to the time I folded 1000 origami cranes and handed them out to random strangers.
I've never shown my living space on my blog before, at least not a complete view. Today is a special day though, because it's the day I decided to give you a little tour of my home. For years I didn't care about what my room looked like. But over time I've realized that it's important to create a space for yourself that you love. Your space should radiate positive energy and bring out your best playful and creative self.
I moved into my apartment, which I share with three roommates, during my first year of university. Continuously I found reasons for not actively creating a space I loved: I would only be in this room temporarily and search for a new one, go on an internship for a semester, finish my bachelor soon and potentially move to another city for my master, potentially find a job after my master in a different place and move to a space of my own. I didn't want to waste money and time on something that was only temporarily anyway. Now, many years later, I still live in the same apartment. I did move to the biggest room in the house in the meantime though.
After years of living like I was going to leave soon anyway, I decided to do things differently. I don't longer care about how long I will continue to live in this space. I've decided to make the best of it during the time that I'm here. Of course I want to move out eventually and afford a space of my own. But at the start of making money doing what I love, I am content with where I am.
As you might have guessed, there is a moral to this story.
When you're always fixed on what's going to happen in the future, you forget how to live fully now. It's human to only want to invest your precious time, money and energy when the conditions are right. That way they don't go to waste. But the downside is that it can cause you to stop investing all together, until you will reach a set point in the future.
"Once we move to a bigger space, my relationship will be better." "Once I am off my anti-depressants, I will be able to enjoy my life again." "Once I make enough money, I can start creating a beautiful home that I adore."
What's even worse, once you do reach that point (you've moved, you're off your pills, and you make loads of money), you often end up making new excuses why things are just not working and why you shouldn't invest completely right now. When I say invest, I don't mean getting your credit card out to make thousand-dollar purchases. I mean use what you have and turn it into the very best you realistically can.
Just because the conditions aren't perfect, doesn't mean you cannot do anything to improve upon them. Let's face it. Your life is never going to be perfect: not your home, not your health, not your social relationships, not your wardrobe. Nothing ever is perfect.
Therefore, pick your battles. New floor? Not gonna happen, even though I think my carpet is the ugliest thing since crocs. New creative cabinet? Yes. Doable. I can build that.
Perfection is a burdensome mindset. Perfectionism makes you feel bad about essentially good-enough-things. You cannot wait for things to be perfect to start improving on your life, because then you will wait forever. Accept that the conditions are never ideal, and start making small improvements upon whatever you have to work with.
Creating a space around me that I love is part of accepting where I am in life right now, despite of what might happen tomorrow or the day after.
Work actively to create a living space you love. It will make you feel grounded in the now, in control of shaping your life for the better, and it will spark joy.
Stay tuned, because I have a series of posts coming up which are related to how to create an inspiring, happy living space. In the upcoming week, I will be talking about how to thoroughly de-clutter your room, show you how I built my turquoise cabinet, and talk about the importance of making space for creativity (literally this time).
All pictures were taken by my (little) sister.