I survived 3 months on a backpack weight of less than 12 kilogram (insert modest applause here), so I think we can safely say that I know my fair share of packing efficiently and travelling light. The mentioned backpack weight includes everything I brought: carry-on luggage, weight of the backpack itself, jacket, laptop and a water bottle. If you're planning to go backpacking through SEA (South East Asia) yourself, you might like reading about my travel hacks. I'll share what I packed for Cambodia, Laos, China and Indonesia (although originally this list was supposed to be for Nepal instead of Indonesia). When you have to carry everything yourself around in the heat, you want to pack as light as possible. I will also talk about what to take and what to leave behind so you can become a super efficient packing master yourself as well.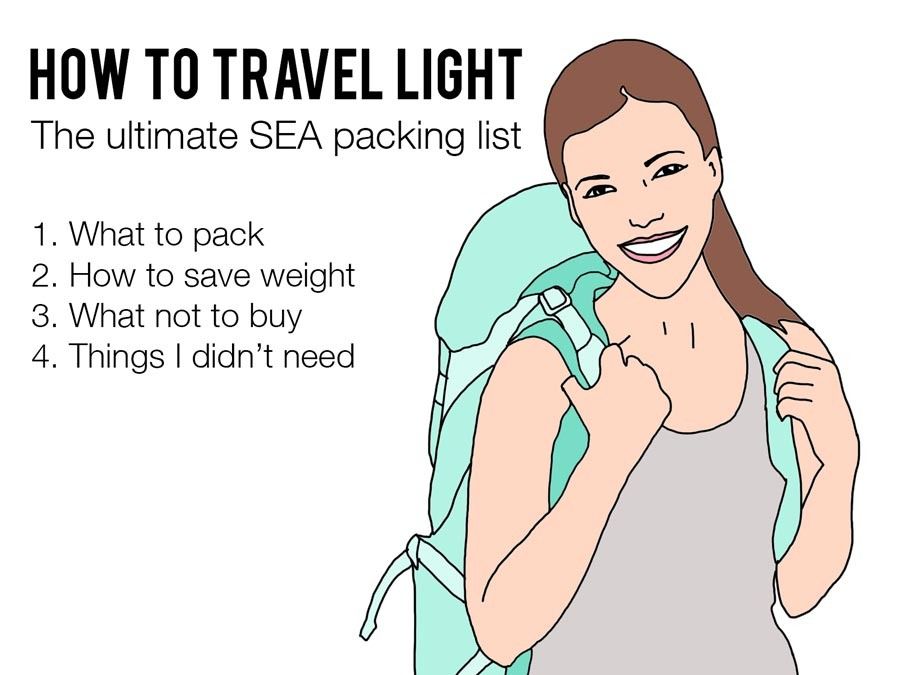 Without further ado, this is my SEA packing list, including everything I took when I left home 3 months ago:
1. What to pack
Documents
Passport
Airline tickets
Cards: credit, bank, medical, OV (public transport), identity card
Copies important papers (passport, medical, insurance, bank cards)
Adresses of family and friends
Important phone numbers
Extra photos/headshots for visas
Emergency cash
Clothing
Flip flops
Sturdy sandals
1 Little black dress
1 Lightweight capri pants
3 Tops (1x T-shirt, 1x tanktop, 1x long sleeve)
5 Cotton underwear
2 Bras
1 Pair of socks
Black legging
Light-weight fleece sweater
Light-weight, breathable, water-repellent windbreaker
Small travel towel
2 Disposable rain ponchos
Pyjama
Bikini
Electronics
Mini laptop + charger
Photo camera + charger + memorycard
World adapter
Ipod + charger
Earbuds
Phone + charger
Bank card reader for online banking
Hygiene
Hand sanitizer
Deodorant
Small soap
Toothbrush
Toothpaste
Toothpicks
Shampoo
Conditioner
Razor + extra blades
Shaving cream
Mooncup
Panty liners
Hair brush
Detergent
Body lotion
Nail scissors
Eyebrow pencil
Mascara (rinsable with water)
Callus stone
Mirror
Tweezer
Toilet paper
Pharmacy
Malaria pills
Ibuprofin
Paracetamol
ORS
Diarrhea inhibitor
Betadine cream
Motion sickness pills
Mosquito repellant with deet
Drinkwater disinfectant
Medication passport
Sunscreen
Bandage
Plasters
Blister plasters
Alcohol swab
Any other prescription medication you take
Books
Lonely planet
Pocket bible
Think & grow rich – Napoleon Hill
Creative
Moleskine sketchbook
Aquarelle watercolour pencils
3 pens
Pencil with an eraser
Pencil sharpener
Bags
Big backpack
Rain cover backpack
Small daytime backpack
Miscellaneous
Glasses + case
Sunglasses
Travel wallet
Bra-wallet
Lock
Chain (for lock)
Earplugs
Sewing kit + safety pins
Piece of duct tape
Packing cubes/laundry bags
Ziploc bags
Emergency whistle
Fake wedding ring
Spork
Piece of sailing rope (for hanging laundry, 3mx2mm)
Pocket knife
Things for Joran to bring for the last 2 weeks:
Running shoes (for hiking)
Altitude sickness pills
2 Pairs of socks
2. Packing tips to minimise weight and optimise your bag content
Take only mini versions of any soap/liquid/razor cream
Either buy smaller versions, or buy small empty plastic bottles (100-150ml). Then fill those up with your favourite shampoo and conditioner. You really don't want to be carrying half a liter of every care product you need (I met people who did, they were dying under the weight). Sunscreen was the only big bottle exception I made.
Don't bring too much clothing
You really don't need that much. Also, clothing is heavier than you would think. Just do your laundry more often. Laundry services are cheap and if you do it yourself your clothes will dry very quickly in the warm sun.
Buy clothes when you get there
Don't buy too much on forehand. Clothes in SEA are cheap and they fit the hot climate. Also, anything you wear will get ruined during your trip anyway (so only bring things you wouldn't mind throwing away afterwards). I intentionally bought a pair of pants and flipflops on a market in Bangkok instead of at home (be aware that large size women shoes aren't available though; large size means being an average Dutch woman).
Cut your towel in half
Take a travel towel from thin fiber cloth. You don't need more than a piece of about 50x50cm to dry yourself. Or even better: don't take a towel at all and just use a sarong instead.
Don't take closed shoes
I know the opinions vary on this point, but to me it's just too hot to wear socks and closed shoes when it's 35 degrees Celsius. I knew I would never wear such shoes and I would just end up carrying the useless weight for 3 months. I did invest in a pair of sturdy sandals. They proved to be excellent for hiking and long walks. When they became wet they dried quickly. That being said, climbing mount Rinjani (>3700 meter) in Indonesia, was the only moment when I was happy to have closed shoes (Joran took them for me for the last part of my travel).
As a woman, only bring clothes that cover your shoulders and upper legs
99% of all the backpackers I met would not care about this, but I made a conscious decision to be culturally sensitive. Many countries are a lot more conservative, so I would make an effort to cover up what the local ladies cover up. Only places I made an exception was at places with only tourists and some beaches. Yes, it's warm. Yes, you won't tan. Yes, it can be annoying. But I think it's the respectful thing to do.
Bring a little black dress
This was one of my best clothing decisions. I bought a loose-fitting breezy black dress from a breathable fabric that covered my upper arms and legs. It was super comfortable while I still had the feeling of being at least a tiny bit stylish.
Buy a sarong (when you're there)
It will be the best investment you'll make, trust me. I can rave for a long time about the endless possibilities and uses of a sarong. It can be a: scarf, towel, beach dress, skirt, cover to change into your bikini in a public place, picnic plaid, something to cover you up when visiting a temple, sun screen or blanket, to name a few.
Cut unused pages out of your Lonely Planet
My Lonely Planet included some countries I wasn't visiting, so I simply cut out about half the pages to save weight.
Take a Mooncup instead of tampons.
Or take some similar product. I actually bought mine especially for this trip (best to have at least one period of getting used to it before you leave). It saves a lot of space, not to mention the environmental friendliness.
Travel without make-up
Travelling is not the time to be vain. No make-up means no make-up remover (which is the actual weight). If you really want to, you can take a mini version of the things you love most. See if you can get something that washes off with water only though. Remember that you'll be so hot and sweaty most of the time that you won't really want to wear make-up anyway. The only thing I allowed myself to bring was an eyebrow pencil and mini mascara smaller than my pink (which I only used once during the entire trip). Sometimes I think it's good to detach yourself for a while from superficiality and accept your body how it looks naturally. You'll survive.
Weigh every single item on forehand and optimize to the bitter end
Yep, this is literally what I did. I even made an excel sheet like a total nerd with every item I brought and how much it weighed. It did force me to leave more items behind and come up with creative solutions.
Bring glasses, not contact lenses
It's mostly just that contact lenses fluid is heavy. That alone will easily save you 1 or 2 kilo. This was actually one of the reasons why I decided to start wearing glasses again.
Bring packing cubes or bag dividers
This one is a lifesaver. Use something to categorize and divide your bag contents, so when you need to take something out you don't mess up your bag every single time. It makes it much easier to locate stuff. You don't need to buy expensive travel gear for this, you can just use thin laundry bags and Ziploc bags.
Remember, you can buy almost anything there
When you run out of something or need something, you'll most likely be able to find it there. So if you're in doubt about bring an item, you can probably do without. If you really do need it after all, just buy it there.
3. Things I considered bringing but did not buy and why
Travel stores and the Internet sell a lot of items that seem really useful when you start researching what you'll need to pack for your backpacking trip. But some of them you might not need that badly.
Rubber sink stopper (for doing laundry)
Borrow one from someone or use a sock. Or just get your laundry done by someone else for a dollar per kilo.
Some fancy elastic clothing line
They sell these for quite a lot of money. Just bring a small piece of rope instead.
Hiking shoes
Too warm. Misconceptions: they will protect you against snakes and small creatures. The Internet told me that snakes will go for your ankles anyway and that leeches can still crawl through the holes for your shoelaces. If you really do want to bring sturdy shoes (because you will be climbing a big mountain), you can also use shoes that have a good grip and are comfortable that you already own. In my case my running shoes would qualify, instead of spending a lot of money on something you'll need 3 days.
Rain coat
I found that disposable rain ponchos are lighter and take up less space. Note that I didn't travel in the rainy season though, that would have probably made a difference.
Inflatable travel pillow
Ok, quite honestly, there were long bus rides where one of these might have been comfortable. But then again, you can also just roll up a sweater or suck it up.
Special water bottle (with a filter)
Some of these bottles don't protect you against all the harmful stuff that's in the water. Also, they sell water on every street corner. And the places where you can refill a bottle with clean drinking water are sporadic.
Eye mask
I don't like the feeling of it when it touches my eyelashes and I just imagine it getting filled with dirt (that you can't see).
Rubber doorstop to lock a door from the inside
I mostly shared rooms in hostels, so it wouldn't be that practical.
4. Things I didn't need and would leave at home if I would do it again
Fake wedding ring
I read this tip online and thought it was a genius way to avoid some unwanted attention while travelling alone as a woman. After 2 days my cheap replica was turning my fingers green and I didn't wear it afterwards anymore. But besides this, you are constantly surrounded with people and I didn't feel unsafe at all. Sleeping in hostels means meeting a lot of fellow backpackers, a lot of whom are travelling by themselves as well. Also, not all cultures have a wedding ring as a symbol of their marriage. You don't need this.
Spork
I got one for free in a travel store when I bought some other stuff I needed, so I decided to take it with me. You'll mostly eat cheap meals out anyway. They will provide you with cutlery.
Socks
I only wore them on the plane to Asia. Especially when you only have sandals and flip flops, there is no use for them (except perhaps blocking the sink).
Mascara
Didn't really use or need it. But then again, it probably weighed about 4 grams… And it did make me feel really pretty that one time.
Towel
I don't like fiber cloth that much. Better to bring a sarong instead. Also quite a few places will provide you with a towel.
Pocket knife
I didn't use my knife a lot, mostly to sharpen my pencils or cut some fruit. Because I was forced to take my backpack as carry on luggage (long story), customs took my pocket knife on my way to Indonesia. I didn't really miss it though. I thought I would be using it to open wine bottles perhaps, but wine is really expensive in Asia so I would tend to drink beer (if at all). Also, at most places you can borrow a knife if you really need one or ask a merchant on the street to cut the fruit for you. I would probably still consider taking it if I still had one, but wouldn't buy one again just for travelling purposes. Unless I would go camping by myself for a longer time.
Phew, that became an immensely long post. Hopefully it's a good resource though for everything you would like to know about packing your bag for a backpacking trip around Asia. Any tips I missed which you would like to share?