I'm a highly practical packer and everything and anything got tossed out from my original packing list if it didn't meet my high end requirements of being absolutely necessary, ultra-light weight and preferably taking up a small amount of volume. My large size, heavy aquarelle paper moleskine sketchbook was perhaps the only exception I made to my strict packing regime.
I don't keep a travel journal, but I blog every now and then and additionally I make an occasional sketch. I see it as a visual way of recording snippets of my trip. Looking at a drawing instantly brings me back to the place and time I drew it. Other than that, I think it's a good practice. At home I paint and I often spend many hours on one single painting, working from a combination of pictures and imagination. Quick sketching is something I don't really do that often though. I would like to train myself more in this area, which was another reason for me to bring a sketchbook.
I don't sketch every day, but most often I will make some time every couple of days to make a sketch. I make my sketches on bumpy buses, under the roof of a restaurant listening to the ticking rain when there is nothing else to do, killing time when my minivan gets a flat tire or simply when I feel inspired.
Here is a peek into my travel sketches. Today I only will show the ones I made during the first three weeks of my trip, mostly in Cambodia.


Drawing Ta Prohm (Tomb Raider Temple) at Siem Reap.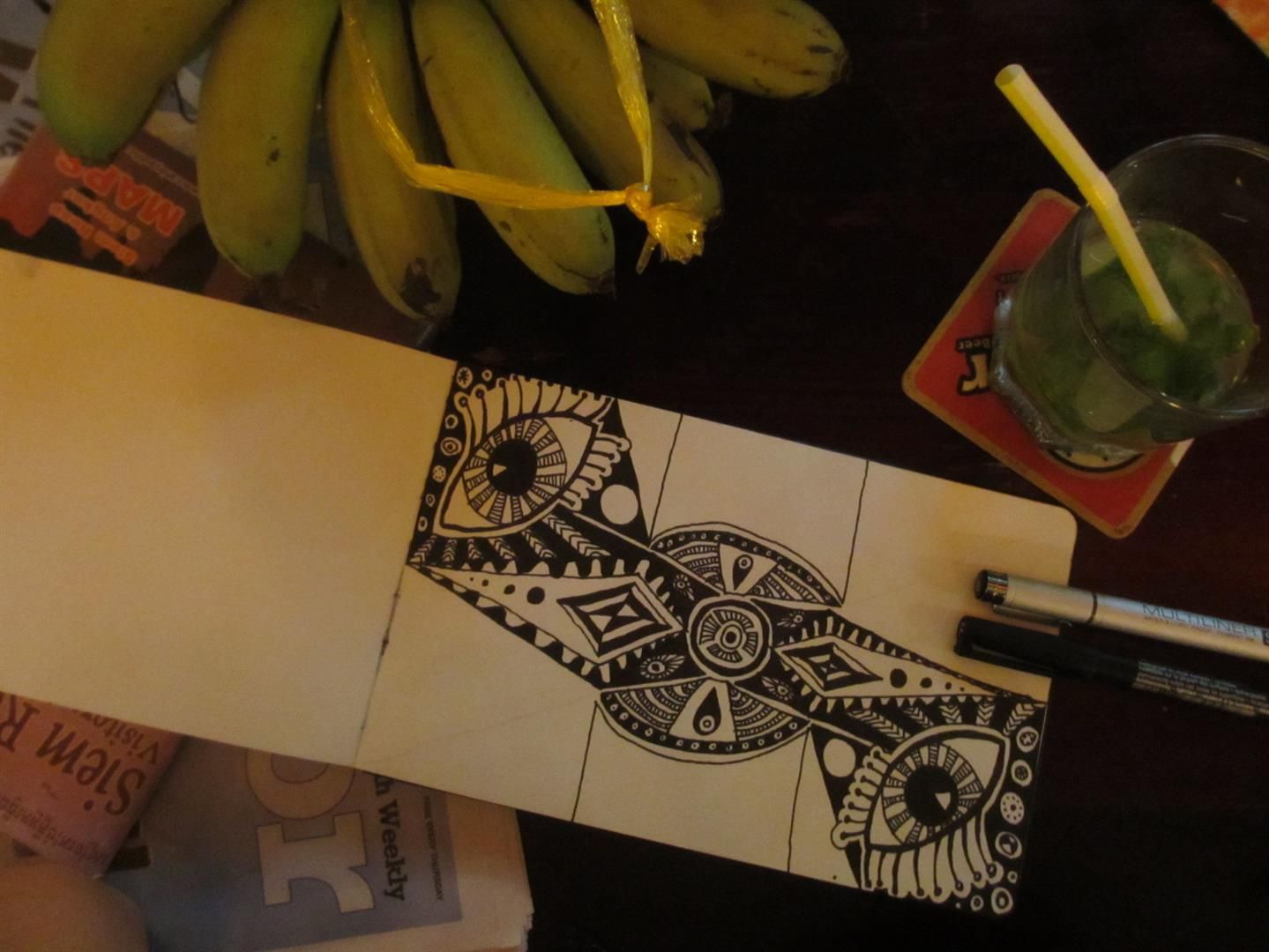 Doodling late at night while sipping a mojito at Lotus Bar in Battambang, killing time before catching a sleeper bus.

Using the pattern of the street tiles in Kampot as inspiration for a more abstract drawing.

Flat tire on the road from Kratie to Don Det.
Oh and in other news, I'm in China! I arrived in Beijing Sunday night very late. Last night I took a sleeper train to Xian, where I am now. More about my China adventures later!