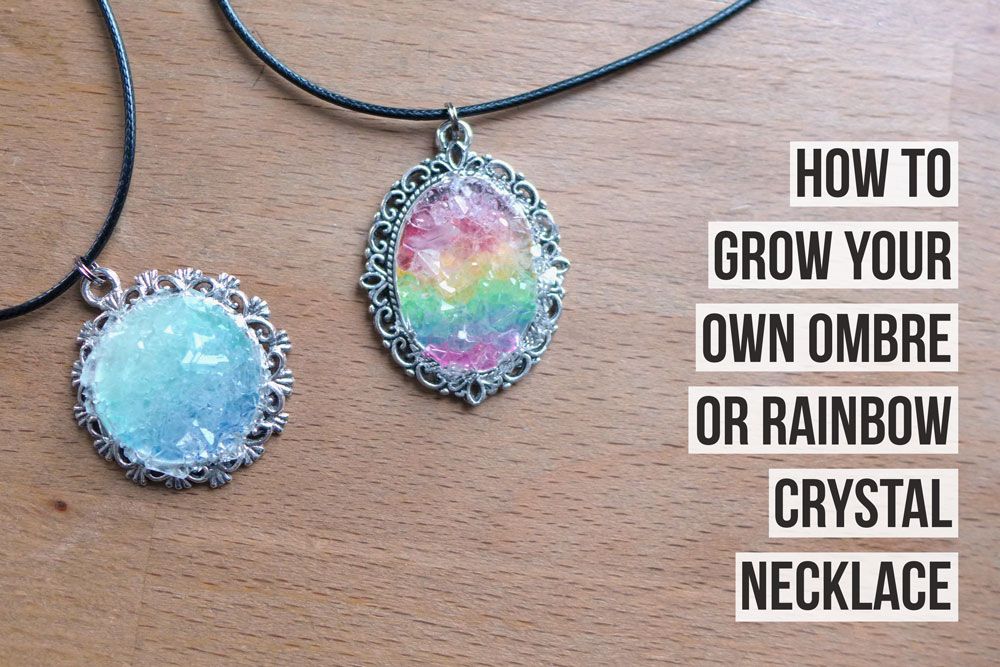 Anyone can grow a plant. Although actually I still believe that keeping plants alive is one of the most underrated challenges of adulthood. Growing a moustache is one level up. But have you ever tried growing your own crystal necklace? It's not as hard as you might think.
When I grew my own crystal egg geode, I knew it wouldn't be my last time growing crystals with alum. The process was just so fascinating! I already experimented with growing crystals in a piece of metal (a lid) back then. What if I would do the same for a smaller pendant shape? Would I be able to grow my own crystal necklace? I experimented a bit, and found that it is indeed possible. Of course I can't not share these little gems with you.
1. Gather materials
You will need:
alum powder (Potassium Aluminum Sulfate)
nail polish
open pendant
necklace cord
necklace clasp
Where do I find alum powder?
You will probably be able to buy alum at your local drug store. It's used to stop shaving wounds from bleeding. I was able to get a small block of alum, but had to smash and grind it myself into a powder.
Get a pendant. It should be empty and preferably have a small edge on the side so you can grow your crystals inside. I got two so I could experiment with different colours and processes.
2. Paint the inside of the pendant with nail polish

When I grew my crystal egg geode, I added food colouring to the water. However, I knew that the crystals themselves didn't adsorb the colour. It was merely the eggshell and the edges that collected colour. So I figured that for my necklace I wouldn't add any colour to the water. I would just paint the inside of the pendant with nail polish. I smudged the colours a bit to get a gradient in stead of coloured lines. I coloured one pendant in rainbow colours, the other one a blue ombre shade. Be sure to let your nail polish dry properly afterwards.
3. Use transparent nail polish to 'glue' some alum powder to the pendant
When your coloured layer of nail polish is dried properly, add a layer of transparent nail polish. Then scatter some alum powder over the wet transparent polish. Push it in a bit and make sure it covers all parts of the inner side of your pendant.
What not to do: Don't use white glue. This is what I used in my first attempt. Because I used white craft glue for my last crystal project, I figured it would work the same for this project. I'm not sure if it was because of a different underlaying surface or something else, but it didn't work at all. After two days the glue had dissolved, the crystals hadn't grown and it was a big fail.
4. Dissolve alum in hot water
Boil water. Add about two or three big spoons of alum to a cup. Add a little bit of water and try to stir and dissolve as much alum as possible. Add another bit of water and stir. Continue this process until all crystals on the bottom of your cup are dissolved. You don't want leftover crystals because then those will grow into bigger crystals, in stead of growing effectively in your pendant.
What not to do: Don't use a microwave to dissolve the last bits of crystals. Some tutorials out there recommend this when you grow crystals. I did this last time as well. The logic is simple: you heat the water up so it will be able to dissolve more of your salt. There is a catch though that I didn't think about: after a few seconds in the microwave, I saw a blue light flash. I immediately stopped my microwave. Something started to daunt upon me. Remember how salt water conducts electricity? Clearly a master of science diploma doesn't say anything these days and will still make you blow up your microwave. Despite of this little incident my microwave still works as good as it did before (which wasn't that good to begin with actually). But I though I should put a warning so you don't attempt the same at home.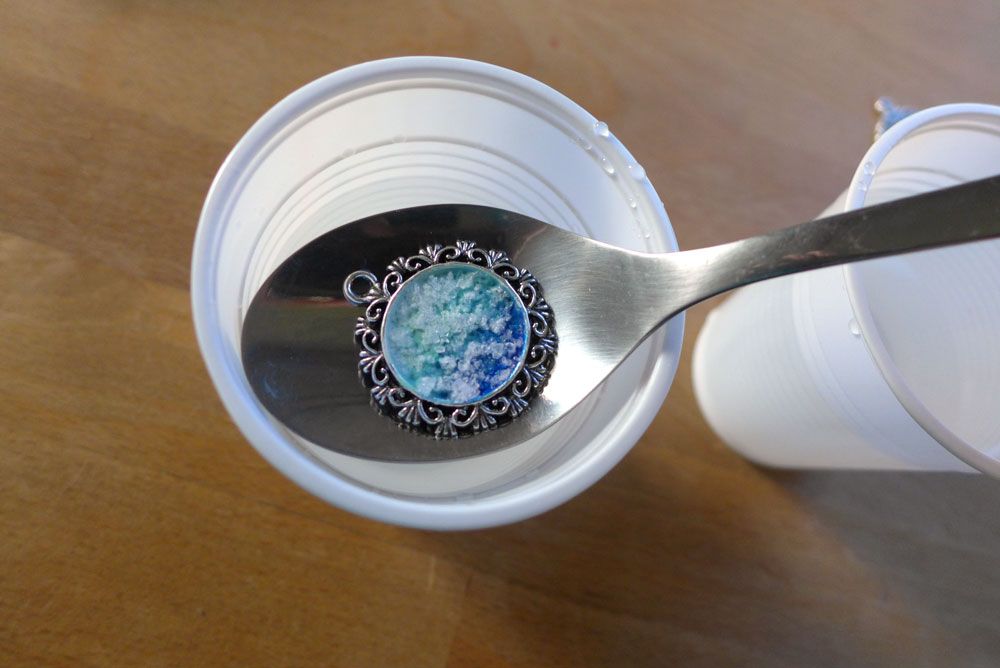 5. Put your pendant in the water
Carefully drop your pendant in the alum water with a spoon. Place it on the bottom of the cup, nail polished side up.
What not to do: Don't drop your pendant in when the nail polish hasn't hardened yet. I didn't wait long enough during my first attempt and it cost me a day. Because of this the nail polish kept sticky in the hot water. The crystals on top of the pendant dissolved and after a day or so nothing had happened so I needed to repeat the nail polish process. The second time I made sure to wait long enough (half a day or so before dropping it in the water).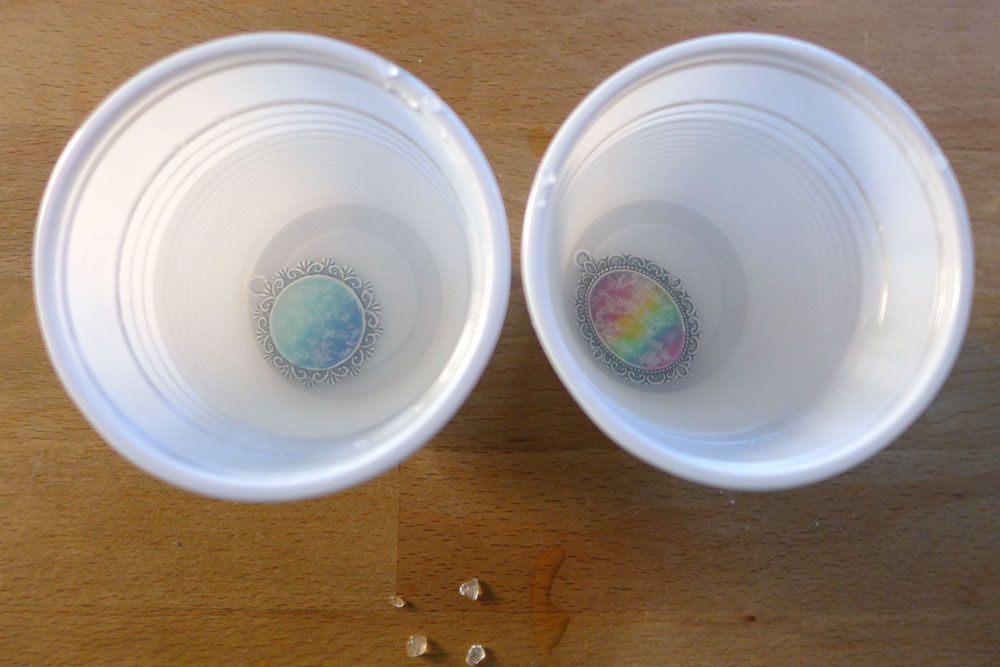 6. Wait
Don't touch your cups or crystals for at least a day. After this time you should see some first results. You can get it out then, or let it soak longer for the crystals to grow even further. If they haven't grown at all after 2 days, it's possible that you didn't dissolve enough alum in the amount of water you chose.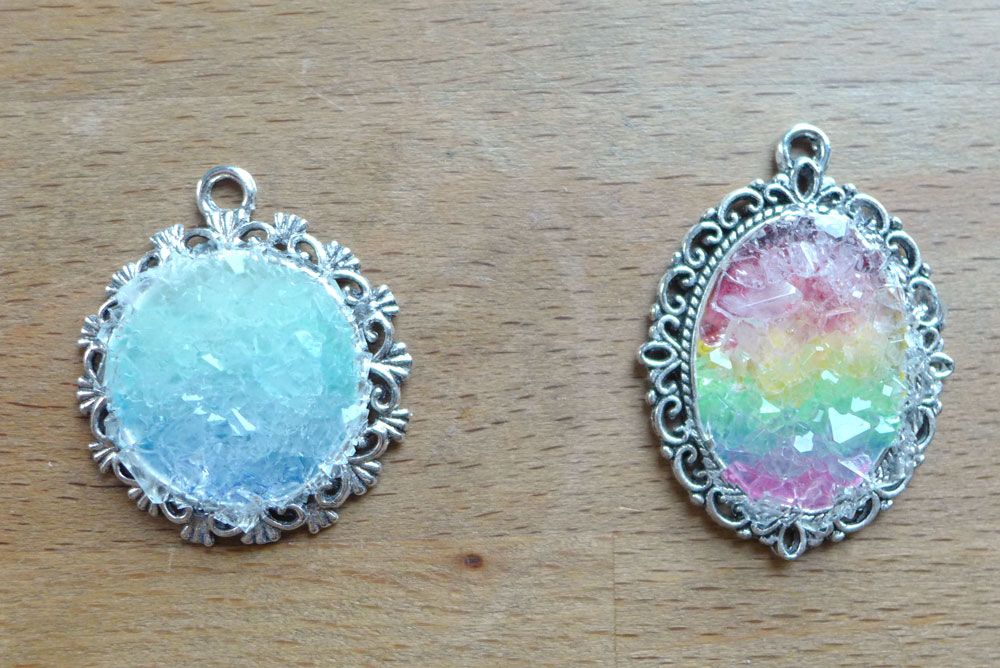 7. Get your crystal pendant out of the cup
When you are happy with the shape and size of your pendant, get it out of your cup. If some crystals have grown on parts you don't like (too much to the side or on the back) you can try to very carefully take these crystals away with a pin or needle. Let the pendant dry properly after that.
8. Make your crystal pendant into a necklace
Put your pendant on a chord and make it into a necklace. Personally I like a black chord for this type of necklace, but you can choose anything that suits your taste to finish your crystal necklace to your liking. Try to be a bit careful when you're wearing it. In the end it's just salt crystals, so accidently hitting into something might cause your crystals to break. When you're somewhat careful you shouldn't have to be too afraid though.
Yup, that's it. And you know what's even more fun? When people ask you about your necklace, you get to respond nonchalantly 'Oh, I grew it'. How awesome is that?
Are you gonna grow your own crystal necklace? I would love to see a picture if you do!