Here is an easy recipe that I use for baking cookies all the time. Shortbread cookies are quick. They also allow for colourful and happy icing decoration. I added pictures of cookies I baked with this recipe in the past. Hopefully it will give you enough cookie idea inspiration to bake your own fun cookies.
I once got the recipe from my friend Anne (together with the most awesome cookie cutters: in fact they provoked my first 3D cookie experiment). In my past cookie posts I have linked to the recipe on Annes blog (in Dutch), proposed you could use whatever cookie recipe you like, or just left out mention of the recipe completely. The link is in Dutch though. And I know that not having an essential part of the plan (like a recipe) often means procrastination of an idea. So once and for all I will write a post about what cookie dough recipe I use, so I can conveniently link to this cookie recipe from now on every time I share another cookie experiment or idea.
In the past I have experimented a lot with ideas, colours, icing and space. However, I always use the same cookie dough recipe. I will never be a traditional food blogger (there are others who are better at not burning food). So don't expect too many recipes from me in the future. I'm more interested in creating fun looking food ideas than in baking delicious tasting food. That's not to say that these cookies aren't delicious. They are yummy in your tummy. That's why I keep going back to them.
As for a remaining handful of countries out there who live in a little world without meters and kilograms: I went to the Internet and googled measurements to translate the recipe to your system. I learned that oz is short for ounces and stuff like that. Now I trust that the Internet has spoken and you can make these cookies too. I actually discovered a lot of new things, like that in English 'zandkoekjes' translates to 'shortbread'. I like the Dutch version better though. 'Zandkoekjes' means 'little sand cookies'. Doesn't that bring you straight back to your lost childhood memories of playing in a sandbox?
I have written directions for royal icing before (in this rainbow cookie post). I am all for original content. However, for your convenience I thought it would be acceptable to for once repeat content. This way you can find all the cookie-recipe-related-stuff in one place.
Ingredients for shortbread:
150 g flour (5.29 oz)
100 g cream butter (3.53 oz)
pinch of salt
50 g caster sugar (1,8 oz)
1 (tiny) bag of vanilla sugar (about 9g or 0.3 oz)
Directions for baking shortbread:
Preheat the oven: 180°C (356°F). Mix the ingredients. Knead to dough. Put 15 minutes in the refrigerator. Roll out dough on a flour covered work surface. Cut out cookies. Put on baking tray. Bake for 18 minutes.
Ingredients for royal icing:
1 egg white
125 gram of powdered sugar (4.41 oz)
0.5 tablespoon of lemon juice
Directions for making royal icing:
Whisk the egg white, until it becomes a thick mass. Then add the powdered sugar and lemon juice and mix it together until it becomes a shiny white thick consistency that 'sticks' to your spoon or mixer. I would recommend only adding little bits of each ingredient together at a time though, so you can adjust the thickness of your icing according to your wishes.
Directions for applying royal icing:
Cut off a piece of cling film and apply (part of) the icing in the middle. You can store the rest of the icing in the fridge (covered). Then fold the outer corners of the plastic foil up so you have a ball of icing in plastic. You can now just pinch a hole in the plastic with any sharp object. You will be able to draw lines of icing by squeezing into the ball, for example to outline your cookies.
Cookie ideas
Below I would like to present some cookie inspiration. All of these cookies were baked using the recipe above.

Playing with a photo camera is fun. But eating a camera is more fun. Here is how to make camera cookies.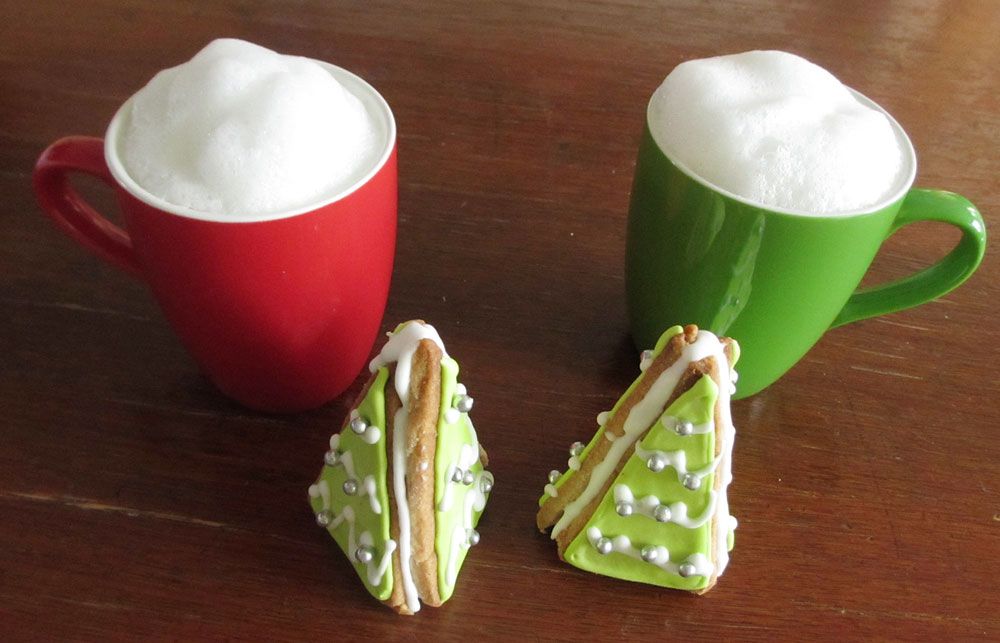 Christmas is only a couple of weeks away. Bake these 3D Christmas tree cookies as the perfect touch to your warm chocolate milk or cappuccino.

If you can't make it to Paris, make Paris come to you with this 3D Eiffel tower cookie.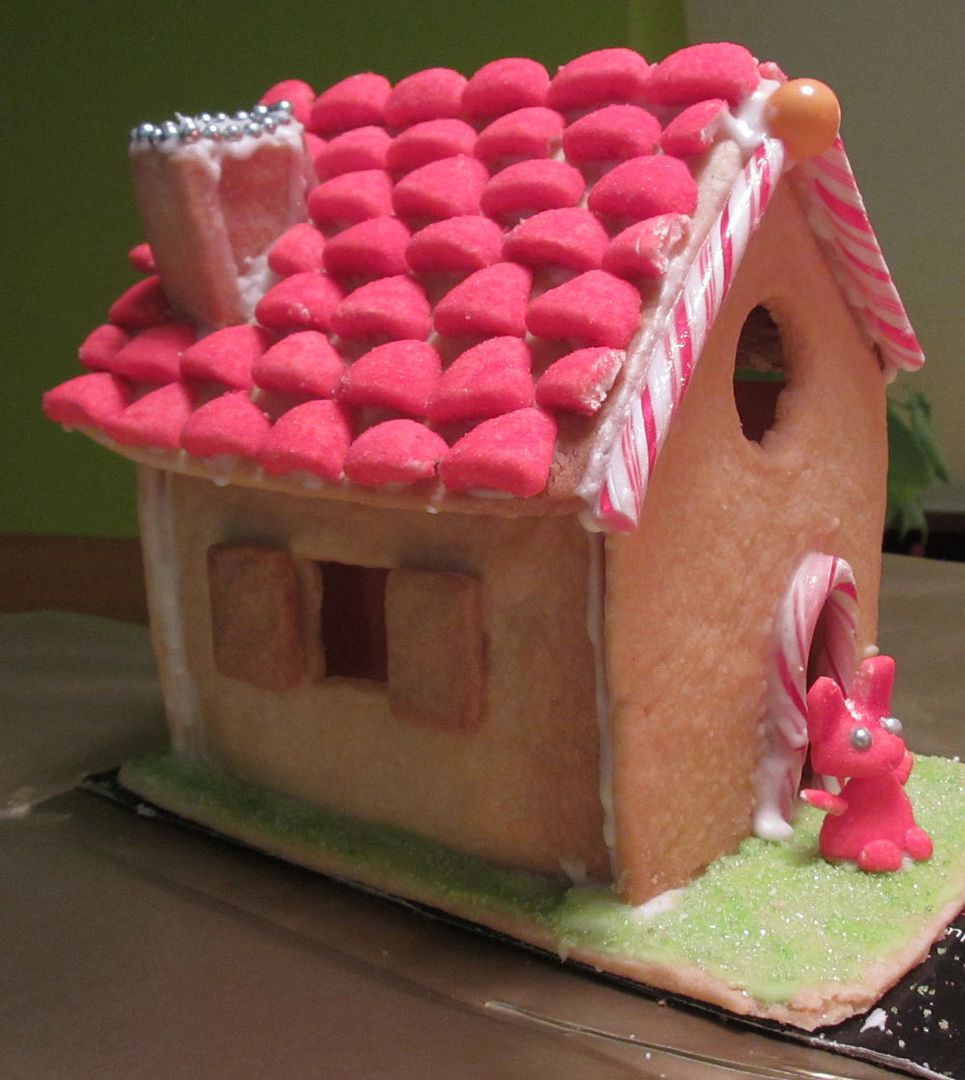 Another fun Christmas holiday project. Make the candy cookie house you always dreamt of as a child.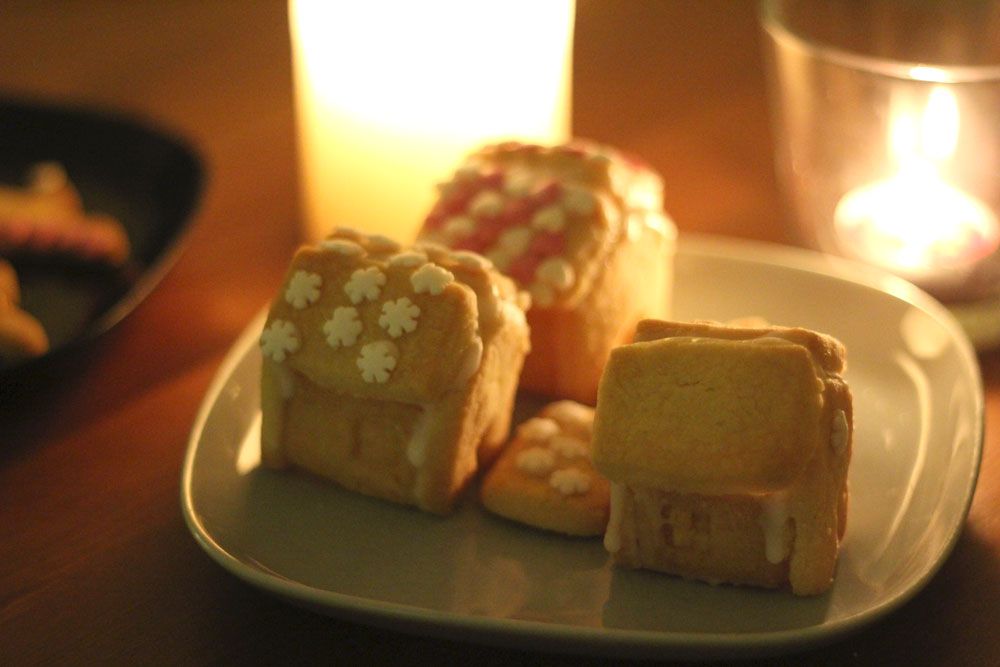 Or, you know, keep it a bit more modest with these cute 3D miniature cookie houses.

If you're feeling down these rainbow heart cookies may be the answer to your sorrows. You cannot stay gloomy when you have rainbows and cookies at the same time.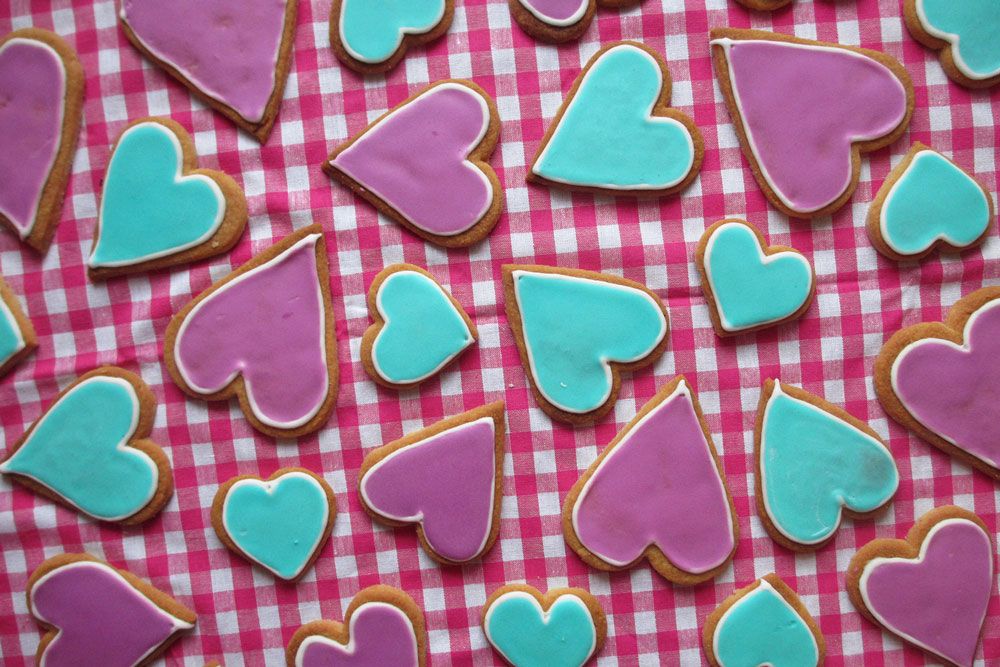 Have you ever considered baking cookies for complete strangers or people you barely know as a random surprise? Perhaps you can bake Valentine heart cookies for your neighbours.

Bake your own moustache cookies for your next moustache party or in honour of Movember.
Happy cookie baking!
Also, keep an eye out for tomorrows post. I have another cookie idea coming up (and yes, that was my motive for today's post).