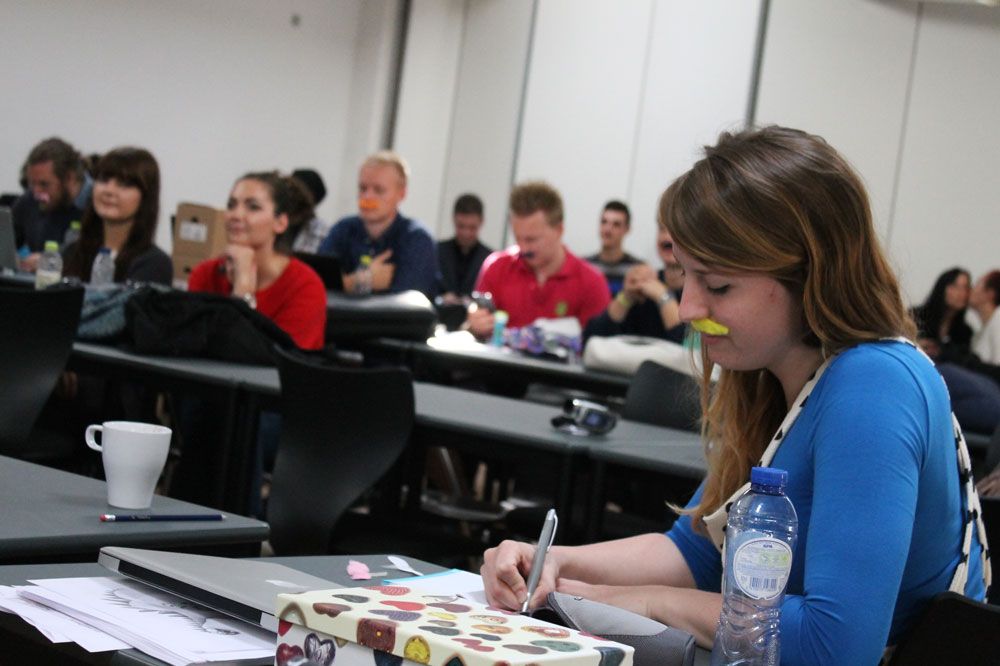 I had slept for 4 hours, maximum. I had been working on my presentations in the train, on the airport and in the hotel the night before. I could feel my stomach turning and my heart beating fast and irregular. The class was filled with students. I was already mapping out my escape-routes in case I needed to throw up. I wish that was a joke. It wasn't. In ten minutes, it would be time for me to stand in front of the group and start talking.
A couple of months ago, I was invited by Adam Montandon to teach a week in Odense, Denmark. Here I was. A well-prepared nervous wreck, ready to lecture to more than 50 E-concept development students of the Lillebælt Academy.
On the outside, I like to believe that I looked like I was keeping myself together. But honestly, whoever knows me, will know that skipping on that coffee was a big red blinking warning sign that something was seriously off.
I started talking. At that instant, the nerves just left my body. I don't know why I get such a physical reaction in anticipation of public speaking, but I do know that I just conquered my fear in that particular moment. I started to focus on my lecture content in stead of my body. I started to feel more at ease. I started to focus more on having fun, and feeling blessed with such an incredible opportunity.
After that first morning everything was fine. I knew what to expect now. I knew the students were a creative and talented group. I knew that this week was going to be so much fun.
I know I am biased and you are not really allowed to say these things about yourself, but honestly, the program was so awesome. How can you not love a course that is all about kindness, dreams, creativity and play?
We started the week by talking about philanthropy and business. What businesses out there are already making attempts towards this? Can such models survive and how do you feel about them? I also shared what I learned from doing random acts of kindness.
There was a considerate time devoted to dreams. Students were encouraged to write down their own bucket list, discover their core values and think about how they wanted to make an impact. In groups of about 5 students they started to work on their own business case. They should either base their idea on my kindness kit (but do it with a twist), or they could come up with an entirely new idea. Either way, it was most important to me that their concept should represent their own values, in stead of mine, or somebody elses. It wasn't necessarily about saving the starving children in Africa, however noble that may sound, if that's not what is closest to your heart. It could be, but probably not for everyone. Different people have different callings. It was more about discovering your own purpose and trying to make steps towards your personal goals, whatever that would entail. It was about using your skills and talents to make a positive impact, in whatever way possible, right now.
Of course I also talked about creativity and play (how could I not?), how to incorporate them into your everyday life and how to deal with creative blocks. Creating a kindness project is one thing, having fun while doing so another.
Friday each group presented their case. One of the requirements was that they went out to do a random act of kindness related to their project and made a video about it. This was possibly my favourite part. It's quite easy to talk about ideas and keep them on a conceptual level. The hard part is to go after your dreams, make change happen, do the things you say you could. So although I did give a number of lectures, the focus was more on the action and making things happen.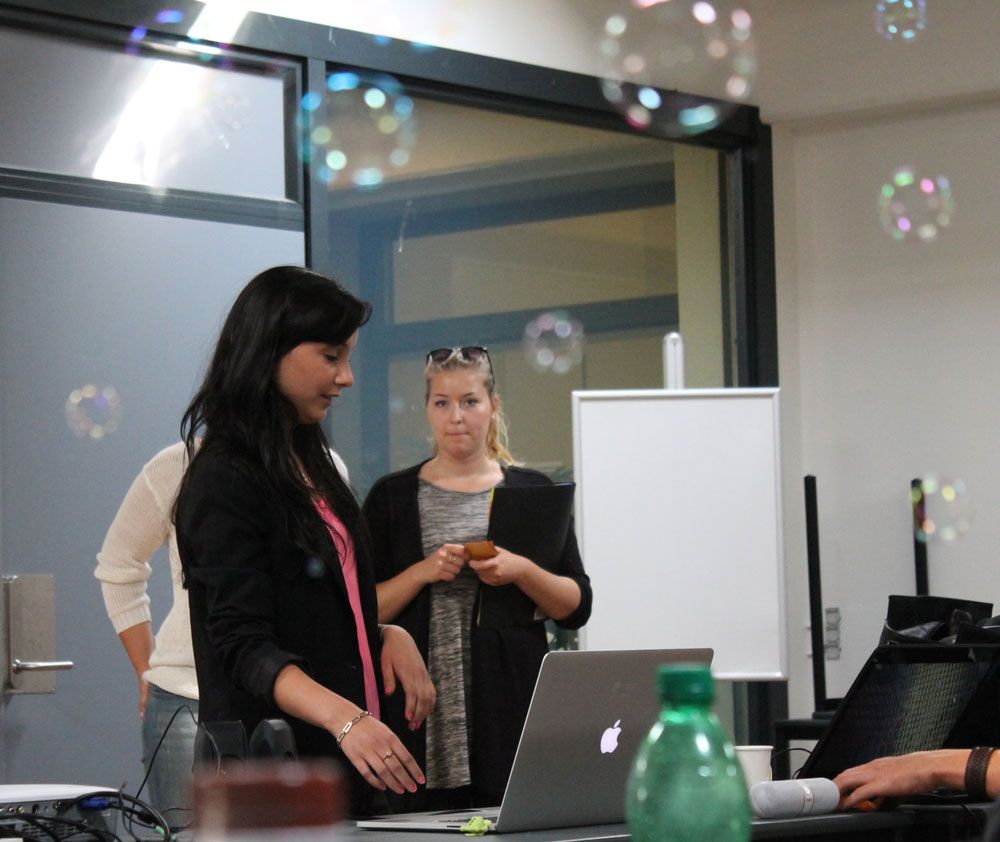 Their projects blew me away. I can't believe how far they came in the short amount of time that was given to them. What I loved was that different groups took such different approaches. For example, one group took the time to do research regarding their target group. They visited a homeless shelter to make sure they tested their assumptions before creating their product. Another group thought the design and media strategy through by creating appropriate happy colours and a hashtag. They printed out cards with positive (and somewhat silly & fun) quotes to hand out to people. I could go on and on.  It was just so good to see how all student groups worked from their own strengths.
It is one thing to create things yourself, to try to bring a spark to this world and make a positive impact. It's a whole new level to teach to 50 students and see them touch the lives of so many more people out there. This thing is becoming bigger than I am, and I love every part of it.
My one regret: I should have totally forced them to fold 20 origami cranes each, so we would have another 1000. I could take over the world like that you know, one city at a time, growing a kindness army. That, and not dressing up as superheroes for the Friday drink.
Oh and for those of you out there in the educational field who would love to have me teach to your students (or if you are a student and want to convince your professor to fly me over), I would be happy to hear from you. In case my compelling story wasn't enough, here are some things students had to say about my week of teaching (these are so going into my happy jar, so I can read them back and have like a major ego-boost whenever I'm feeling blue):
I am absolutely in love with this course and I am really looking forward to studying it. I think it was awesome, that Marielle taught us during that week. She is not a typical teacher you would see during your lectures, but more an inspiring and fun person, from whom you can learn not only the theory, but also something about yourself. It would be interesting to have more guest lectures like that.

I learned to be openminded and to follow my dreams and my passion.

I really hope the level of fun will be kept throughout the course, because I think it makes people (sometimes total strangers) work in a group better. I don't know how you do this, but your level of energy and fun was so high, that it was a pleasure to come to the school and listen to you, even though it was in the mornings. And it's coming from me, which is a pretty big complement ;)

During this week I saw that is it possible to look at serious projects from a different point of view. I learned that I don't have to be afraid of being playful and having fun while working on projects. I've been reminded that it is ok to fail, to be rejected and get up and continue afterwards again.

I learned how I, with very little effort, could improve my life as well as others lives.

I will definitely start doing more projects both for my own sake but also in order to make other people happy. This intro week and Marielle have really opened my eyes for how easy and rewarding it is to do random acts of kindness!

I think it has been AMAZING, an completely different from the things we have been taught on MMD. So cool to play, have fun, and do things according to your own values.

This was the best intro week so far, looking forward to the rest of the semester !

I liked that we got to talk and see other peoples point of view about topics that are rarely discussed in study processes. All the things Marielle talked about were inspiring and I hope made a lot of people think in a little bit different way. I really liked the challenge we got – there should be more tasks like this. This week was exactly what I needed before starting a new education. Positiveness and creativity boost ! Thank you for that !
I came back from Denmark on Saturday. I can't wait to share some of the student's project videos with you. They are so much fun to watch. I'm in the process of gathering all the videos and pictures. So keep tuned to see more about my Denmark adventures and the happy things these awesome students created!
Oh one last thing, I just have to share this video fragment. It's my vision of a perfect classroom. This was taken on Friday, during the break between the presentations. As you can see we have: students wearing fake moustaches (given to them by their classmates), people randomly blowing bubbles, a big balloon being tossed around class and if you look carefully you can see the bowls with popcorn (because what is watching presentations without popcorn, full credit to Adam for the wonderful idea).
Oh no wait, another thing: if I were to teach you, what would you love to learn from me or want to hear more about? Perhaps I can use your feedback as input on new ideas I can share around here.