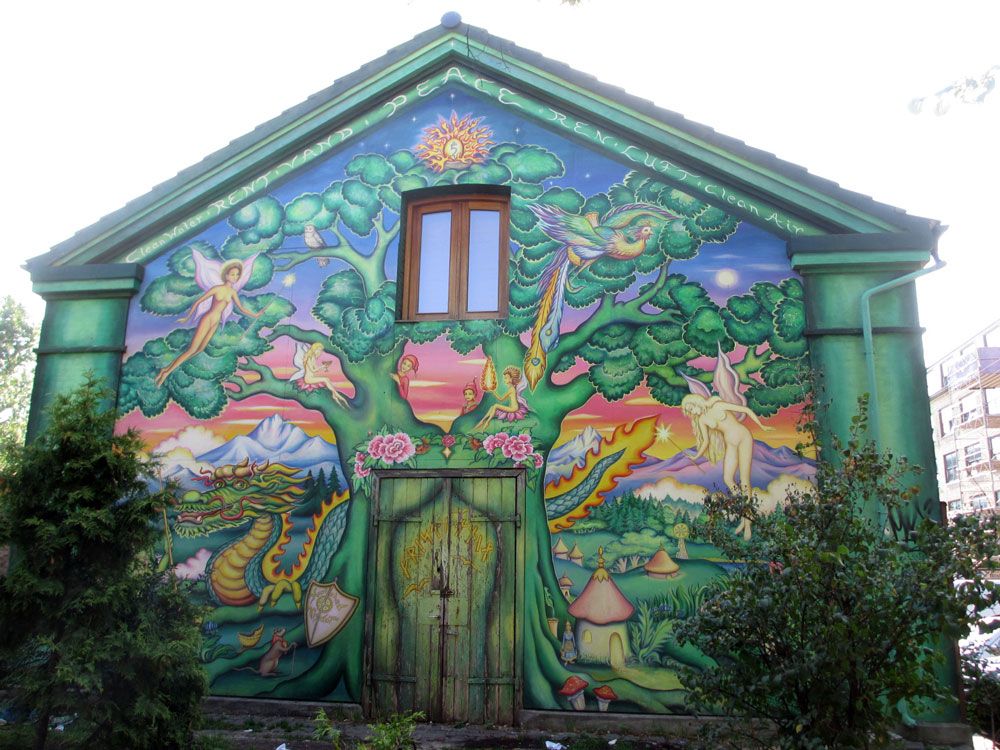 About Christiania
Christiania is a neighborhood in Copenhagen that declared itself as a free state within Denmark. It was founded in the beginning of the seventies and most of the houses are former military barracks. It's a bohemian neighborhood filled with street art, artists and vagabonds. You will find something interesting to see around every corner.
My sister opted that I named this post: 'Christiania, home of the Loonies', because she thinks everyone there is crazy. She would rather go shopping than visit 'filthy Christiania'. However, if you are like me, you will like this place. (My sister also thinks I am crazy).
I visited Christiania on my last Saturday morning, before I flew back to the Netherlands again. I am very glad I did. If you are planning to visit Christiania yourself, below are some tips.
Don't:
♥ Take pictures in or around Pusher's street. Until 2004, weed and hash were sold openly on Pusher street (therefore also called 'green light district'). They still sell those, but because technically it's illegal, drug dealers try to avoid any evidence of their presence or deals (in the form of pictures). You will see a lot of signs in this street that warn you not to take pictures. Respect those signs.
♥ Run. I believe this has to do with the indication of riots & danger when people start running.
♥ Go if you're a germaphobe. If you're not a person who enjoys street art, second hand stores, artsy hippies and improvised scrapped-together installations, there are plenty of places in Copenhagen that will serve you better. You will find more trash on the streets here compared to other parts of Copenhagen.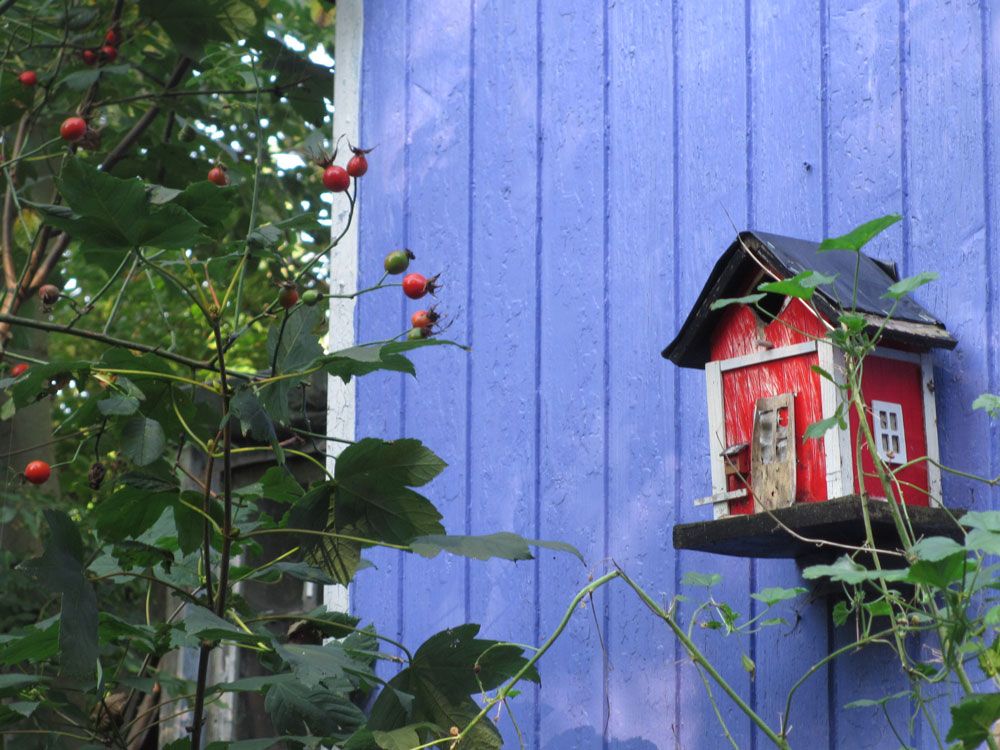 Do:
♥ Check with locals for relevant news updates. Christiania has developed into a giant tourist attraction. However, in the past there have been some problems with uproars, biker gangs, police and violence. Nowadays things are pretty smooth, but it would be good to just check beforehand if recently anything has changed in this area.
♥ Go during the afternoon when you are a woman travelling alone. I asked at the hotel I was staying if they would advice me to go at night or during the day. Although generally speaking the area is really safe and family friendly, the atmosphere is just somewhat friendlier during the day. I think I would have felt somewhat more unsafe if I had gone in the dark, by myself. I went on a Saturday morning. Most of the stalls at Pusher street were not yet out or just setting up. So probably during the afternoon would be the best timing to get the most out of your experience.
♥ Walk around and enjoy. There is a beautiful lake and so many interesting works of art you will pass by when walking around.
♥ Have a break at one of the cafes. There are numerous places where you can grab something to eat or drink. I was advised by a Danish woman to check out Manefiskeren (café/restaurant), which was a really nice place to sit down and relax a bit. Also, 'Sunshine Bakery' on Pusher Street is supposed to be a good place (but I didn't get anything from there myself).
♥ Ask people for permission to take a picture when you're in doubt. Generally speaking, taking pictures outside of Pusher Street won't be a problem. But better be safe than sorry.
♥ Chat with the inhabitants if you get the chance. For example, I had a lovely chat with an artist who lived in a bright rainbow coloured house who had lived in Christiania for several decades. He was just so friendly and told me some interesting background on the history of the place.
That creepy guy
I was walking through Pusher Street when a guy walks up to me. He introduces himself and asks me where I'm from. We start talking. He asks me if I want to sit down somewhere to continue talking. He knows a nice place. The sun is shining. I think about how the Internet told me how the people in Christiania are generally friendly and open minded, and you should just go with the flow and enjoy your stay. So I think: why not? I follow him. He tells me that he's actually not from Christiania, but works in a little town close to Copenhagen. We start drifting from the main road. Suddenly there aren't any other people around anymore. Only now do I notice that his eyes are bloodshed and he is moving slow. It occurs to me that he is probably under influence of some type of drug. I start to think that it's a bit weird that he is taking me to some other place to talk. Another guy approaches. They exchange looks but don't seem to know each other. He passes by. It starts to daunt on me that I'm starting to move to an unfortunate position, if anything were to happen or if I would want to get away for whatever reason. What if this guy is just leading me to an isolated place where a whole gang of angry men will be waiting for me? I'm starting to feel like a stupid naïve girl at this point. 'Oh yeah, sure. Just follow the dude on drugs you don't know to some deserted place where you will get raped, mugged and killed.' Our conversation starts to die down. From where we walk now, I can still see the main street with people below. If I would scream loudly, people would still hear me. I stop right there and decide not to walk any further. At this point I'm not investing in the conversation anymore. I am alert. The guy walks around on the spot and picks up two cups from the ground. He tells me he can get 20 Krone for them, because they recycle them. He compliments me on the bracelets I am wearing. He takes a step towards me. He asks me if they are real gold and touches them. While he does so he also touches my arm. His hand is warm and sweaty. I don't like the fact that he touches me. I don't like that one moment he is picking up rubbish from the street to collect money, and the next he shows a sudden interest in my 'golden bangles'. I pull my arm away and tell him they're just cheap bangles, which they are. It is quiet for a while. Then he says that perhaps he should go and bring the cups away. I am relieved by his initiative to leave. I tell him that's a great idea and that I will enjoy my time by walking around in Christiania, by myself. He leaves. I don't want to follow him so I take another route back.
That creepy guy, again!
I walk around. I see beautiful painted houses, art everywhere. I meet a friendly painter who has lived in Christiania for about 30 years. Then I decide to sit down and have a coffee at Manefiskeren.
As I sit on the improvised terrace, enjoying the sun, I see that guy approaching again. He clearly recognizes me as well (sh*t) and walks straight to me. 'Hey, you again,' he says, and sits down next to me on the bench. I didn't invite him to. I pull my open bag towards me. I would put it on the other side of me, if only it didn't also form a physical barrier between him and me. 'Where are you from again, Norway?' 'No.' I just told him an hour ago where I'm from. 'Finland?' 'No.' 'Austria?' 'No. I already told you where I'm from. If you don't remember, I'm not telling you again.' I am clearly moving beyond my friendly point. I feel relieved by this. Before, I had doubted myself. I didn't want to be suspicious of him. I didn't want to be rude. Now, I am not ignoring my feeling anymore that something is off with this guy and that I should be careful. It feels freeing, more powerful. He sits quietly next to me. Then he does the classic cinema-date-move. You know, the one where the guy yawns and puts his arm behind the shoulder of the girl. Except this guy didn't yawn. His arm is behind me and I am suddenly very aware of the fact that if I don't protect my boundaries, they will be slowly closing in on me. 'Please take your arm away,' I tell him. He pulls an innocent face: 'I am just putting my arm here on the bench, no big deal'. 'No, you're invading my personal space, and I don't like it. Please take your arm away.' He does. I'm not scared anymore. At this point I am feeling annoyed. A girl in hotpants, high heels and a tank top walks by. 'Wow', the guy mutters next to me. He stands up, doesn't say another word to me and follows her to her table and sits down opposite of her. I am relieved that he is gone, but I'm also closely watching the scene before me. If anything weird happens, I will be the first to jump in and help her. A minute later, he walks away from the table. She clearly got rid of him. He doesn't look back and walks out of sight.
In the end, nothing really bad happened. I didn't see the guy around anymore. Analytically speaking, it is very easy to dismiss this situation and tell myself I was overreacting. Or tell myself that I have been too naïve and shouldn't have put myself in a such a situation in the first place. It's always easier to judge those moments afterwards, instead of in the moment itself. But it is these kinds of situations that make everyday life for women all around the world so different than for men. I wish that I could be open towards everyone, without any suspicion. The fact is, as women, we learn to be careful. We learn that being friendly and open to everyone occasionally brings us into awkward or even dangerous situations that we didn't sign up for.
I know I generally don't discuss topics like these on my blog. But in this moment I felt something that I believe is a universal experience to women. This hasn't been the first time that I dealt with a random creep, and unfortunately it won't be my last. There is the guy who yells at you in the street. The guy who puts his arm around your waist in the club. The guy who jokingly says you can get your grade up by wearing a short skirt instead of acknowledging your hard work and intelligence. The guy who keeps looking at your boobs instead of your face while talking. Sometimes, you just have a feeling that something is 'off' about a guy. Even if you can't explain exactly why, you feel vulnerable, anxious, alert and a need to protect yourself. I believe all women recognise this feeling.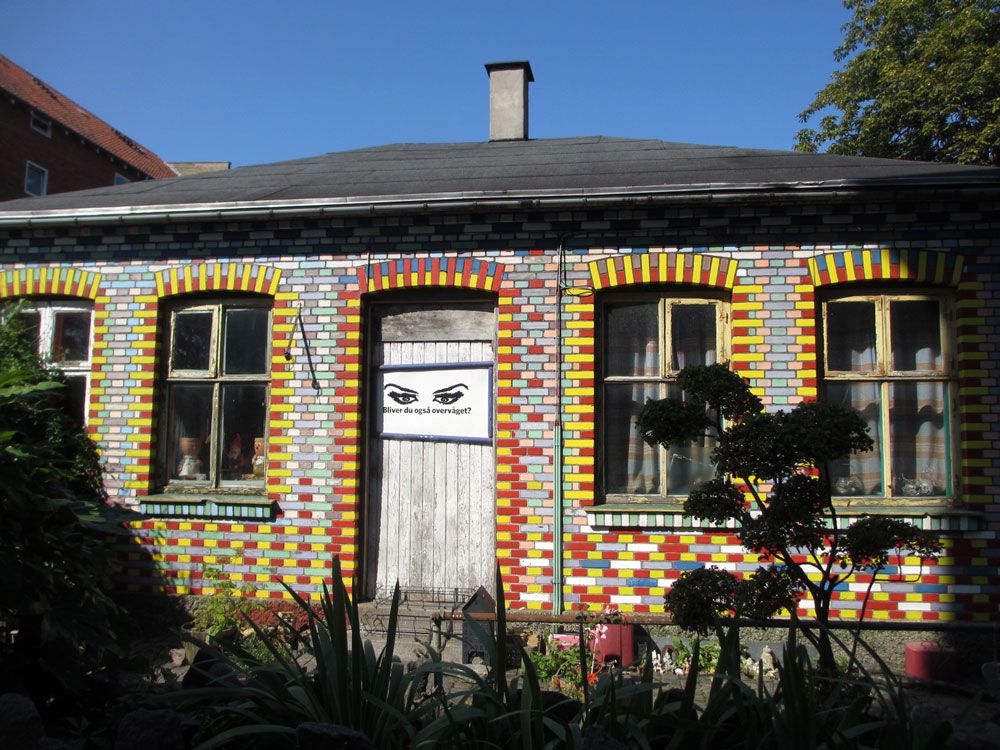 To all the guys
If you are a guy, please be aware of this constant judgment we have to deal with as women between being open and being safe. If a woman you just met gives you short answers and looks away a lot, chances are that she doesn't feel safe about opening up to you. Part of this may be on you, on the way you behave and come across. Part of this is on all the douchebags she has met before you who invaded her trust and made her become more careful around men in general.
If a woman asks you to back off, you don't only need to listen, you also need to realize that you have already gone way too far. Note that there might be a big difference between your 'too far' and her 'too far'. Too far could be: being too close, touching her or even talking to her or sitting next to her. If she needs to ask, you are already on her mental black list of creepy dudes she wants to avoid at all costs. If you are an honest, awesome guy (I know you exist), this may seem unfair. Your intentions were good after all. But you fail to realize that if all she had ever met were guys like you, you wouldn't have this problem. The fact is, she has had so many experiences with guys who seemed cool at first but turned out to be creeps later, that she has become more defensive towards all men.
On the other hand, if a woman is very open to you, it doesn't necessarily mean she is into you. It might be her personality. It might be the way she treats everybody. She might choose to trust you, probably despite of her experiences, rather than because of them. Treat her trust with the utmost respect. Just because she wants to talk to you, or drink with you, doesn't give you any permission to invade whatever physical boundaries she might have.
And lastly, to both women and men: be helpful and alert about your surroundings. All women I know have been in some situation with a guy where they felt unsafe and wanted to get away. Those things don't always happen in dark alleys. They also happen in broad daylight or when you are just enjoying a cup of coffee in a public space. If you spot any woman in a situation around you that feels somewhat 'off', listen to your instinct. Pay attention to what happens more closely. Walk up to her and ask her if she is OK.
I don't plan to start discussing feminism and woman's rights around here from now on. But I do think that it's important to talk about topics like boundaries and feeling safe, to both women and men. Because sometimes I feel men really don't have a clue of what it's like to be a woman in this world.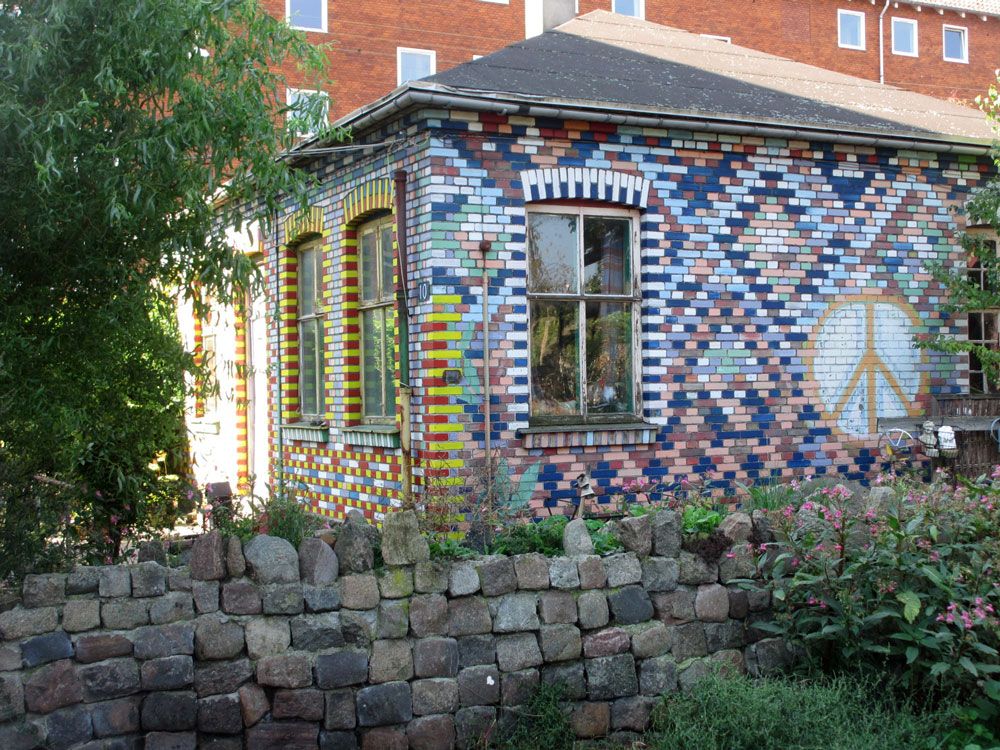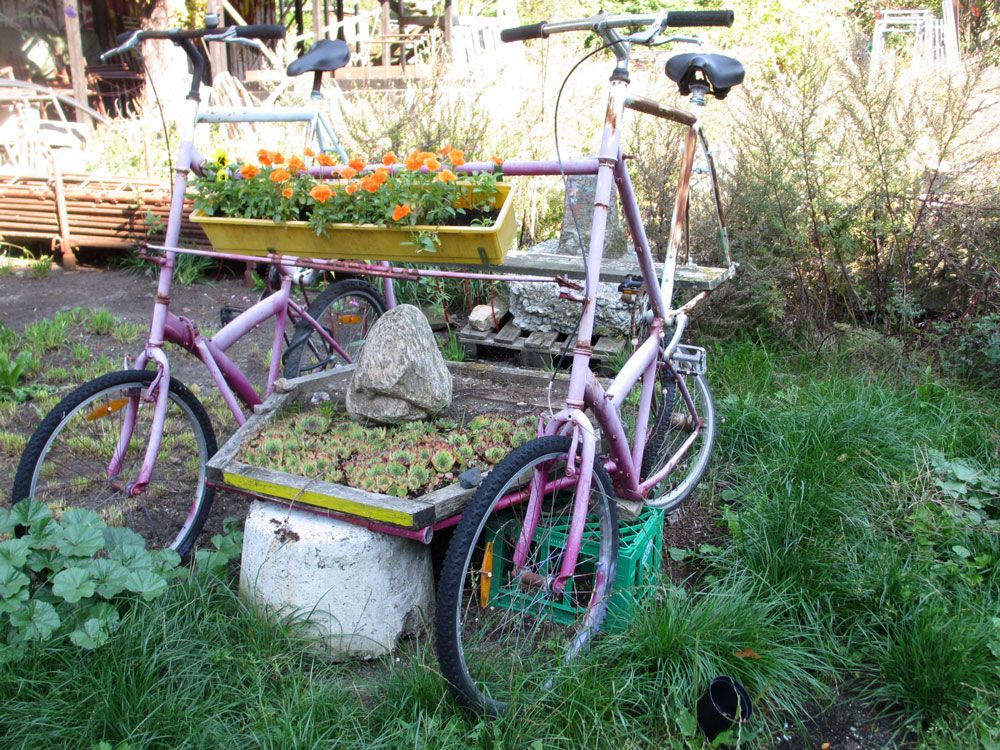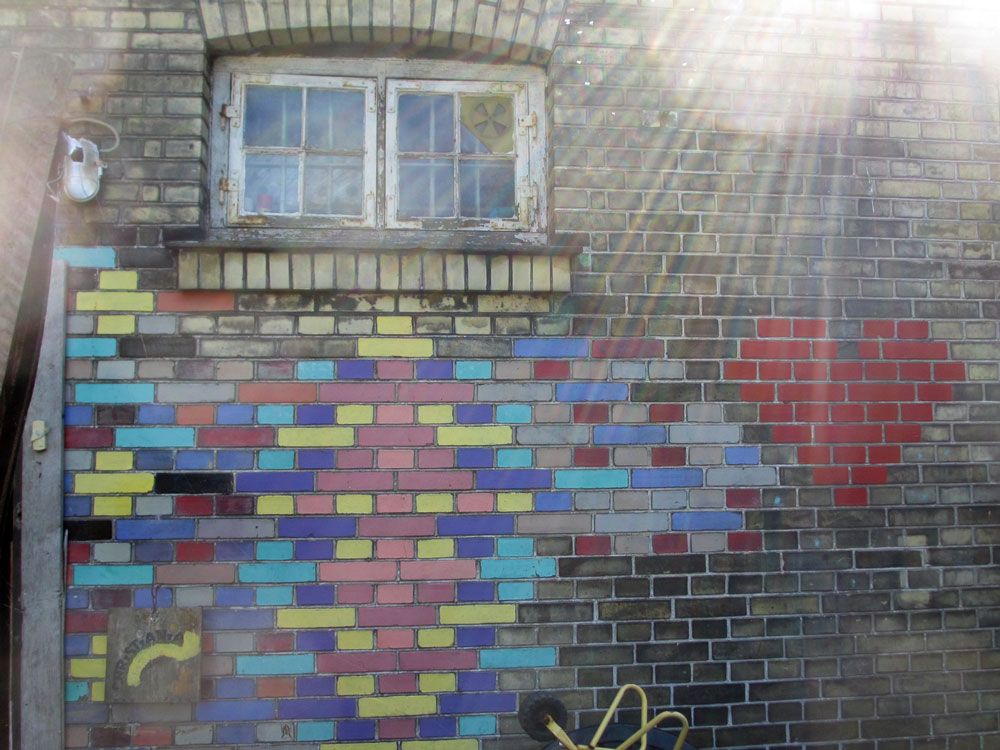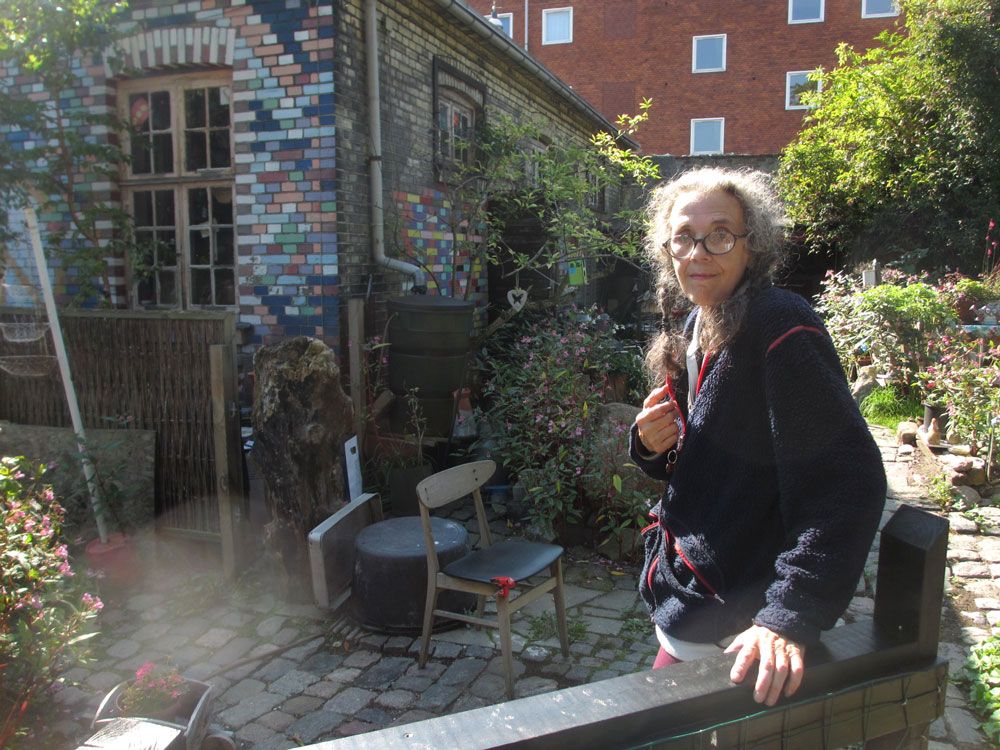 I do want to say that despite of this experience I enjoyed my time in Christiania and would love to visit again. I have had the pleasure of meeting a number of friendly and awesome people. For example the lady in the last picture invited me over into her house, showed me around and told me so many interesting stories. I wish you could meet her as well. But perhaps I just got lucky, since it was her 'be kind to tourists day'. (She actually said that, haha).
I would fully recommend paying a visit to Christiania when you are in Copenhagen. Just, you know, follow the do's and don'ts I listed above and be conscious of your surroundings.