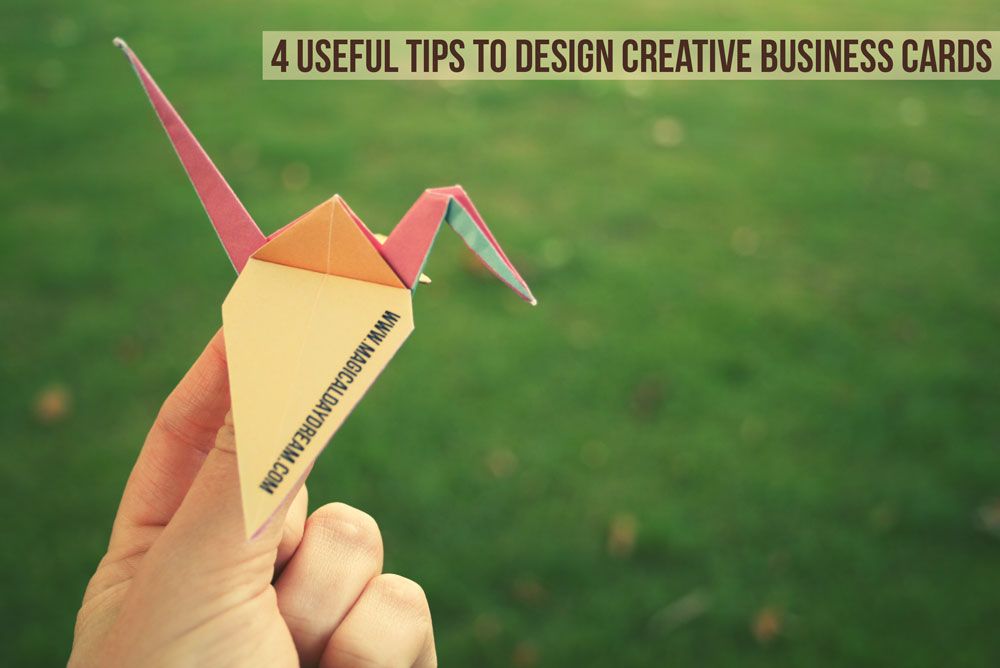 You don't want your business card to have a nice design. You want it to be awesome. You want it to be something people talk about. Designing an awesome business card doesn't have to be difficult. Here are a few guidelines I discovered. They may help you to successfully design something of your own.

1. A creative business card is memorable
Don't be boring. In a sea of rectangular pieces of thin cardboard, it's really not that hard to stand out. In fact, anything that isn't just a rectangular piece of thin cardboard will automatically give you an advantage. Since most people follow the business card standard, all it takes is to do something slightly different. It doesn't even have to be radical. Just try to think beyond silly fonts and bold colour choices.
Don't conform to the way other people choose to present their contact information. The lack of creativity in other people is a bad guide to base decisions on. Dare to take risks and be unique in the small things. It shows that you probably do the same in other parts of your life and business.
2. A creative business card stands by itself
Even without holding your contact information, your business card should be something people want to hold on to. I have had so many people tell me that they won't throw my business card away. When you think about it, it's a strange first thing to say upon receiving a business card. I think it reveals the underlying, uncaring attitude that is most often related to receiving business cards. People politely take your card, but put it in the back of a dark drawer when they come home. Or worse, they throw it away. How to fight this attitude? Make people care about what you give them.
Think of your business card as a piece of art. Would you pin it on your corkboard or stick it to your fridge for inspiration? Would you frame it? Would you hang it in your room or keep it in your wallet? Would you use it in a functional way? Would you show it to others because it is funny?
I know someone who once received a sturdy metallic business card. It looks just like a regular business card, except the material is unconventional. He keeps it in his wallet. He conveniently uses it as a portable shoehorn. When he is done, he bends it back and puts it between his credit cards again. Using a business card as a shoehorn could be perceived as an insult to some people. But just think about how incredibly good such a card would work for someone with a shoe business.
The bottom line: transform your business card into something more valuable than just a scrap of paper that holds your contact information.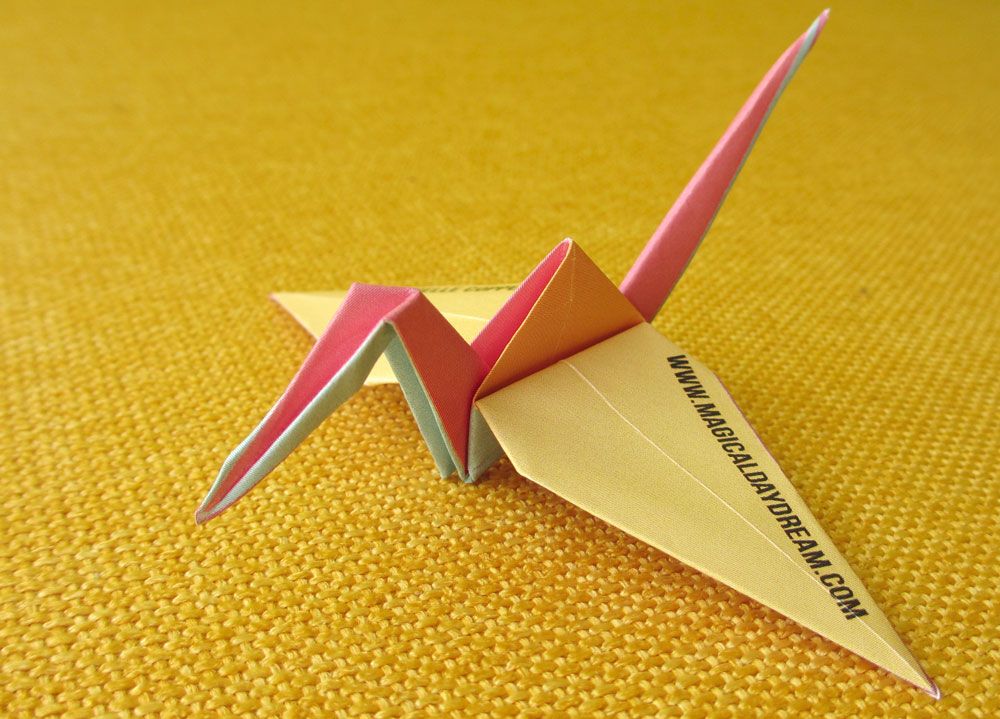 3. A creative business card is a conversation piece
Your business card should tell a story about your business, before people have even bothered to read what's written on it.
When I give my origami crane 'business card' to people, it allows me to explain myself. I can tell them that I once folded 1000 paper cranes (without the contact information) and spread them among random strangers. It's an easy way to speak directly about my philosophy in life, on business and the things I am passionate about. Even if I have only empathically listened to the other person in our conversation (and not spoken about anything I do), it gives me a quick window to pitch what I am about without sounding like I am promoting myself. It becomes more of a casual: "It was great to talk to you. Oh yeah, about that, I folded 1000 origami cranes. That's why my business card is in that shape as well."
Search for something that defines your business or enlarges one aspect of it. Is there a symbol or token you can use? If you run a beauty-blog, you could think of a reflective mirroring surface (or actual mirror). You could even add an inspirational quote about true beauty. If your business evolves around organizing parties, perhaps you should print your contact information on a balloon.
How can your business card evoke curiosity in the receiver? How can it become a simple bridge to talk about what you love?

4. A creative business card is a call to action
Let your business card function as a reminder. For example, my call to action is to go to my blog and check out my paper crane video. I don't always invite people to do this, but I usually do when they respond with enthusiasm to what I tell them about my blog. It then becomes part of the natural flow of the conversation.
Make sure that your call to action is very simple though. For example, I make my 1000 origami crane video easy to find (at the moment it is on my right side bar). Anybody can take a minute to look up a website and watch a short video. Because the shape of my business card (an origami paper crane) is directly linked to my call to action (watch how I folded 1000 of them and made people smile), it functions as a visual reminder. Besides that, it makes it easier for people to remember what I do.
Of course there is never a guarantee that people will follow through on their promise to visit my blog and watch my video. However, making this call to action already part of the conversation and design will make it more likely to happen.
Look at your blog or business. Define what project you are most proud of. Think of ways to let your business card point to that project.

Yes, folding each individual crane does take a lot of work. Getting regular cards printed would be a lot easier and more efficient. However, they wouldn't convey an equally strong message. When you design your own business card, you need to consider your priorities. Decide if you want to build a strong brand with a unique voice (and put in the work), or if you want to blend in with the crowd (and get it done quickly).
Hope this helps! Have you designed business cards before? How could you make them more fun and exciting?