The first time I read about April was on Uncustomary, where she used her 'balloon graffiti' to colour the streets. I loved her art, and I just knew you would love her too. This lady is super talented. She does balloon twisting, fire dancing, face painting, stilt walking and runs her own business, 'April's twisted entertainment', using her mad skills. What I find especially inspiring about April, is that I learned that her cheerful balloon graffiti actually came into existence because of a darker period in her life. I think she is incredibly brave for turning something sad into something beautiful. And I admire her for sharing her story with us today. For this post, she went out to create a balloon garden and the installation just blew me away for being over-the-top-awesome! Give it up for April…!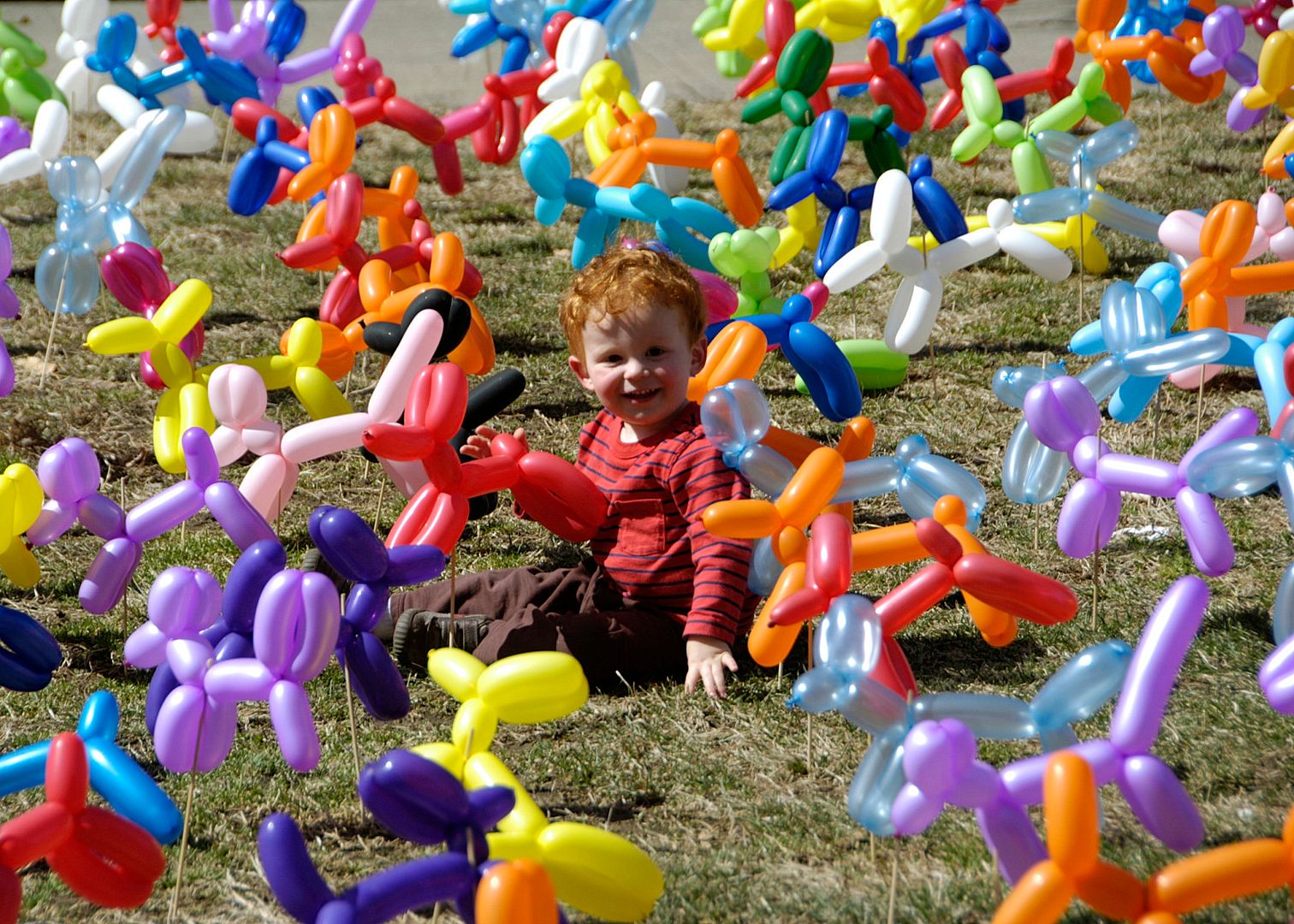 Have you ever dreamed walking down the street and everywhere you turn is a colorful surprise? Have you ever wondered what the world would be like if we stopped living by "the norm" when it comes to everyday life?  I have wondered all these questions and so many more!
I have always been a dreamer ever since I can remember.  If I could choose my world it would be more like Alice in Wonderland! I seem to see things that not everybody can see, faces in trees, beauty in an old shoe; I can even picture how things could be, for example an old house re- designed, an out dated kitchen changed to new.  I thought I should take this ability to the streets of Baltimore.
About 5 years ago my husband Sean and I quit our "professional" jobs and I became an entertainer (balloon art, face painting, fire dancing ex) and he became an online poker player.  Most people thought we were nuts to leave our "good" jobs; you see I was an Interior Designer and Sean was an Engineer. When I look back on it though it was one of the best decisions we ever made.
When we quit our jobs we were both done with the "real" world, hoping there was something else out there we decided to take a chance. We know we are very lucky to have a family that supports us, although they weren't too keen on the idea of us quitting our "good" jobs they were there for us if things didn't work out. We realize not everyone has this option and we are very grateful to have had the experience.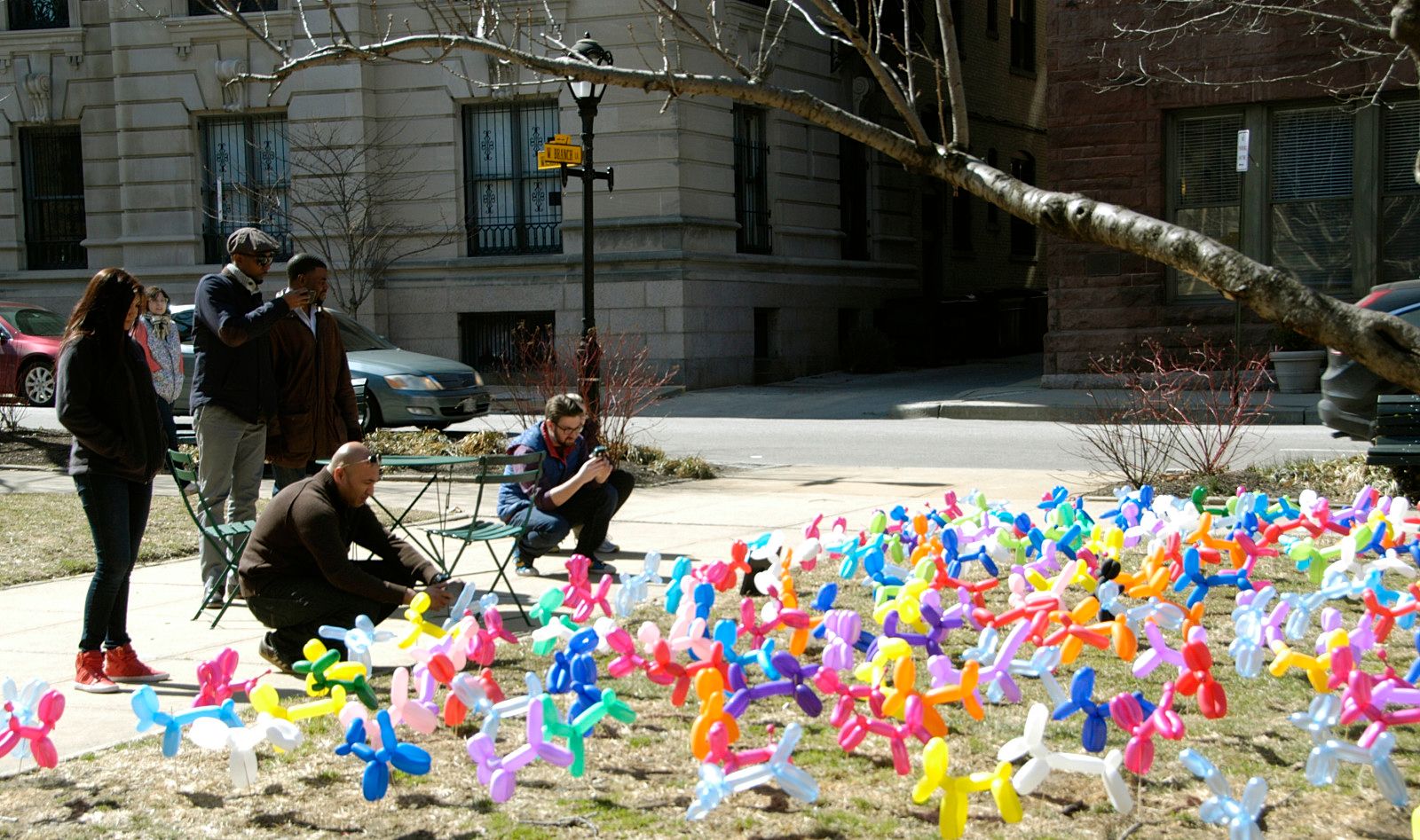 I am an artist at heart and have found balloons to be a great outlet of my creativity. I see the world as my canvas and my balloons as my paint brush.  I can add color and a smile anywhere I go with my balloons! What a blessing it is to know that what I do for a living is to bring smiles to the faces I come in contact with!
I got into "balloon graffiti" or "balloon bombing" because of a sad time in my life actually. I recently lost my brother to suicide and was in a very dark place.  I needed something positive to focus on so I took my balloon paint brush to the streets of Baltimore. It made me smile again as I watched people walk by and smile at the simple balloon creations I had made.  I now do this in remembrance of my brother who needed that smile when this world had let him down.
If you are in a dark place, you can sit in the dark, or you can find your inner light and discover powerful pieces of yourself you never knew existed. Don't make the mistake of waiting on someone or something to come along and make you happy, true happiness comes from within. Although I am still morning the loss of my brother I can do something special in my brother's name to make others smile and turn a bad situation into something good. When all you can see is darkness, sometimes you have to create your own light.
Be sure to have a look at April's colourful business's Facebook page to see more of her wonderful creations. Or, if you live in the Baltimore area, you can hire her to perform her amazing talents live.
If you would like to be featured in Spread the love too, read this and send me an email!