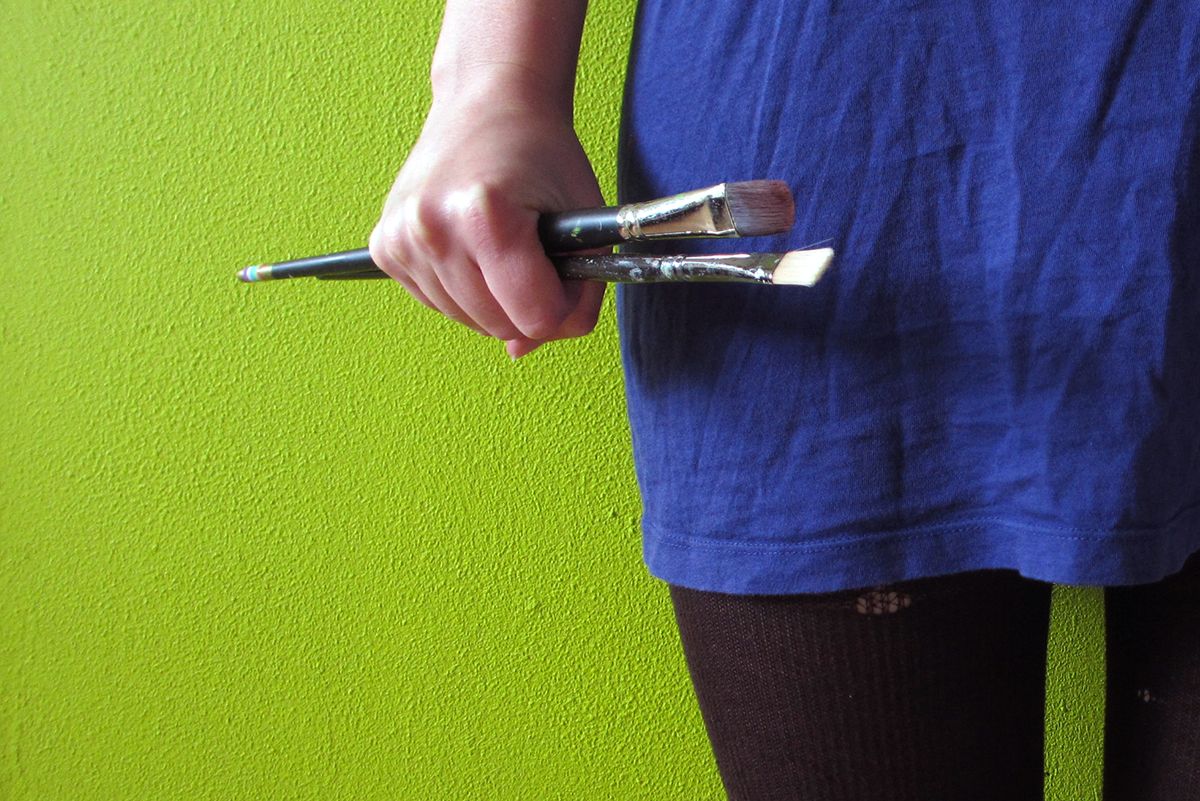 Lately, I have been thinking about creative dreams. About how you have these big secret (or not so secret) goals in your mind, which you might 'do one day'. I have quite a lot of those.
One creative dream that I recently accomplished was to fold 1000 paper cranes and give them away to random strangers.
Painting is another creative dream of mine. Occasionally I make paintings, like this piglet with coffee, frog prince, rainbow zebra unicorn or giraffe. I have always felt like painting is an area that I should explore in more depth; something I would love to take the time to develop. I sometimes wonder if there would be people out there interested in my work. However, I feel like I don't have a wide enough collection of work to really 'do something with it', especially because most of my work gets given away as a present or confiscated by my mom to hang on the wall (love you!). For a long time I have had the number 10 in my head: if I would have 10 paintings, I would have enough to explore further possibilities. I know the number is arbitrary. Yet, I do think that having a range would help, at the very least to simply develop my painting skills. I have made resolutions in the past to make a painting every month, so that I would have my collection after a year (taking in account some slacking). However, I don't stick to these plans, because, well, the goal just isn't urgent enough and it easily gets swept away by millions of other to do's.
I don't want to look back in a couple of years and regret that I never tried. I don't want to wish that I had spent more time on the things I actually wanted to do and less on the things I felt I should. These paintings aren't going to paint themselves. Creative dreams won't come true unless you make them a priority.
So I came up with a plan. If a little work over a long period of time doesn't work (which did work very well for my paper cranes), perhaps I should try to accomplish a lot of work in a short amount of time. Say 7 new paintings in 14 days time. I know I work focused under pressure, so why not create the boundaries that I need?
Although this idea excites me, it simultaneously scares me. Normally I will finish a painting over the course of a couple of days, each day 2 or 3 hours max. After a few hours of painting I get tired and want to shift my focus. And after making one painting, I don't pick up my brush again until after a couple of months. So I have no idea what my reaction will be to this new kind of pressure.
I also decided that I don't have to be content with what I create in these 2 weeks. That might sound as a strange thing to state on forehand, but to me this is essential. The need to only create satisfying work is a huge burden and might get me frustrated with this whole project at day 2. So I am just going to create 7 works, however awesome or ugly, without judging. Being satisfied with the results after those two weeks would obviously make me happy. But if I don't like what I created, it just means that I spent 2 weeks in-depth developing my painting skills and that those paintings are a necessary part of the growth needed to enable desirable future results.
I recognize the need for creating a space without stress or distractions of other things I still need to do. So over the last couple of days, I have been working hard to finish some things that are too important and urgent to ignore for two weeks. Yesterday I crossed off the last item from my list.
I have no idea yet of what I want to paint.
I am starting today.
For the next two weeks, I will lock myself indoors with a couple of canvasses and do nothing but paint, paint, paint.
Any good (painting) music you would recommend?