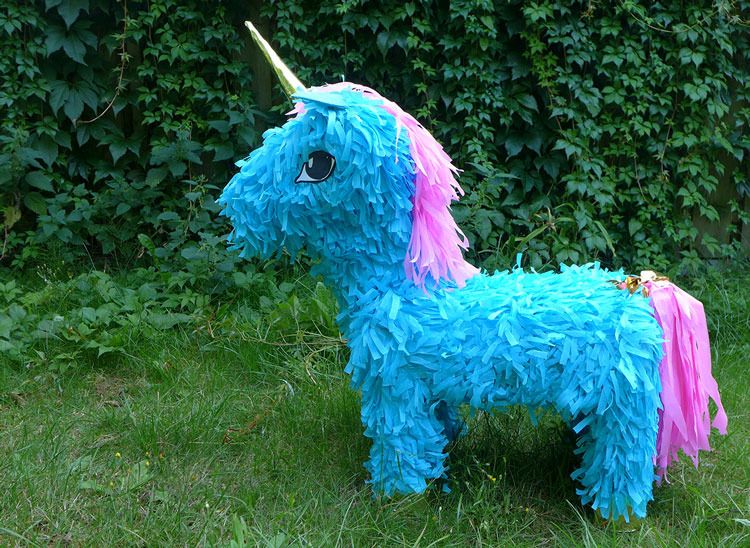 I made a unicorn piñata! You thought I was kidding with my unicorn farm, didn't you? But no, for a couple of days I was the proud owner of a unicorn. Until my boyfriend killed it (sad face). In his defense, it was my idea.
Besides our edible nacho hat, photo booth, vodka gummy bears and garden twister, a unicorn piñata just seemed like the perfect addition to all the madness at our birthday party. I even have a video of it, so for all of you curious readers who want to get a glimpse of our party atmosphere and see a unicorn die (does that make me a bad unicorn famer?), here is a short fragment (I cut out a few beatings because it took a while and I know your attention span).

And here comes the fun part: you can make one too!
Here is how I made my unicorn piñata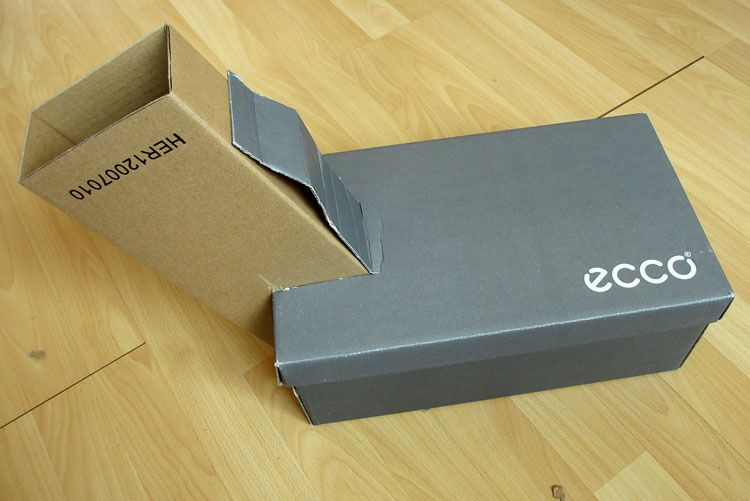 I used an old shoebox as the body of my unicorn. This choice ended up mading the little guy quite sturdy and hard to break, but I would probably do it again as it is somewhat faster (fast is relative because this project does take quite some time to make). I found a rectangular cardboard tunnel that I used as a neck. Make cuts in the lid of your shoebox and in your neck tunnel so they fit together.

Make cuts at the top of the corners of your box and fold the cardboard to the inside, so the box gets a somewhat rounded shape. Fasten the corners with duct tape.
Cut the corners of the lid. Fold the edges until they get rounded as well and tape everything together. You will notice I use mainly duct tape in this tutorial, because I find it a fast and easy way to make things stick together. It is probably best if you don't cover your whole unicorn in duct tape though, because then it will never break. I did consider using paper mache, but that just seemed to be a lot extra work for little effect.
Your piñata will need to hang on a rope, so it will need some holes in its body for this purpose. It would be wise to do that at this point and put a cord through the holes, as it will become hard to do this later on. My idea was to apply a thin cord and replace it later by a thicker one (by tying them together and pulling the thicker one through the hole). However, my rope ended up breaking off so this part kind of failed for me and I ended up tying the piñata on the outside instead. Learn from my mistake ;)

For the legs, simply cut out 4 pieces of cardboard. Roll them up and secure each roll with duct tape.

If you make cuts at the top of the legs that fold out as 'side flaps', you can use them to tape the legs to the body of the unicorn.

Make a head from a piece of cardboard. Just cut and fold until you get a general shape that you are content with. As you can see my process is kind of messy. You need to remember that the basic form will be covered later on, so it isn't a big deal if it looks bad at this point.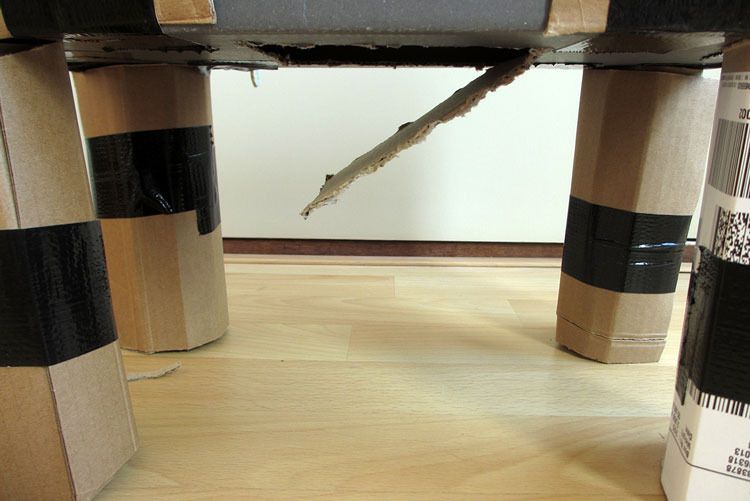 Although my first idea was to put the candy inside using the neck tunnel, I thought it would be easier to make a little door in the belly of the unicorn after all.
You can use a similar paper for the hooves as for the horn, preferably something shiny. I would recommend gold, silver or glitter. Just use your paper to close the openings of the legs and then glue a strip around the bottom part.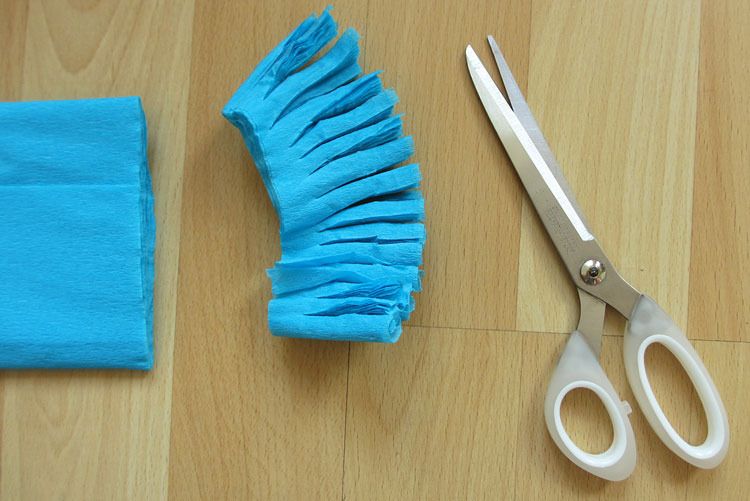 Use crêpe paper to make the fur of your unicorn. Use whatever colour you like. I had a limited choice in colour and went with a combination of blue and pink. If you bought a role of crêpe paper like I did, simply cut off a strip and cut the paper in on one side while it is still rolled up.

Apply glue on the leg and start circling your crêpe paper around the legs, starting at the bottom and ending at the top.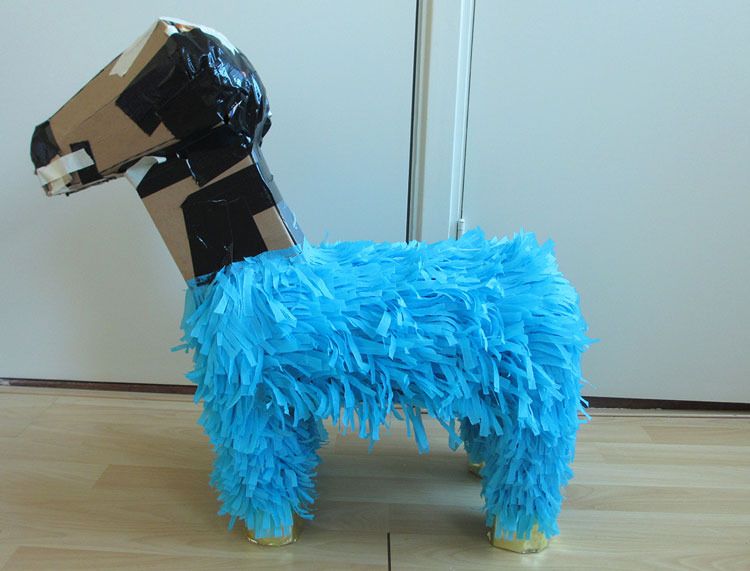 Continue this process for its entire body, working layer over layer and starting at the lower layers. This is a time consuming process so be patient while you see your unicorn slowly evolve and grown into a real unicorn :)

Use a paper towel cardboard roll as base for your horn. Simply make a cut from the top to the bottom, roll it together again in a cone shape and secure it with tape. Cover the horn in gold coloured paper. Then make cuts at the bottom to be able to glue/tape your horn to the head of the unicorn.

For the tail you cut the crepe paper in a similar way but simply use a longer strip so the 'hairs' will be longer. At one side, roll and tape the 'hair' together. Make a hole in the cardboard through which you stick the taped part and secure the tail from the inside. Although I applied the manes of the unicorn after the blue fur, it would have probably been easier the other way around. If you want you can add some fun details like a golden bow in the tail.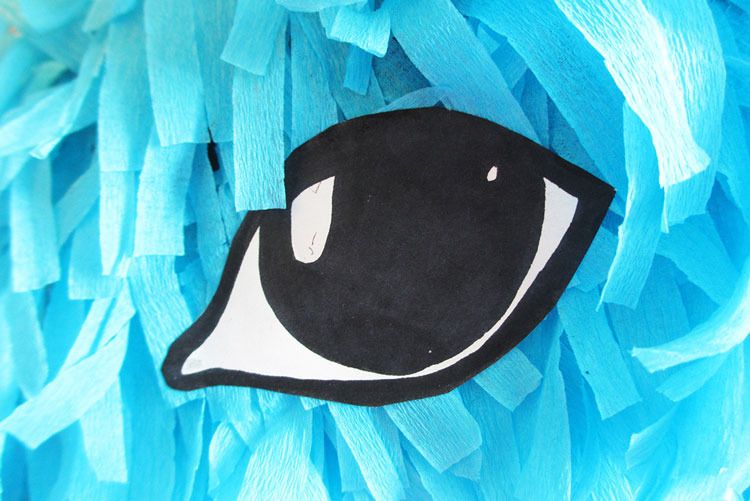 Draw two eyes on a piece of paper with a black marker and cut them out. Simply glue them on your unicorn's head over its blue fur.

Make ears by cutting out a piece of cardboard in a somewhat triangular shape. Cover the outside with crêpe paper and the inside with golden paper. Make cuts at the bottom and use a glue gun to glue the ears to your unicorn's head. Again, it would be better to do this before its entire head is covered in fur, so the ears stick to the hard cardboard in stead of the loose crêpe paper fur.

Of course a piñata wouldn't be a piñata if there wasn't a fun surprise inside. You can fill your unicorn piñata with whatever you wish. If you do fill your piñata with candy, I would recommend candy that is covered in plastic, so when it falls out it is still edible. Using skittles (rainbows!) just seemed appropriate for a unicorn. I also added some confetti.

Put everything inside and glue a thin piece of cardboard or thick piece of paper over the door. Add some extra tape if needed, but don't make it too strong or otherwise the piñata will never break. (I cut out a little hole to make an emergency opening just in case, which I didn't need).

When the glue to close the lid has dried properly, apply the last layers of crêpe paper fur over its belly.
Happy unicorn making!