Two years ago, I started to fold 1000 origami paper cranes. I finished folding the cranes after a year by making a couple of cranes every day or week. The intent always has been to give the cranes away to random strangers. This summer the project finally came to an end and I made a video of the process. I would like to share some additional pictures, stories and thoughts on the project: a sneak peak into the process, challenges and fun.
Color-sorting cranes to make a rainbow
That moment when I was offered drugs 
I was walking over the sidewalk, pausing at every parked car to place one of my paper cranes behind the windscreen wipers. Every now and then, I would come across a passant, give him or her a crane too, and continue. After doing this for a while, I noticed a man approaching. He was walking a huge, angry looking dog. The guy wasn't wearing a shirt, and his tattooed body glistered from his sweat in the warm sun. He came closer. His bloodshed eyes looked around him with an absent gaze: as if he wasn't really in this world. He was only a few steps away from me and I hesitated. Should I give him a crane too? He looked somewhat unpredictable. This was a sweet plan and all, but what if it was really the worst idea ever and would end with me and my blood-smeared face dumped in a ditch? Advice from my childhood popped up in my head: 'don't talk to strangers' together with my mother's advice to trust my gut in unknown situations. I took a deep breath and reached out my arm to him, a paper crane in my hand. This guy deserved some love too and I wasn't going to be selective about it. He took my crane. I walked by. I lived.
Fast forward 20 minutes.
Two blocks further, I had now arrived at a parking lot while still continuing my mission. From the corner of my eye I could see someone approaching me on a bike in high speed. I turned my head and realised it was that guy. He stopped right in front of me by suddenly forcing his brakes and opened his hand. In his hand was a small plastic bag with a dried, green herbal substance: weed, for me. He started to explain that I made his day and that he was so happy and wanted to offer me something in return: 'For me a crane, for you some grass'. I tried to decline politely. 'Oh you don't smoke? What about your friends, take it for them.' I felt touched by his generous and heartfelt gesture and somewhat bad for not receiving the gift that he had rushed to give me, but didn't feel comfortable taking the drugs he offered me. I thanked him anyway and he took off again. As he biked away, I felt a bit giddy about the whole thing. Who would have known that the guy that I nearly didn't give a crane, would be most happy about receiving one? The world is full of surprises like that. And I stuck another crane under a windscreen wiper, smiling.
Explaining to a girl who loved the pencil necklace I was wearing (in my hand at this point) how to make one yourself.


That moment when people are suspicious about my intentions 
It's interesting to me to notice people's reaction when I give them an origami crane. Most people simply don't know what to say or do and take the crane with a blank or confused face. Many ask me 'why?' or 'what is it for'. I could say a lot of things about that, but usually my thoughts are fast yet my words are slow and I just end up saying: 'just because…' Every now and then someone won't take my crane. They will shake their head and look the other way. When people are passing by and see this happen, it will start a short domino effect of people refusing to take my crane. Although the rejection is a completely understandable reaction – I can see how it would be easy to confuse my gesture for an advertisement campaign or other event in a split-second decision – it does make me feel sad.
It is as if I have so much love to give, so much I would love to share with people, and some just won't take it. They simply aren't open to it.
On a deeper level it symbolizes how closed off some people are to the world around them and how much they reject love because of fear, uncertainty or misjudging a situation.
It makes me sad that some people aren't more curious to at least accept the piece of folded, colourful paper to find out what it is all about.
For these reasons I have found the process of giving away my 1000 cranes tough at times. It is a vulnerable position to take and a gesture that many don't or won't understand. When somebody doesn't want to receive the present I made for them so carefully and full of love, it breaks my heart just a little.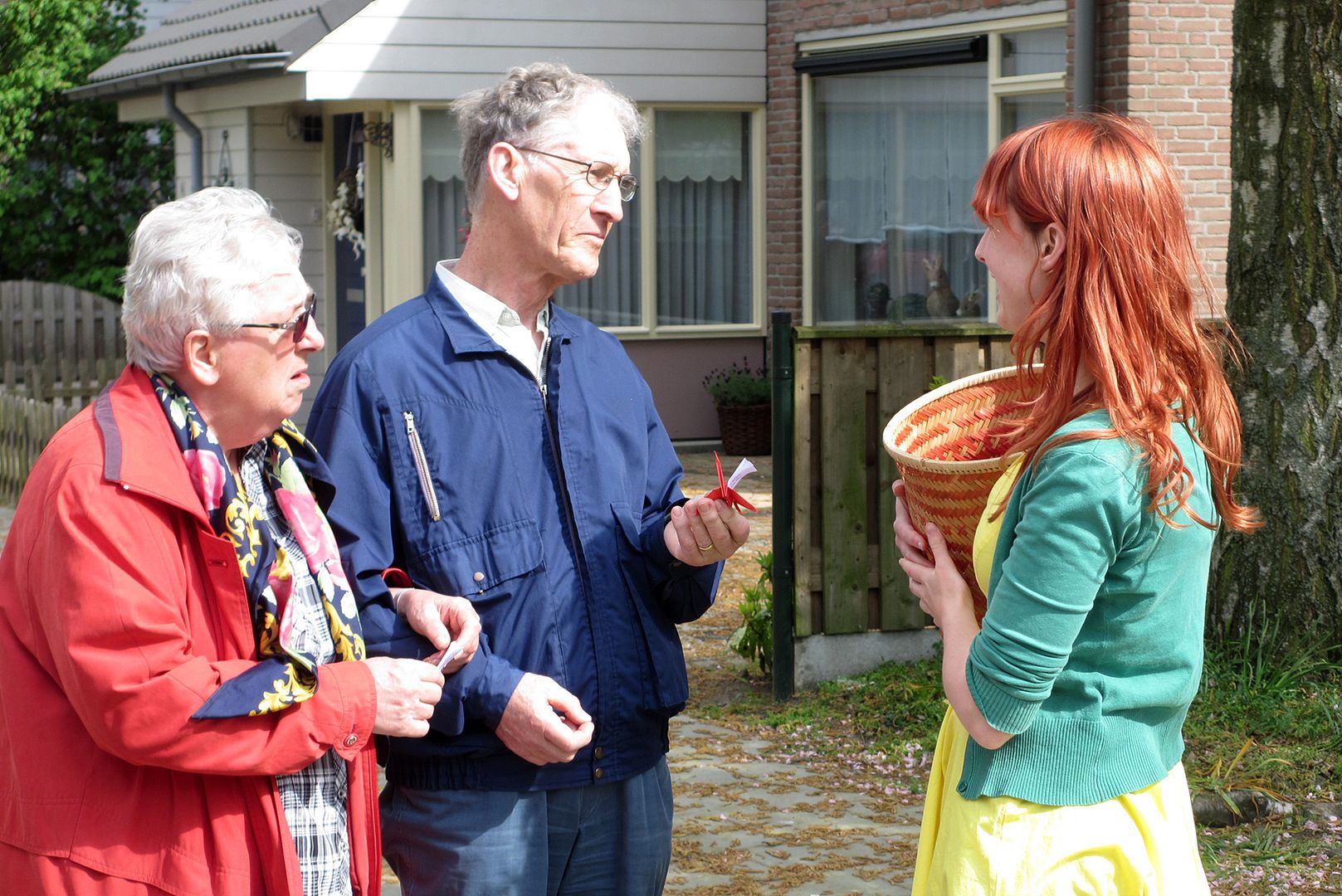 At first I hadn't anticipated that Dutch people would have difficulties with the English language in the note. Some would ask me to explain it to them. After handing out the first 100 in English, I decided to switch to Dutch for the other 900.


That moment when I received a flower 
As I was handing out cranes at the train station early in the morning, a girl approached me with a flower in her hands. The flower was pink and wrapped in transparent plastic. She gave it to me. Now, for one moment, I didn't know what to say or do. Earlier, I had seen her stand outside, smoking, and given her a crane. She was so touched by my gesture that she decided to buy me a pretty flower: "I was so afraid that you would be gone already". Moments like that are so awesome because it convinces me that what I do does matter. It is hard to know what people think of my crane once they have accepted one and walk on. It is easy to think that my project means nothing to people when my negative thoughts get the best of me. But when someone thanks me like that, I see how my action is connecting people and makes a positive impact and it recharges me hugely in my efforts.
That moment when I checked social media 
And found this (brought to my attention by a friend), and started to realize the bigger, more invisible impact of my project:
That moment when you can get a crane too! 
Ok, so secretly I gave away all of my 1000 cranes except for the last 10. I still have them. Because I want to give them away to some really special people: to you!! :D I am normally not really into hosting giveaways, but this is a personal project that I would love to share with you. I mean, it isn't really fair that you read my blog and saw my video and then didn't get a crane of your own, now is it?
So, I am mailing the last 10 origami cranes to the first 10 to comment. 
Please leave your e-mail or way to contact you, so I can e-mail you about what home-address I should send my crane to. It doesn't matter if you live on the other side of the world or 2 blocks away from me. Sometimes I might not stress enough how much I appreciate the fact that you take the time to read my blog, leave encouraging messages and positively enforce my creativity. Thanks you guys, you are awesome and I would love to give you a paper crane to show my love and appreciation!

One last thing: I wish I could show you a picture of how me and my boyfriend were quietly climbing up the fire escape ladder of my apartment, trying not to get noticed by my upstair neighbours, balancing 1000 colourful cranes in big bags. Unfortunately, I didn't take any picture as I kind of needed both of my hands at that point, so you will just have to imagine the visual :)