I was pacing up and down my room while talking on the phone. Mid-sentence I paused, because something outside had caught my attention: something with red and white polka dots, which was moving away slowly. Something that unmistakably was my bike.

"Somebody is taking my bike! I'm hanging up!", I exclaimed, after which I quickly opened my balcony door, rushed outside and yelled at the guy to get his attention (Hey you!). He didn't seem to hear me, and I didn't particularly enjoy yelling at strangers from my balcony. So I went back inside and closed the door. But nobody steals my bike that easily! So as quick as I could, I put flats on my feet, grabbed my keys and with my phone still in my hand I slammed the door behind me as I ran down the stairs of my building. I took a sprint over the sidewalk as I imagined getting some strange looks from passing car drivers.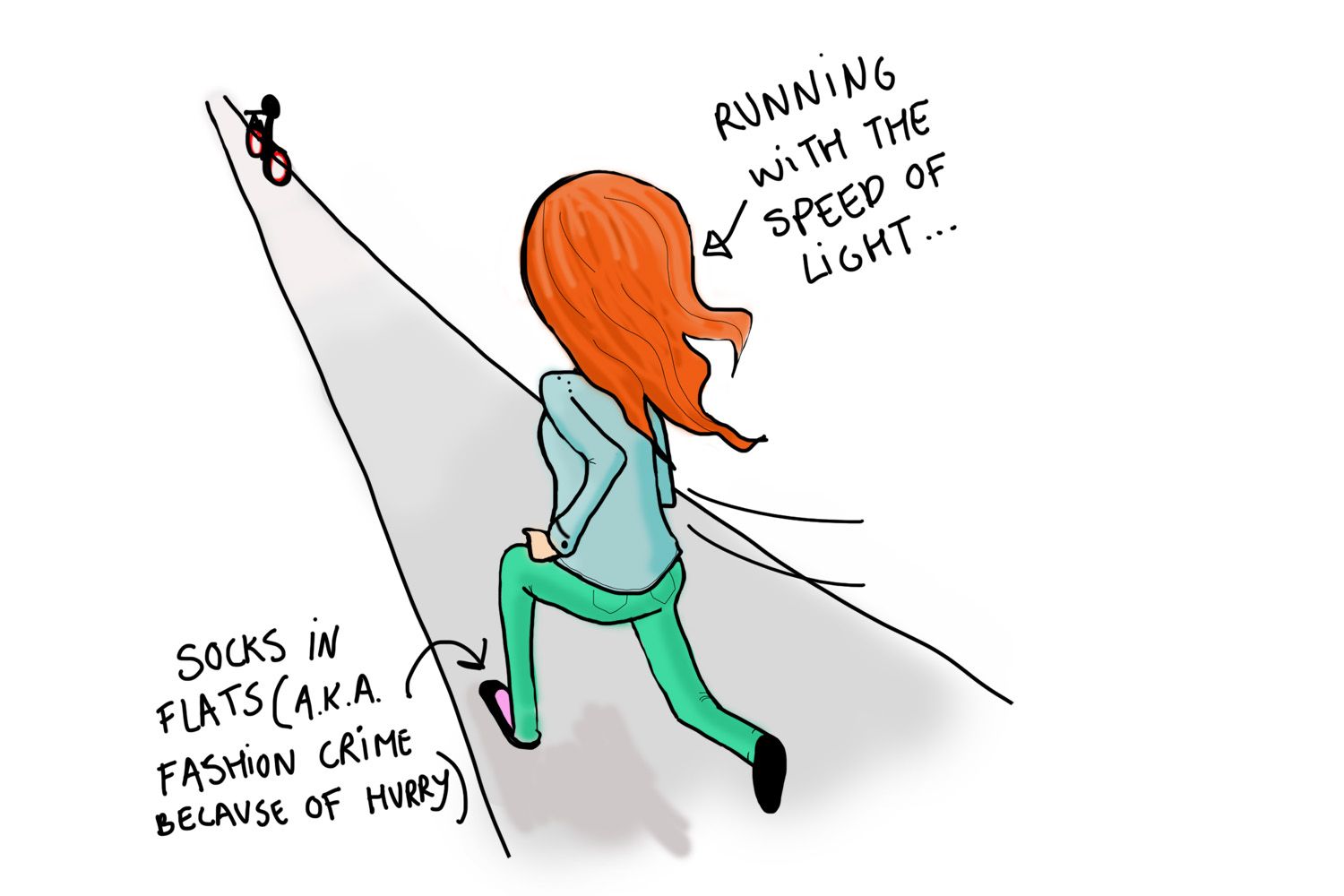 The distant silhouette of the man turned into a real size fellow that I was quickly approaching. I started to realize that I hadn't really thought my plan through up until chasing the guy. So a few steps behind him I slowed my pace, adjusted to his gentle walking speed and started walking next to him. With a semi-calm voice I said: "Ehh, that's my bike". Because, you know, it was my bike and I didn't know what else to say.
He was obviously surprised. Then he started to say 'sorry' a million times. I felt a mixture of confusion, adrenaline and growing annoyance. Why the hell did this guy think it would be OK to take my bike? That's not how things work. I like my bike. I painted it myself. And I know it is old, but it is mine, not his.
So I started an interrogation right there on the sidewalk. Why did he take my bike? What was he going to do with it? Where was he from? Where did he live? Where did he eat? Where did he sleep?
He explained that he thought my bike was garbage (ouch) because it had a flat tire and stood outside (there is a designated place to put bikes. There are at least five other bikes in front of every building in the street). My bike did have a flat tire and is really old and crappy, but I was planning on fixing that, the flat tire part at least. He wanted to trade in the metal for a couple of euros to buy food. As I started to calm down I learned that he was from Greece and lost his job. He came to The Netherlands but was on the street and ate either at the church or whatever he would find in the garbage.
At this point I recognized a new feeling in my ongoing mixture of confusion: one of empathy. I didn't quite agree with his methods, but I did believe his motivation of hunger was a real one. We stood opposite from each other, in silence. I didn't really know what to do with the situation. It's not like you meet up with your bike thief every day. The silence started to become awkward.
"I have a banana back in my apartment, do you want it?"
"No, no, no, I can't. I just took your bike"
"Yeah whatever. Come on. Follow me."
And so we walked back to my building. I took the bike from him, but it moved really heavily. "Let me help you", he said. Instead I took my keys and unlocked my bike so the wheels could move freely again. That seemed really funny to me on multiple levels.
When we reached my front door, I grabbed my keys and came to a horrifying realization: my front door key was missing! That morning I went jogging and took the key from my keychain. Because I left my house in such a hurry, I didn't check if I had put the key back. This whole situation was becoming more and more absurd. Luckily for me, my roommate turned out to be home and let me in. I grabbed some fruit and crackers (nearly the only edible things in my house at that moment) and walked back down to hand them over to the guy.
"Just please don't take my bike again, ok?"
I'm not sure why I felt the need to make this explicit. Perhaps I didn't really know what to say to him, how to say goodbye to someone who just took my bike. I didn't mention that he shouldn't take my other bike either. The one that was working properly and that I had used over the last two weeks. It felt as if owning two bikes was an inappropriate abundance, even though the other bike was really old as well.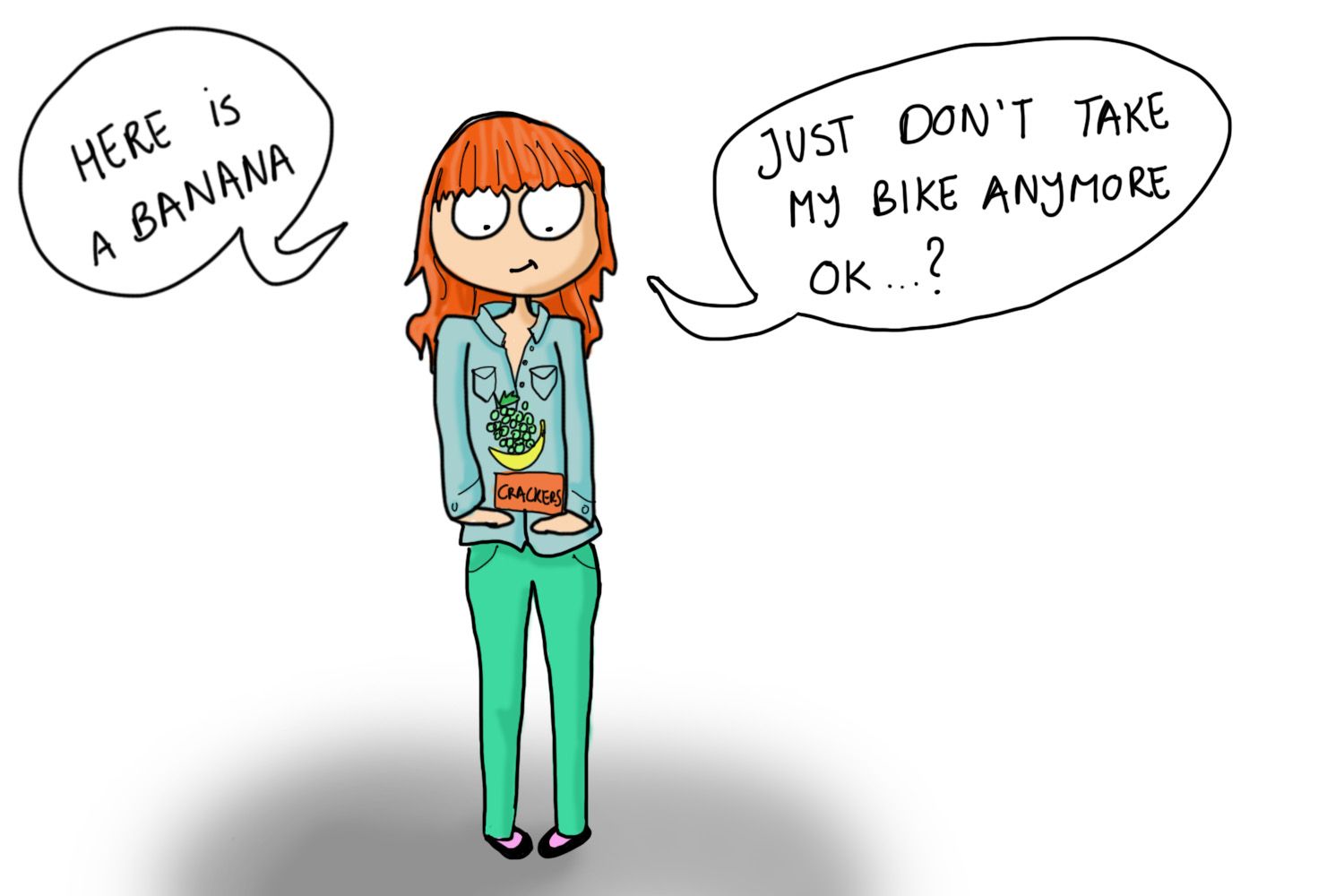 "I instantly recognized my bike. Not a lot of people have red bikes with white polka dots."
"Yes. If I ever see someone other than you around town with this bike I will bring it back to you."
We said goodbye. I returned to my room. The whole thing had been ridiculously absurd.
At least I have a secret guardian bike watcher in the underground scene now. Too bad he doesn't watch over my functioning bike though.