Why it's OK to stay home reading a book or lock yourself in the bathroom at crowded parties.
Let's make one thing very clear from the start: being an introvert or extrovert is determined by whether you get your energy from being alone or from being around people. Introversion is often mistaken for shyness, but has nothing to do with that. Shyness is about fear of being judged by others.
I am a huge introvert myself. And it took me some time and struggling before I understood that there is nothing wrong with that. Reading the book 'The Introvert Advantage' by Marti Olsen Laney helped me gain some insight in myself. The most interesting part to me was getting to know more about the biochemical story behind it all: it helped me understand and accept how my brain functions. It was almost a relief that there is a logical explanation for why I might rather sit in my room drawing on a Friday night than go to a karaoke bar with the wild party kids. I would like to share some insights today that helped me understand better who I am. In fact, I drew them out for you. All of these drawings are based on 'The Introvert Advantage" and most of the texts are literal excerpts. Hopefully they will give you some insight in yourself as well: just carefully read through the pictures.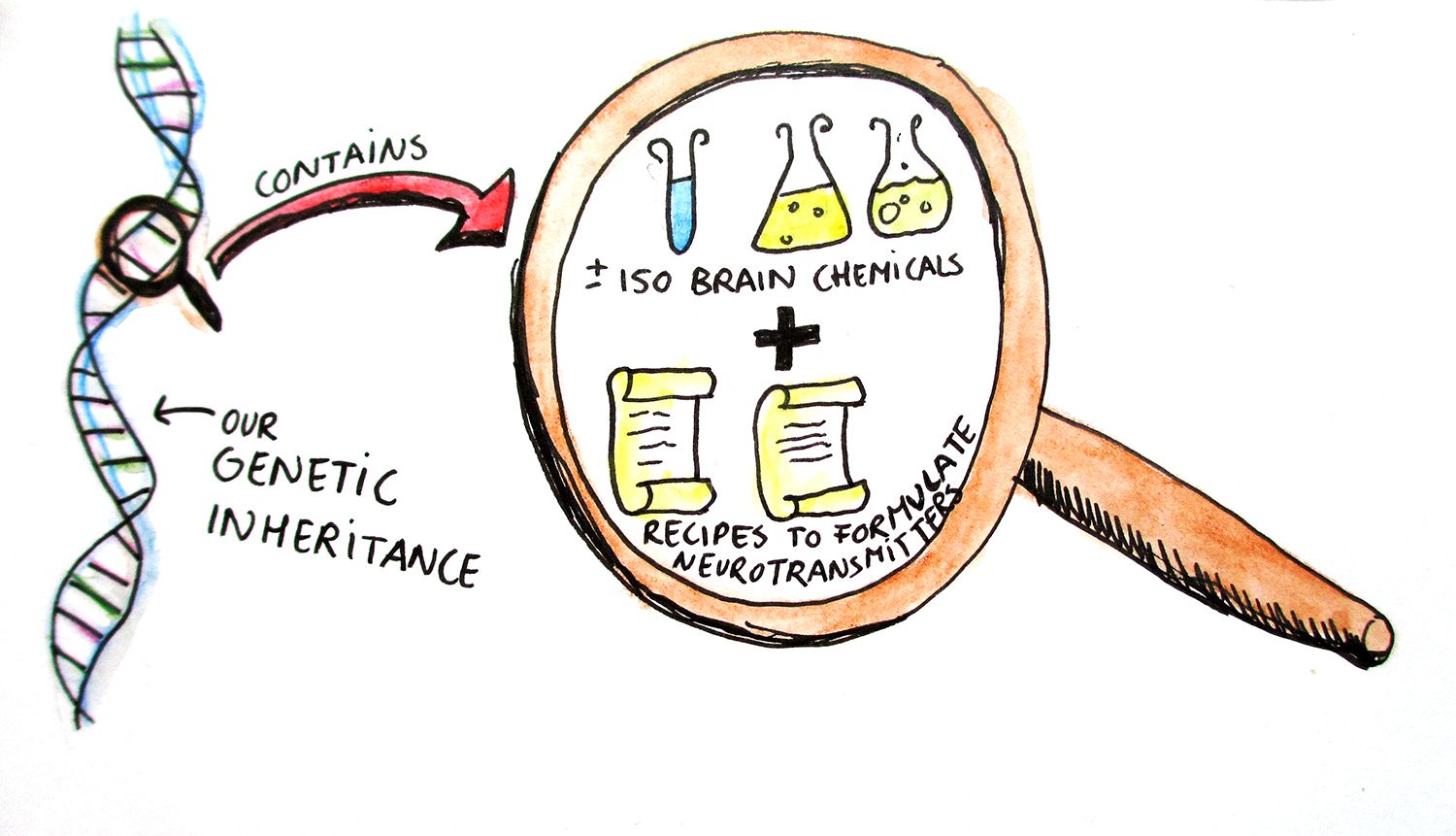 *edit, 5 jan 2015: spelling mistake: serotine=serotonin, noradreline=noradrenaline*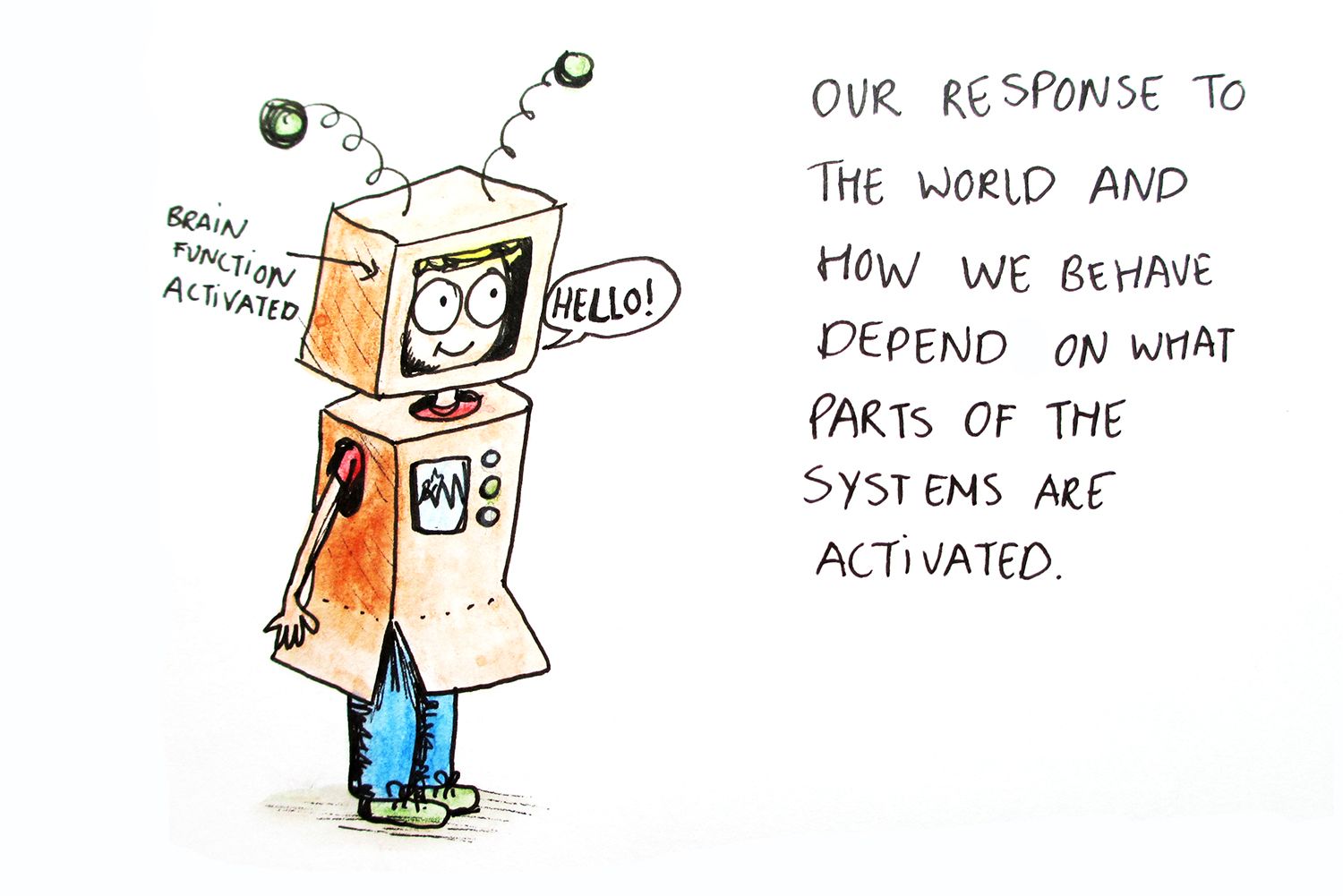 Ok so far: we have neurotransmitters that follow certain pathways in our brain and activate certain systems. Here is where it gets interesting.
In a test, introverts and extroverts where asked to lie down and relax, while tiny doses of radioactivity were injected into their bloodstream. Then they were scanned to determine the most active part of the brain. They found two interesting things. First, introverts have more blood flow to their brains than extroverts. More blood flow indicates more internal stimulation. Second, introverts' and extroverts' blood travelled along different pathways. The introverts' pathway is more complicated and focused internally. While the extroverts attended externally to what was happening in the lab, the introverts were attending to their internal thoughts and feelings.

Not only does introverts' and extroverts' blood travel on separate pathways, each pathway requires a different neurotransmitter. The pathway extroverts use is activated by dopamine, while the pathway introverts use is activated by acetylcholine.
Let's move on, because there is more!
While extroverts are linked with the dopamine/adrenaline, energy-spending, sympathetic nervous system, introverts are connected with the acetylcholine, energy-conserving, parasympathetic nervous system.
And that my friend, is the reason why you might occasionally need a break from being around stimulating environments with loads of people. It is why it is OK to sit home alone and eat cookies.
Ever since I understand these biological principles my body seems to live by, I find it easier to recognise my introvert boundaries. I skip a party here or there more easily without feeling guilty or boring. I feel more loving towards this part of who I am, instead of trying to constantly live up to the image of an outgoing person.
If you are an introvert, I hope this helped. The world can be confusing and extroverts don't always get us, but I do. It's OK to be quiet. And think a lot. And get tired easily from group activities.

What do you think, should I draw more of these? If so, what would you like to see explained?
Also, if you enjoyed this post, perhaps you want to consider liking my Facebook page to enjoy future updates!
[Disclosure: since October 23, 2014 this post contains an Amazon affiliate link]