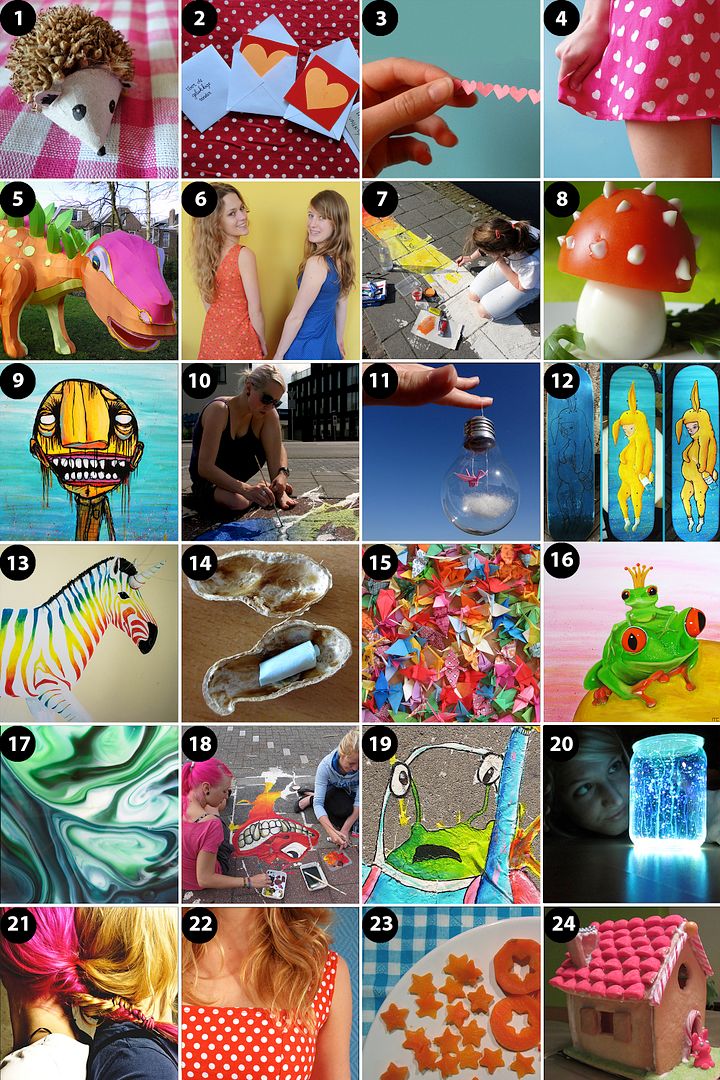 1. I made a new tiny imaginary hedgehog friend
2. I spread Valentine cards to strangers through town
3. I started the guest post feature 'Spread the love'
4. I made a pink heart dress
5. I encountered many dinosaurs, friendly ones and ones that wanted to eat me for lunch
6. I made dresses together with Anne
7. I started a new hobby of transforming ugly stains on the street to works of art
8. I made a mushroom from an egg and tomato
9. I collaborated in artwork
10. I made more street art: this time an enormous dragon
11. I made a tiny origami paper crane in a lightbulb
12. I collaborated on a skateboard painting
13. I made a rainbow zebra unicorn wall painting
14. I spread secret positive peanut messages through town
15. I finished folding 1000 paper cranes
16. I made a frog painting
17. I experimented with milk
18. I painted another street art stain together with Eliska
19. I made an exploding astronaut from an ugly street stain
20. I made a glowing jar
21. I did a photo shoot in a parking garage
22. I designed my first dress
23. I made stars from carrots
24. I made a sweet candy house
What would you want to see more in 2013 on Magical Daydream?