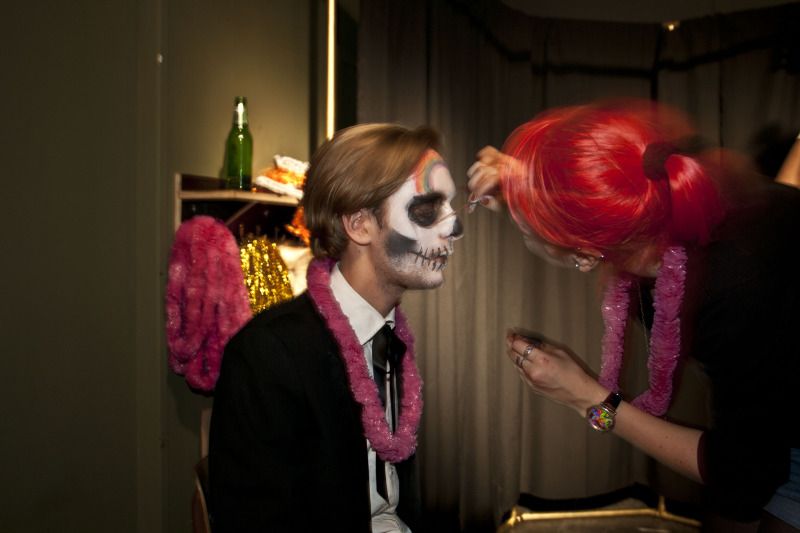 Pictures 1&2 by Manon, picture 3 by Luke
We as 'Big Bug Collection' were asked to paint t-shirts again at the Kattekwaad party in skate park Area51 last night. I didn't paint any t-shirts; I did however build an awesome photo booth on forehand together with Eliska for which we also gathered and made some props like silly wigs, big glasses and fake facial hair. Besides being awesome photo-booth hostesses, we also offered our humble face paint services to the party crowd. Mini pictures were printed out on the spot for people to take home. It turned out to be a great success. All the crazy photo booth pictures can be found on the Big Bug Collection Facebook page later tonight.
I love the vibe at the events we paint at. Generally I have some cool interactions with random people who love what we do & who are confident enough to give us complete creative freedom to do whatever we want with their shirt or face in this case. (Yep, Eliska's specialty: skeletons, my specialty: rainbows, then you might just end up with a skeleton face and a rainbow on your forehead. In my defence; mr. & mr. skeleton rainbow dudes kept telling us 'how much fun this was!')
It was already morning when I finally hit my bed with heavy legs, a raspy voice and a moustache on my face. But as usual, it was a great party.