I folded 1000 origami paper cranes. About a year ago, I decided that a year from then I wanted to have a 1000 paper cranes. And I simply stuck to that plan.
People tend to overestimate what they can do in a short amount of time and underestimate what they could achieve on the long term.
Often big dreams seem far away. Yet we want to have it all here and now, and if that doesn't work we figure it won't work at all. We end up doing nothing because the chunk of work is simply overwhelming. What we need to do is to start and work through this big overwhelming dream by dividing it into tiny chunks by asking ourselves the question: What can I do today? If we do this each day, the results after a longer period of time will be amazing. This method seems to work for everything in life: asking yourself how you can be the most loving person today, how to make the best of your day and simply doing something small and creative today.
It isn't bad to have ideals, as long as we keep them as a source for direction rather than an ultimate goal that gets us demotivated, thinking we won't ever achieve it because it is unreachable.
I am here to tell you that however crazy your dream is, you can do it. All you need is time, patience and work hard and consistently.
Think about what is a realistic mini-task you can accomplish today, without worrying about tomorrow, the day after and next month. Then when tomorrow comes, simply ask yourself the same question. Because the only thing we have is right now.
I folded these cranes with the aim to give them all away to random strangers. I figured that if I would be happy to receive a paper crane out of the blue, at least some people out there must feel the same way as I would. I will keep you posted on part B of Operation Paper Crane: giving them away.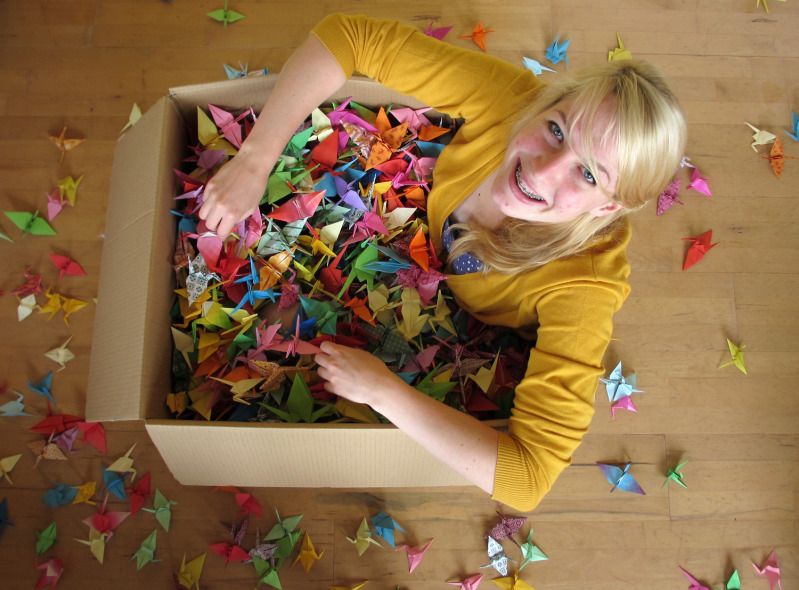 I completed my project, here is an update:
1000 origami cranes for 1000 strangers video post